From athlete to cheerleader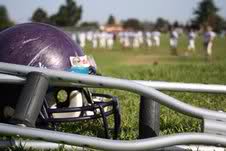 Athletes suffer season-ending injuries during the fall season of 2009.
Junior varsity

runningback and corner sophomore Steven Zhou laid down his helmet, hung up his pads and almost felt like picking up pom-poms instead. Every year, athletes are forced to hang up their gear for the season due to injuries and are left to sit on the sidelines to cheer for their team.
"I'm like a cheerlead
er," Zhou said with a chuckle.
Zhou split his shin d
uring preseason which prevents him from playing on the football team for the rest of the 2009 season as well as
participating in
his other hobbies
of
track, swimming, and tennis.
During a drill, a teammate went in for a tackle from behind, and as they both fell, Zhou's left leg went the wrong way and snapped. After being rushed to the hospital, he received
disappointing
news from the doctor advisi
ng him to keep the rod which was inserted in his leg for structural purposes in for another two months and stay on crutches for four weeks. While waiting for full recovery, Zhou stays fully involved with his team by encouraging them at all of their practices and games with a happy face.
"If
I
can start running before football season ends,"
Zhou said,
"I'm just going to go get back into pads and start playing even with the rod in my leg."
Although Zhou is recommended to keep off his leg, he is determined to return to his team and play the sports he has been missing.
"The JV football team is just plagued with injuries," Sam McCann said.
Along with Steven, nine other players are ending the season with an injury including the captains McCann, Philip Tsai and Jordan Sheade.
This year's fall sports season is faced with another hard blow resulting in the loss of key player, junior Natalie Yates. Yates played for the varsity volleyball team as a freshman, but is currently battling a knee injury restraining her from playing the sport and even crossing her legs.
Last year at a game against Saratoga
High School,
Yates went up for an outside hit. Landing on her knee after the kill, she tore her ACL, MCL, and meniscus also dislocating her knee completely. After surgery, weeks of bed rest, a month and a half on crutches, followed by
physical therapy three times a week, Yates got the okay from her doctor to play this season.
Unlike
Zhou, however, after making the team, Yates forced herself to quit. Not only because of the unbearable pain in her knee, but also the unbearable pain of sitting in the sidelines.
"Last year, it was just too hard to watch and not be able to play," Yates said. Yates hopes to recover quickly and return to the team next year to lead them into victory.
Currently, senior captain Victoria Lee is out for a back injury and senior captain Audrey Lee is out for a knee injury. Although they are staying fully supportive of their team and returning to the team later this year, it is still a big upset for the team.
Even though season-ending injuries restrain athletes from competing their hardest, it encourages them to bounce back even harder the next season. In the meantime, being a cheerleader can have its benefits for the team, too.