Jumping for 'Glee'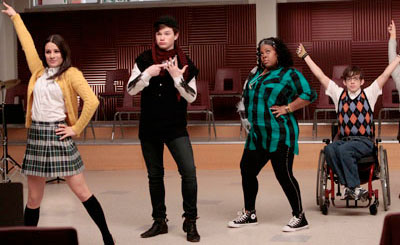 Karishma Mehrotra
September 25, 2009
Hang on for a minute...we're trying to find some more stories you might like.
Forget "Gossip Girl" and "The Office" and let MTV take a back seat; there is a new act in town
For the audience, the months between the pilot (the short segment that aired to give you a little taste) and the premiere were a dark time; the audience was simply incapable of remaining patient while anticipating more on the underdog's story. The "Glee" phenomenon has caused the majority of the student body to marvel every Wednesday at 9 p.m. on Fox over the ambitious Spanish teacher, Will Shuester (Matthew Morrison), who has a simple dream: to revive the "Glee" Club of the 90's in the modern, sex-obsessed Mckinley High School. The majority of the Glee clubbers are at the bottom of the social ladder, unnoticed and uncared for, who are just trying to do what they love: perform. This isn't a new subject in the television world (we all saw "High School Musical"), so what makes Glee so likable?



Perhaps it's the characters. The members of the acappella club, an array of average teenagers with above-average talent, include overlooked, aspiring, slushie-covered-sweater-vest-wearing singer Rachel Berry (Lea Michele), busty and bootylicious Mercedes (Amber Riley), your average Prada-loving gay boy Kurt (Chris Colfer), and a jock quarterback who struggles between social expectations and his passions, Finn Hudson (Cory Monteith).
Senior Shilpa Sure has become a part of the hoopla, believing the show has originality within a classic concept.



"You don't have to think too much and there are not too many shows like that anymore. It's a show that makes you feel so good— the kind of show that inspires you," Sure said.
However, although few

in number, there are some who disagree with this judgment.



Rather than inspirational, sophomore Kevin Tskuii, on the other hand, believes that the show pokes fun at stereotypes, which he finds shallow. According to him, it represents "the degradation of society—amused by stupid things."





"I want something that intrigues me, something that has significance," Tsukii said.
After he saw the first episode, Tsukii was heavily disappointed.
"The title of the show doesn't even describe what the show is about at all," Tsukii said. "It is about morose, mi
sfit children and a teacher dissatisfied with his personal life. They should call it unhappy children and unhappy middle-aged man."
Sophomore Emma Courtright begs to differ. She describes "Glee" with an aura that no other program can beat.



"It's a cute show and it is easy to watch. A lot of shows are trying to be deep like NBC's 'Trauma' or doctor shows but this show is light, airy and cute in our hard times," Courtright said.
Cute as it might be, "Glee" has a downfall. The new series has been ridiculed by some students for being a "High School Musical" duplicate. So are "Glee" and "High School Musical" identical acts? Is "Glee" the same-old same-old?
"You don't have to nitpick at it," Sure said. "It could be called cliche but it is not because they make the characters with new twists and quirks."
Courtright considered "Glee" as more of a mockery of High School Musical rather than a repeat.
"It's edgier and the humor is meaner. Disney Channel can't be mean because they try to please the parents. "Glee" isn't aimed at little kids or parents."





Whether you see fun comedic timing or a slew of Vanessa Hudgens lookalikes, "Glee"'s back. And whether you're jumping for "Glee" or falling flat, it's got your attention.