To be with Comickers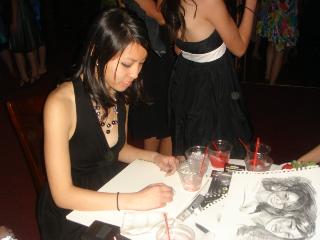 Comickers comes up with a new way to fundraise
On the evening of the long-awaited junior prom, while juniors were still eating dinner or doing last minute preparations, junior Comickers artist Lu Lu Liu was already at the Avalon night club getting ready for a night of sketching prom portraits.
Comickers, the club named after its membership of comic fanatics, recently found a much-needed fundraising opportunity.
"We lost money for the rose grams in February, so we figured that if we went to junior prom to make [portraits] it wouldn't be violating any rules," senior treasurer of Comickers Wendy Du said. "It's what our club does anyways."
Since the low sales of rose grams in Feburary, Comickers had been in need of money as the club did not realize that other clubs were selling rose grams as well. Therefore, Comickers had to cancel part of their order and had to scramble to pay a $50 cancellation fee.
To cover the loss, Comickers came up with the idea of selling corsages and boutennieres but then decided to also have a portrait fundraiser, suggested by ASB Secretary Connie Wu.
Junior class treasurer Christine Tedjianto, who was in charge of the junior prom finance, was also supportive of the portrait fundraiser.
"We talked about it in a class officer group, and we felt that it should be okay because it didn't cut into our profits," Tedjianto said.
At first, Liu planned on doing caricatures but later decided on portraits with charcoal.
"[Charcoal] is pretty easy to use and smudge but not as permanent as marker so you can still make a mistake," Liu said. "I find caricatures harder because I'm not sure what to accentuate."
Both Liu and Du believed that the fundraiser would turn out well but later realized that the fundraiser did not actually work as well as it was expected.
Comickers made a 20 dollar profit and did not make up the loss of money from the previous rose grams.
"It wasn't as successful as it could have been," Liu said. "It [would've been] probably better if we had gotten the other artist to do it since she's a senior."