Honey Bunches of Oats: Not your usual bowl of cereal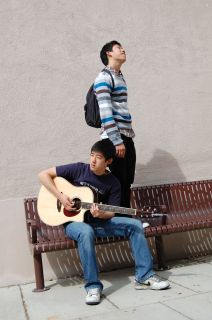 Take a sneak peek of this musical-duo performing at Open Mic. Night!  
Since last semester, juniors Charlie Huh and Victor Kuo have been writing and playing songs together.
Though Kuo has been a drummer for four years now, he purchased a guitar about a year ago and started teaching himself how to play.
"I have a lot of friends at church who play," Kuo said, "so I pick up tips from them and then I just practice on my own."
As the rest of sophomore year slipped into summer time, Kuo continued strumming away at his guitar, and even began writing his own songs.
After a "late-night-inspirational-moment," Kuo wrote wrote his first song, "Summer Breezes" in one night. He then contacted his good friend, Huh, a talented vocalist who has been singing ever since he was five years old. While Huh worked on creating a tune for the song, Kuo tweaked the words and lyrics to fit the melody, and they soon perfected "Summer Breezes," which eventually became their debut-song. 
"We recorded it, and posted it on Facebook, and it was a hit!"  Kuo and Huh said proudly. And that is how the duo began their music-making journey.
They call themselves HBOO, an acronym for the cereal brand "Honey Bunches of Oats." 
"HBOO started out as my ex-[girlfriend]'s nickname," Huh explained in between embarrassed laughs, "because we started up this music duet around the same time that I was going out with her."
Kuo and Huh get together about twice a month and write their own songs, which are usually about heartbreaks and "tough relationships" that they have gone through. So far, they have written four original songs, and recorded about half of them in their makeshift-recording studio located at Kuo's house.
The two members of HBOO hope to record an album as soon as junior year ends, so that they can have it out by the end of the summer. Until then, the two will continue to pursue their passion for making music.
They will be performing their set, called "408 and Heartbreak," (with reference to Kanye West's album, "808 and Heartbreak") at Open Mic. Night on Friday, Mar. 27 in the auditorium.
Come support HBOO sing their original song, "Take it Away," as well as covers of "Simply, Starving to be Safe," by Daphne Loves Derby, and "Chocolate Cake," by Alex Kaneko.