New AP class added to science department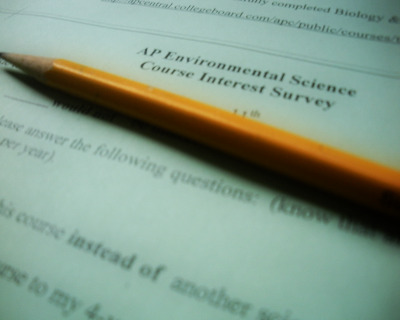 Deepa Kollipara
March 11, 2009
While most schools are panicking about losing classes due to budget cuts, MVHS is giving students an even longer list of classes to select from during the upcoming course selection fair.
For the 2009-2010 school year, the science department will be adding a new class, Advanced Placement Environmental Science—a class offered by the College Board for over 10 years. After Homestead High School added the class to its course list last year, MVHS teachers and administrators decided to follow suit. However, the idea is not new. Although AP Environmental Science will be a new course this year, this addition has been talked about for years.
Biology teacher Chelsea Crawford is expected to teach the class, since she piloted the class in 1997 in Los Angeles when the class was first introduced by the College Board.
"When I came [to MVHS], I was kind of surprised," Crawford said. "This is a wonderful school with so many amazing programs. I couldn't believe we didn't have this class!"
A.P. Biology and A.P. Environmental Science are expected to have some overlap as A.P. Biology covers many ecology concepts at the start of the course. However, A.P. Biology's ecology unit is only the introduction. Mostly, the classes cover two different types of life science. According to Crawford, students who have taken A.P. Biology will have a completely different experience taking A.P. Environmental Science.
"It's a lot more macro than [A.P. Biology]. Rather than saying, 'This molecule performs this action which causes some phenomenon' we're stepping back and saying, 'When a whole group of organisms are living here, how does this impact the water?'" Crawford said.
Unlike A.P. Biology, which has a rigid and fixed curriculum with specific labs, A.P. Environmental Science is a much more flexible class. Topics covered in A.P. Environmental Science range from studying human population trends to sustainability issues such as depleting resource distribution. The class covers water resources, agriculture, and even the study of the atmosphere and global warming.
"This class is relevant to everyone," Crawford said. "You might not be a science major. You're going to be an artist or a lawyer. I've had all those students in this class, and they really enjoy it because its about the air they breathe and the soil that grows their food."

"I might want to take this class [because] it is relevant to our society today and may even force people to change their lifestyle," sophomore Priyal Bhatt said. "I think you should definitely know the current events pertaining to the class."
In January, all sophomores and juniors were given a survey in their science classes for the department to see if there was enough of a demand for the class to exist. Close to 900 students were surveyed and 55 percent, or 494 students, said they were interested in the class.