Girls varsity basketball wins first league game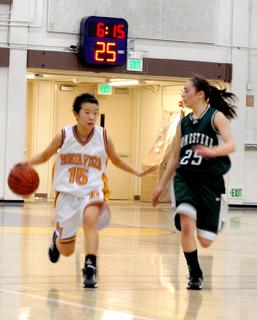 The Lady Mats went on to beat the Mustangs 45-39 on Jan. 7 to go 1-0
The varsity basketball Lady Mats defeated the Homestead Mustangs 45-39 on Jan. 7 at MVHS to go 1-0 in league games for the season.
The game started out in favor of the Matadors who took an early lead. Throughout the game, Homestead pushed the ball and looked to take advantage with their transition offense. MVHS played with more of a half-court set for most of the game and distributed the ball until a player got an open look or a chance to drive. The Matadors' zone defense held the Mustangs to only eight points in the first quarter, leaving the score 14-8 going into the second quarter.
But Homestead picked up their game with a strong full-court press that the Matadors had difficulty breaking. The Mustangs stole the ball often, which led to easy buckets, but the Lady Mats kept their lead at six, going into halftime 21-15.
The Mustangs came out strong after the break, starting off on a 5-0 run, including a 3-point play by former Matador and current Homestead sophomore Allena Sommer, to bring them within one point of breaking the Matadors' lead. There wasn't much scoring for the next couple minutes until the Matadors went on a run after a timeout to put them ahead 32-24. The game picked up speed near the end of the third quarter with both teams consistently running up and down the court and hustling for each loose ball to get an extra possession for their team. The Mustangs outplayed the Matadors during this time with a 9-0 run that ended early in the fourth quarter, giving them their first lead of the game at 33-32.
At this time, coach Sara Borelli told her players to tighten up their defense and implement a half court trap. She also said, "prevent second or third rebounds and outplay [the Mustangs]."
The score remained close until near the end of the fourth quarter. It was tied at 38 with 4:09 remaining in the game when Matador sophomore Alex Chiu dove to the floor to grab a loose ball. Then, from on her back underneath the basket, she passed the ball to senior Yiling Chen who made a layup to put the Matadors up 40-38. The Matadors never looked back from there. MVHS won the game 45-39. Leading scorers for the Lady Mats included junior Amy Lin, 10 points, Chiu, 9 points, and junior Victoria Lee, 8 points. Sommer was the leading scorer for the Mustangs with 13 points.
The Matadors and Mustangs will meet again on Feb. 20 in Homestead, but now both teams know what to expect.
"Homestead has a strong press so we need to break it," Borelli said. "There's a lot of time on the shot clock. We need to take our time and not rush."