Waste Wars: The battle for a cleaner campus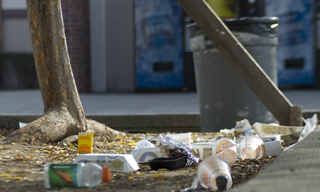 Campus Commission hosts a surprise school-wide competition to promote a cleaner campus for all.
Trash: It's all over campus. From torn-up tissues to crushed containers, and abandoned apple-cores to drained juice cartons, waste seems to occupy a large portion of this campus.
On a day-to-day basis, students leave their garbage strewn about the school grounds without thinking about the consequences, as our janitors simply pick up after them.
But what happens to MVHS when such services are postponed?
As of Dec. 1, MVHS custodians had secretly stopped cleaning up the trash that students have left behind so that the student body could get an accurate look at how much they litter.
This event, called "Waste Wars," was hosted by Leadership's Campus Commission.
Since Thursday, trash cans and recycle bins were placed in the center of both the Rally Court and Academic Court.
During lunch, students were encouraged to bring their trash to these garbage cans.
According to Campus Commission Lead, senior Sangita Annamalai, Commissioners at these locations were responsible for judging whether or not the pieces of garbage were substancial enough to be counted.
After the Commissioners decided, students were then given a raffle ticket for a chance to win a grand prize of an iPod Shuffle or two $15 iTunes gift cards.
Students had until lunchtime on Friday to go back as many time as they wanted to fill up these Waste War garbage cans and recycle bins with their trash.
Reinforcing this year's overall school theme of "Going Green," Campus Commission is hoping to promote a student-run campus beautification process with Waste Wars.
"[Without the janitors cleaning up], there will be trash all over the place," Annamalai said, "but students just [need to] know how much trash they aren't putting in the garbage cans."
Starting Thursday, many students had already started participating in this friendly competition.
"All garbage cans are almost filled, and it's not even the end of lunch yet," Campus Commissioner senior Esther Steves said. "Most of MVHS is participating because it's really easy to pick up trash and there is a pretty big prize for just picking up garbage."
After the first day of Waste Wars, Campus Commissioners estimate that there will be about 15 to 20 bags filled each day.
By Monday, Dec. 8, Campus Commission will announce not only the winner of the raffles, but also how many bags of trash students have managed to fill on their own.