The Twilight Epidemic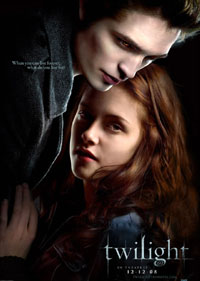 What makes Edward Cullen mania so contagious?
Since August, when the last installment of the "Twilight" saga, written by Stephanie Meyer, was released and every girl was whispering something about a movie in the works, "Twilight" has been everywhere.
It began with that ubiquitous shiny black hardcover with the queen chess piece. Then came the official movie announcement and with it, a bombardment of "Twilight" paraphernalia. From pro-vampire t-shirts to Team Edward and Team Jacob underwear, the "Twilight" fever was gathering speed. And now, the devastating strain of the "Twilight" epidemic strikes again— in the movie release. With opening night tickets sold out days in advance, frenzied fans fighting over cast meet-and-greets, and 500 of the theaters showing the movie sold out days before the premiere, "Twilight" is infecting the minds of teenagers everywhere.
So what is it about this particular vampire tale that makes it so addictive?
For a majority of fans, the answer lies in protagonist Bella Swan and Edward Cullen's relationship. "It's so idealistic, so cliche, you just have to love it," junior Cat Shieh said. "It's every girl's perfect love story."
According to fans, "Twilight" offers readers a piece of perfection, often seen in the form of Cullen. A large part of Cullen's appeal stems from Bella's "girl on the street" image that readers can relate to. Readers can easily place themselves in her shoes and swoon, as she does, over Edward. Hearing the story from her perspective heightens Edward Cullen's perfection and fan appeal.
The obsession with Cullen, however, is much more complex than perspective alone. The idea of forbidden love— a taboo yet ever-present adolescent desire— plays a major role in Edward's allure. Because Edward Cullen is not just an older man, and isn't merely of an unattainable class, there is no sociocultural barrier.
The barrier between the star-crossed lovers is deeper than that. Edward Cullen is a vampire.
To many readers, this simply makes him that much more magnetic. "Vampires are the sexy monsters," sophomore Charlotte Roberts said. In contrast to their werewolf enemies, who tend to be all about the brawn, the vampire clan seems to have garnered great admiration for its subtle seductiveness and coy, suave ways.
Cullen's role of doting protector also amazes many fans. "With everything he does, he always tries to make [Bella] happy…and every girl wants to be happy," junior Ruby Jang said.
And no one minds a little TLC, which "Twilight" amply supplies. "The romance just did it for me," Roberts said. "I'm addicted."
With the release of the "Twilight" movie today, and a sequel already in the works, it's no secret that "Twilight" fever has hit home and hit hard.
"I would like a husband like Edward," Shieh said, laughing. "Wait… change husband to boyfriend."