Cookies, brownies and everything else sweet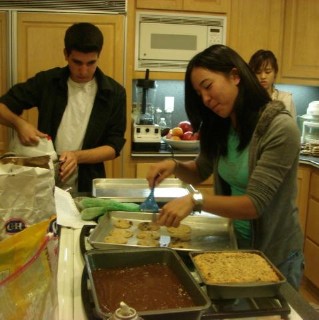 MVHS baking club prepares for their Nov. 8 bake sale.
Baking club's fourth bake sale participated in the Great American Bake Sale program on Nov. 8
There was an abundant amount of baked goods on the table as Saturday grocery shoppers looked at the table. Though it was cloudy and rainy, the members of baking club greeted each shopper with a smile asking them if they would like to support the Share Our Strength foundation.
From 9 a.m. to 5 p.m, on Nov. 8, baking club sold home-made baked goods ranging from banana bread to blueberry muffins in front of the Homestead Trader Joe's. It took a combined 12 hours to make all the items: two hours the weekend before, and eighth hours of baking on Friday at two officers' houses. Each two hour shift at the pre-bake and baking day had four to five people with at least two officers. The labor and cost of the ingredients at $52 was minimal, but baking club still managed to raise around $300.
"We made even less [baked goods] this time but still managed to get a reasonable amount of profit," Chen said.
"People are pretty nice," senior and club treasurer and secretary Aimee Li said. "When they contribute they really contribute."
At the bake sale each good was under $2 with all profits benefiting the Share Our Strength foundation, which is endorsed by the Food Network and aims to end child hunger. Baking club has participated in Share Our Strength's program, the Great American Bake Sale, since the start of the club in 2007, and so far they have raised about $800 for the foundation.
Club president, Aileen Le, and vice president, Samantha Chen, both juniors, began donating to charity when Le discovered Share Our Strength in a cook book.
"We wanted [the club] to be part community service: to do something good while we baked," Chen said.
The members also find baking for a good cause, enjoyable and a great idea.
"It's really helpful because it's relieving hunger and the program also really relates to the club," junior Michael Wu said.
Junior Melissa Kobayakawa agreed with Wu.
"I thought it was a lot of fun. It allowed me to bond with people I didn't know," Kobayakawa said.
Next semester, the club is looking to raise about $350 for their fifth bake sale.