Witchcraft appears in the drama department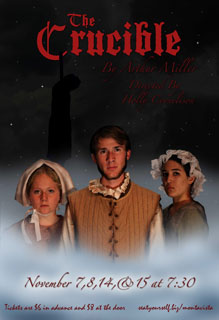 A preview of MVHS Theatre Arts department's first play of the year
MVHS drama's "The Crucible", directed by drama teacher Holly Cornelison, will premiere on Friday, Nov. 7 at 7:30 p.m. There will be two different casts: one on Fridays and the other on Saturdays. All cast members will appear in all of the shows however John Proctor, Elizabeth Proctor, and Abigail Williams will be played by different people on Fridays and Saturdays.
On Fridays, Cris Torres will be playing John Proctor, senior Jeanette Deustch will be playing Elizabeth Proctor and Abigail Williams will be played by sophomore Stella Ziegler. On Saturdays, John Proctor will be played by senior Brian Miller, Elizabeth Proctor will be played by sophomore Emily Williams and the antagonist Abigail Williams will be played by senior Amy Dennis.
The play, written by Arthur Miller, takes place during the Puritan time period in Salem, Massachusetts. It opens with a group of girls dancing in the woods led by Tituba, a black slave. When a local minister sees them illegally dancing, the hysteria of witchcraft starts. Abigail Williams, the head of the girls that were dancing, is questioned. A series of events continues to spread the paranoia of witchcraft throughout the town.
The play, filled with morals, is both emotional and touching. After five to six weeks of work put into the play, the entire cast is excited about the opening night.
"By the end of the play, hopefully the audience will be in tears, and a little bit horrified," senior Alex Moresco, who plays Ezekiel Cheever, said.

Two acts and an intermission, the version of "The Crucible" played MVHS Theatre Arts Department will be playing is an unabridged and one of the most recent versions by Arthur Miller. The play will last about two hours and forty-five minutes.
"A lot of things go on in this play, and there's a lot of energy, " Moresco said. "The whole play is really realistic. A lot is at stake because the situations evolve into a much bigger problem."
Don't worry if you can't make it to the show this Friday, Nov. 7. There will be another show on Saturday and shows next weekend on Nov. 14 and 15.
Tickets are on sale for $6 in advance except for the center front seats, which are sold for $8 and they can be bought from any cast crew member, at lunch in the Rally Court or online at www.seatyourself.biz/montavista. Tickets at the door will be $8.