Halloween 2008: who were they?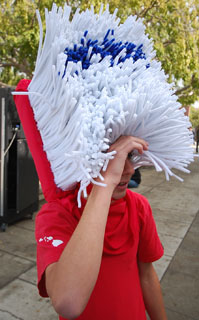 Students put on their best costumes on Halloween.
With appearances from the Joker(s), a toothbrush, grapes, chickens, and crayons, it was clear that MVHS students take Halloween seriously. At lunch on Oct. 31, students milled around the Rally Court to check out the detailed and creative costumes of their fellow students. From buying costumes to creating them entirely from scratch, students spent up to two months planning and putting their outfits together for the spookiest day of the year, and their hard work wasn't hard to see.
Daily Reminders
As a walking reminder to brush your teeth, senior Danny Lorenz was a life-size toothbrush. He created the entire costume, inspired from brushing his own teeth, of course, in three days.
Lorenz, who has donned costumes such as a giant poinsettia as well as a lamp                           in previous years, headed to a fabric store to make for himself a red body suit. He then spent
time working on the head piece, which included over 100 pipe cleaners placed to mimic
the exact design of toothbrushes. During the day, various students' comments on his costume ranged from "Wow, that's so cool!" to a more confused, "What is it?"
Bargain Buys
Students, however, had no problem distinguishing the two chickens that were running around campus. Juniors Cindy Zhang and Jennifer Nguyen wowed their classmates with the detailed costumes they worked on since their summer field hockey camp. As a base for their costume, they used old P.E. shorts and old sweatshirts, with orange visors as their beaks. They also sewed 66 feet of orange feather boas on to their body pieces. The total amount spent on both outfits? $100. But to Nguyen, this was a bargain.
"If we had bought chicken costumes, they were each $80. For this one, we only spent $50 each," she said.

Senior Jenna Iguchi and sophomore Valerie Patterson were also looking for a bargain deal for their costumes. The two dressed up as grapes, inspired by images on American Apparel's website. Iguchi was a purple grape and Patterson a green one. Both girls wore corresponding colored shirts from Michael's, shorts, and tights before adding their final part of the costume: blown-up balloons. Patterson used safety pins to attach ten green balloons, while Iguchi managed five more for a total of 15 purple balloons on her shirt. But such a costume had some risks, as Iguchi acknowledged that throughout the day, two of her balloons had popped.
Balloons weren't the only things popping, though — just ask senior Christina Lee, who was dressed as a yellow crayon. She watched her senior friends Jesse Mao, Alex Lee, Joseph Huang, and James Maa pop out of their confining Crayola box to reveal their own colorful outfits that matched with Lee's. All the outfits were made from felt and took "a long time" to make, according to the blue crayon, Maa.

A blast from the past
The crayons weren't the only bright flashbacks to students' pasts, as freshmen Justin Hsiung, Andrew Hsu, and Boson Wang flaunted their Teletubby outfits with pride. The boys knew they wanted to do something creative, and after tossing out ideas like ketchup and mustard because it was too cliché, they settled on being Teletubbies. Hsu and Wang credit Hsiung for being the leader of the group who created most of the costumes. Hsiung gathered colored shirts and tights, created the felt squares for their stomachs, and even sewed on felt ears to headbands bought from Target.
"We wanted to do something creative and memorable," Hsiung said. Mission accomplished.
Explosions of creativity
Other creative and memorable costumes belonged to seniors Kristen Korz, Sapphire Fein, and Shelby Huguenard who represented the elements of fire, water, and earth, while Grace Li, their friend who is a senior in Middle College, completed the set as air. The girls spent several weeks working on their costumes every day after school. They traveled to fabric stores for materials and bought masks from Diddam's that they proceeded to decorate with glitter and sequins. When asked about how much they spent on their costumes, Huguenard commented: "More than I want to think about!"
Equally as decked out and shiny as the elements was senior Susan Oldfield who hand-crafted most of her robot costume, though she initially planned to be a robot for Homecoming rather than for Halloween.
"I've always wanted an excuse to do the robot the entire dance," Oldfield said.
She created her entire hat and the rest of her outfit by going to fabric stores as well as thrift stores to pick up the key pieces. Once these pieces were in her possession, she altered them to fit her and the costume (such as cutting down a large blazer to be a vest) before rummaging through her garage to find lots of piping, wire, and other random metal pieces. She superglued them onto her hat and down her pinstriped pants, making sure that she was very visible to anyone walking by. If that didn't make her visible enough, Oldfield spent an hour and a half putting on a cream shimmer all over her body to really authenticate the look.
"Are you ready yet…?"
It wasn't unusual for students to spend hours in front of their mirrors to perfect their costumes. Junior James Barker and freshman Max Sorg both chose to dress up as the Joker from the summer smash "The Dark Knight" after being inspired by Heath Ledger's performance. Barker, however, took the costume one step further by dressing up as the Joker in his nurse costume from the movie rather than his trademark purple suit.
"I figured people would dress up [as the Joker], so I wanted to do something a little different," Barker said.
He bought the nurse costume from Party City and his make-up took him about 10 minutes, a sharp contrast to the amount of time Sorg spent on his. Sorg woke up at 5:30 a.m. and, with the help of his mother, took two hours to apply all the make-up — including scars made from latex — to his face for an accurate portrayal.
Halloween not only brought out a variety of characters but also a wide display of the creativity and talent MVHS students possess.
To view the slideshow of costumes, click here.