Celebrity Stalker: The Disney Evolution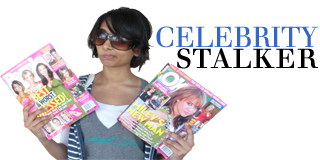 My theory on those "innocent" Disney stars.
For those who read my last column, you might think I'm a "hater" and complain a lot. Rest assured. Nothing's going to change, and this time I'm hitting everyone's soft spot. Yes, I'm going to be a hater of Disney who made all of our childhood dreams come true.
Before you trash me as someone who is against "the happiest place on Earth," hear out my scientific theory. Okay, so it may not sound as legitimate the Heisenberg Uncertainty Principle, but bear with me here.
The Theory of Disney Evolution: Every "innocent girl" on the Disney Channel will inevitably become exceedingly slutty and the center of negative paparazzi press.
So how did I come up with this hypothesis?
As usual, I spent countless hours reading old Entertainment Weekly magazines when I should have been reading Bailey for the AP U.S. History summer reading test. That's when I noticed Miley Cyrus's half-naked Vanity Fair photo. Then I came across Vanessa Hudgens, star of "High School Musical," nude photo controversy that leaked on the Internet last year.
That's when it hit me. Wasn't Lindsay Lohan from the Disney movie "The Parent Trap"? Wasn't Britney on that Mickey Mouse show? Hilary Duff from Lizzie McGuire? Hilary played spunky Lizzie who had to battle everyday middle school challenges from zits to popular girls. Britney was a cute kid on a variety show with Mickey Mouse and I'm sure you remember the adorable twins that tried to get their parents back together. Even Gabriella was the sweet new girl at East High. But in real life, they're all loose girls that the paparazzi can't get enough of.
Now? Hilary is making racy videos. Lindsay and Britney have been in rehab several times for doing who knows what.
I agree with the stereotype that a lot of celebrities are a bit on the wild side, which is quite normal and accepted behavior for celebrities.
The issue is that Disney's girls are role models.
Indeed, Miley Cyrus is incredibly hardworking, handling a busy acting and singing career while most likely in a relationship with a 20-year old underwear model. And most eight-year-old girls across the nation want to be Hannah Montana. Miley is everywhere: in music, on TV, on clothes, toys, and room decorations. In fact, you can now even buy the blond wig at Toys 'R' Us.
What next cute and innocent Disney girl will fall into the theory of Disney Evolution? My bet is on Selena Gomez from the "Wizards of Waverly Place" or Demi Lovato from "Camp Rock."