Dynastic Rap-sody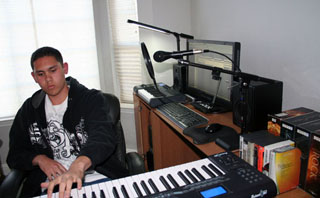 Senior Kevin Beggs on his way to become the next Timbaland
For some, the starry dream might start in four years, after college, after a shock of epiphany; for senior Kevin Beggs, it started two years ago.
First, there is the home studio his musical older brother ("just a wanna-be musician") left behind for him: a flat-screen monitor, two keyboards, two stereo speakers, and a microphone, all of which compose a neat U-shape work place with a leather swivel chair à la Jack Warner in the middle.
The tall and lanky Beggs, in jeans and a hoodie, leans back to listen to his newly created rap track and then hunches forward to fiddle with the keyboard to look for another instrument that "sounds more right." He fixes himself at the station finding that sound for at least 7 hours every day.
Beggs started his music business two years ago, at the age of 16. Senior Neil Raina remembered sharing their love of rap, "We would talk about rap in class and make some beats. But Kevin is the one who did everything."
After playing a while with the equipment, Beggs entered a competition held by the record label, G-Unit—the very empire built by 50 Cent. Although he did not win the grand prize, he made contacts with artists and soon began selling his beats.
Beggs aspires to make producing music his career and ultimately to become a household name, like Timbaland or Dr. Dre. This has been his career goal since he gave up on business in his freshman year.
"[I] took, like, Principles of Marketing one year, got an F, dropped the class, never wanted to be in business again," Beggs said.
His MySpace page speaks loudly for who he is. In lieu of his real name, Beggs put on "KDE Tha Don" as the display. KDE is his production brand "Kevin Dynasty Entertainment."
What about "Tha Don"?
"It's just KDE," Begg said. "Tha Don is just a joke from Polow Tha Don who is a platinum producer… Don is a sign of respect in many cultures, especially in Europe and South America. Someone who is a Don is someone with a lot of respect and power. It doesn't apply to me; it was just a joke."
But he does take his music seriously. At first, his parents were not completely supportive of his venture, but Beggs has proved his dream worthy of pursuit.
"[What I did was] basically just showing them that I won't be a starving musician and I can achieve success in this industry," Beggs said.
Beggs now sells his hip-hop, R&B, and rap beats for $1,000 to $1,500 each, minus commission for his manager and income tax. So far he has sold 20 to 30 tracks to clientele ranging from big record labels such as Warner Bros. to up-and-coming artists. He works especially closely Raje, a rapper who is based in L.A., who is also Beggs's manager.
Raje initially reached out to Beggs three to four months ago when he was setting up a management firm as a division of Jazzy Management (by hip-hop mogul Jazzy Dee.) Prior to that, Raje had been using a couple of beats Beggs created.
"He makes beautiful music, very dramatic and musical," Raje said of Beggs's work. "He's good at creating a mood. And he's good on the keys."
At urgent times, like when deadline starts looming, Beggs even travels down to the Los Angeles studio to work with Raje. On a recent trip, Raje even recorded a shout-out to Raina, a close friend of Beggs:
"This is Raje saying wassup to homie Neil. You know I'm out here in L.A…We've just been kickin' it the whole weekend…You know what I mean, we've been doing it for 48 hours nonstop. So get at me."
Beggs is currently working on Raje's debut album, "Your Welcome", due in January 2009, released by A.S.A.P/Koch Records.
But as much professional experience Beggs gains in trips to L.A., and as enjoyable as they are, they tend to be expensiv in both money and time. Back at his home studio, Beggs is a productive producer. Music is his passion, and this is his way to contribute to what he loves.
"I have an emotional connection to music and I vent my current feelings on life through my music," Beggs said. "When I make a beat, I make it based on what I am feeling. I will try to make a happy R&B song when I am angry and it will never come out good."
Making a beat can take Beggs from five minutes ("but of course it won't come out very good") to more than seven hours, depending on how far—musically—he wants to take the beat. From composing the melody (he usually starts with the keyboard), to inserting drum beats ("the easiest part"), and building up tracks with strings and other instruments, Beggs is completely focused.
Beggs rolls his leather chair forward and leans in to the computer keyboard again. Right now he is clicking through the software FL Studio library, trying to find the right sound for a track for R&B up-and-comer Ashley, who is under the same manager as Beggs.
The road seemed almost too smooth, but Beggs confessed that he did have some defeats when his first beats were rejected. But he brushed it off. It hasn't affected him.
"I was young," he said simply. And almost an afterthought, "I still am."
He is getting there.