Girls tennis soundly defeats Los Gatos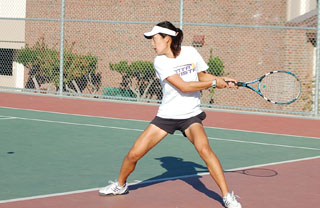 Game Score 6-1

While a stroke of luck may have carried varsity tennis to victory in their close match (4-3) against Saratoga last week, the team made a strong comeback at Thursday's home game. Defeating Los Gatos for the second time, the girls won six out of seven of total matches.
"We had experience since we knew how they played," sophomore Elaine Tang said, who plays #3 doubles.
As a whole, the team played with strong offense. Particularly, on the #1 singles court, sophomore Sylvia Li crushed Kate Bergesan from Los Gatos 6-0, 6-1, although this was due in part to unforced errors and inconsistent shots from Bergesan.

Sophomore Vynnie Kong, who normally plays #3 singles, suffered an injury to her leg and switched with junior Gizem Gures, partnering with junior Tara Nguyen in #1 doubles. "They don't usually play together, so they were unfamiliar with each other as doubles partners," said teammate senior Nickie Ding, explaining MVHS' single loss against Los Gatos. However, Kong and Nguyen fought a hard match, battling for a while before losing the tiebreaker by a narrow margin of two points. Their final score was 5-7, 6-4, 13-15.
In addition to player injuries, this year's team is starting to deal with its first batch of new, non-ranked players. Usually, at least a couple United States Tennis Association ranked girls join the varsity tennis team, but this year there were none. Without these statewide and national tournament competitors on the team, MVHS faces a more challenging season than in previous years.
Despite these small setbacks, the team maintains an optimistic outlook for the coming games. "We're very supportive of each other and we always cheer each other on," team captain, senior Iliana Nguyen, who plays #2 doubles said. "We may not be as strong as last year, but we're improving with every match."