Standardized tests, no standard result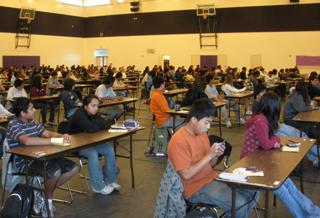 Laura Wenus
October 22, 2008
Students differ in thier opinions on the merits and effectiveness of standardized testing.
Visitors to the MVHS webpage will find themselves greeted by a variety of highlights in recent school history. One of these highlights is a link to Academic Performance Index, a score that is calculated from standardized testing. For students, the next round of testing is the November SATs.
To senior Neta Assaf, the SATs are a waste of time and money.
"I just didn't want to put on the extra stress for something I didn't need," Assaf said, who plans to go from MVHS to De Anza College and then transfer to a college when she is more decided on a major.
Junior Amritha Parthasarathy has a different approach, telling of her plans to apply to some of the Universities of California and an SAT class she has taken.
"[SAT subject tests] show colleges that you know the subjects and the strategy," Parthasarathy said. Though important in college admissions, she described the SAT as mostly strategy involved.
"I get the school idea, how they can be useful in telling the school how well they are doing their job," Assaf said of standardized tests like the CAHSEE and STAR exams, "but they aren't an accurate measure of what we know."
Though she says she isn't familiar with the state and national use of standardized testing results, guidance counselor Sarah Freeman does find them helpful every now and then.
"[Tests can show] a background on a student's academic strong or weak points," Freeman said.
Standardized tests can award college credit—such as for AP exams. Sometimes, however, like with Assaf's Biology test, problems arise from the system. Weeks after other results had been mailed, Assaf's results still have not been received. In fact, records of her registration and test seem to have been completely lost.
A large part of the motivation behind preparing for and taking tests is college admittance. According to Freeman, the weight SATs carry in the decision process has diminished somewhat. Lists of colleges that do not require SATs are growing, which she finds encouraging.
When asked whether the tests were actually worth anything to her, Parthasarathy's response was a resounding, "no."
But Freeman still believes the SATs have some value.
"It's better for a student to take the SATs than to have colleges close a door in your face because a student didn't take them," Freeman said.
As Assaf's philosophy goes, "Suffer through them, live on."