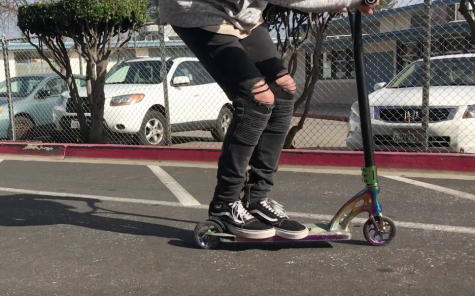 January 22, 2018

Filed under Culture, ENTERTAINMENT, Lifestyle, Student life
tanding on the edge of a 20-foot-bowl at Santa Clara's Cabrillo skate park, sophomore Joseph Balje shifted his feet on his skateboard, getting ready for the drop-in. But as he pushed off, something didn't feel right. Instead of landing the trick, he landed on his face -- causing two chipped teeth, a ...
April 21, 2013

Filed under Main slider, Matador of the Week, SPORTS
Abramson from El Estoque on Vimeo. Most people remember scootering around the neighborhood block as kids, but for one MVHS student, the childhood activity has gone much further. Junior Anton Abramson, who has been on wheels since he was little, is now sponsored by two companies, involved in competit...