Kelly Tung
May 31, 2023
Waking up two hours earlier than usual, senior Kelly Tung was amazed when she walked into her final Homecoming practice. Her hard work was coming to fruition when she saw the painted backdrops hanging in the Rally Court. From painting at senior Stephanie Zhang's house to seeing the final product, Tung remembers experiencing a beautiful moment of cognitive dissonance — the contrast between what the posters were and how they appeared finished was unbelievable. 
Tung also remembers the enjoyment she felt while dancing in her last Homecoming performance. The moment she stepped onto the stage for the final dance marked one of the most exciting moments of her high school career. 
 "We didn't have the best performances in previous years, but I really think this year, we pulled [everything] together perfectly and at the right moment," Tung said. "Our hard work really stood out. That was something I was really, really proud of."
Much like Tung's love of the senior Homecoming skit, a moment Tung won't forget was the Welcome Back Rally from her freshman year. Not knowing what to expect from high school, watching the upperclassmen perform dances and play silly games was a perfect welcome to MVHS for Tung. And seeing the event evolve over the past four years has been something Tung cherishes annually. 
Before Tung experienced any high school, including the rally, she was most excited to be independent. She also recalls feeling like the time between middle school and high school was a gray area in terms of freedom as she wasn't old enough to do things she thought a high schooler would do, but too old to do the things she felt a middle schooler should do. Now, Tung notes the same transition is occurring for her — the shift from high school to college being the another bringer of independence.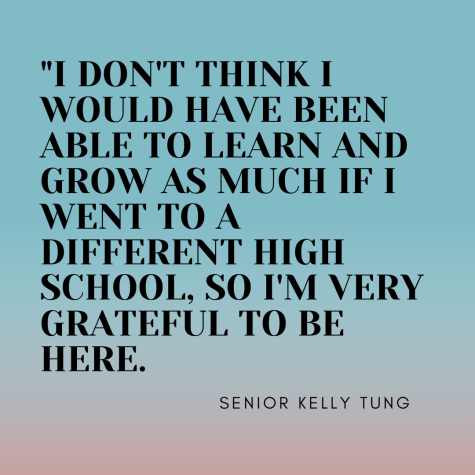 However, as a senior, Tung says high school truly made her more independent. She finds that she has gained more interpersonal skills and notes that balancing extracurricular work, school and being involved in her community were the harbingers of this growth. 
"I learned to be myself," Tung said. "It sounds so cliche, but I learned how to be friends with people and empathize and manage myself. I don't think I would have been able to learn and grow as much if I went to a different high school, so I'm very grateful to be here."
Looking back upon her four years at MVHS, Tung couldn't be happier with the way it went. And if she could, she'd tell her freshman self just that. 
"It all turns out well," Tung said. "Even though you're still feeling a little green and unsure what to do, everything will happen the way that [it's] meant to happen. And just know that we will be in a very happy place four years from now."