Ethan Lu
May 24, 2023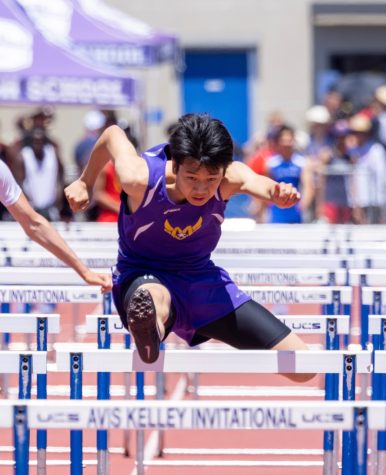 During quarantine, junior Ethan Lu lost the motivation to continue playing soccer since he wasn't able to practice with his teammates. By the end of quarantine, even though a lot of his teammates went back to playing soccer in person, Lu didn't since he was out of practice. Instead, he chose to pursue track and field, which was an easy transition since he was already training for it. 
"After I quit soccer, I dedicated a lot more time to running track, and then during my freshman year season, I wanted to improve and that was why I started getting really into track," Lu said. "[After quarantine] restrictions were lifted, the school track team could start training together again and start meeting. That was when I started — [it] was good timing, because it was my first year [at] school and I got lucky [since] I could run in the track team." 
When Lu quit soccer, he already knew he would enjoy track, as track was also a way for him to stay fit and continue his passion for running. In track, Lu was able to monitor his improvements very regularly and know when his times were improving. While the teamwork aspect made soccer less tiring for Lu, it also made it harder for him to monitor his improvements. Even when he was improving at soccer, his team as a whole might not have improved, which he found disheartening.
"From the beginning, I've just enjoyed running track, but I wouldn't say there's any certain moment that really made me think that track was the right decision," Lu said. "It's just everything — it's always been fun."