Hip hop collective BROCKHAMPTON started as strangers and left as a family
Lead singer Kevin Abstract paints a lopsided family portrait on 'The Family'
"Do we see each other? Hardly / Sh*t we made together? Godly / Did we sign for too many motherf**kin' albums? Probably"
"The Family" is the seventh studio album released by BROCKHAMPTON on Nov. 17, featuring 17 bite-sized songs, which the band promoted to be its final album before disbandment.
BROCKHAMPTON embodied an improbable rise to stardom, beginning as a group of strangers formed by band leader Kevin Abstract via an online forum in 2010. Traces of their abnormal path to fame are reflected within their genre-defying sound, which spans from trap to R&B. Solidifying as a 13-member group starring vocalists, rappers, producers and videographers in 2014, BROCKHAMPTON rapidly gained popularity for their boisterous energy and their trademark identifier as a queer, multi-racial group.
After announcing an indefinite hiatus at the end of their 2022 Coachella performance, BROCKHAMPTON left the stage playing a clip promising a final album to close their career. True to their word, the collective delivered a 35-minute track list that weaves a new narrative containing their hidden struggles. Taking it a step further, BROCKHAMPTON then provided fans with "TM" — a surprise eighth studio album — the following day. While "The Family" served as an emotional goodbye to BROCKHAMPTON, "TM" returns to the band's usual style of scattered thoughts and pop-centric sounds. On a broader level, the group's ability to pay homage to their journey as a band while simultaneously constructing smooth beats and lyrics saturated with struggles makes "The Family" a noteworthy finale and "TM" a wholesome epilogue. 

But aside from minimal contributions from two members of the band, "The Family" is purely Abstract's solo album. Each individual song serves as a puzzle piece that eventually creates a scratchy image of how Abstract's need to leave the band stemmed from his pursuit of a solo career. Due to this, "The Family" paints an incomplete family portrait, only highlighting  Abstract's perspective on what led to the eventual dispersion of the band.  
Nonetheless, "The Family" provides listeners with 17 introspective tracks that feel like a therapy session for Abstract to communicate with his bandmates and fans in the only way he knows how — through music. In an attempt to embrace the band's rugged history, "The Family" travels back to the group's roots by including soul samples from 1960's songs that provide listeners with a sharp tang of nostalgia. The heavy reliance on backing vocals mixed with impactful pauses that highlight the sharp lyrics create an explosion of sparkling sound. From contemplative songs such as "37th" to reminiscent songs like "All That," each track takes listeners through the crevices of Abstract's complex mind. Collectively, the album gives Abstract the perfect outlet to share the turbulent thoughts that have plagued him, with the hope that it will soon help him enter a new chapter of healing.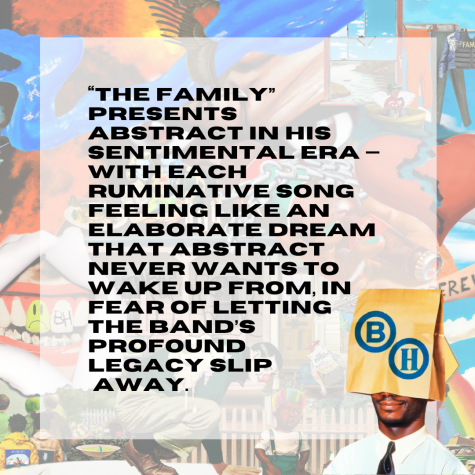 Although the album is largely one-sided in its perspective, Abstract still manages to dig deep and accept the fact that he is part of the problem, particularly seen in his balladic 12th track, "Any Way You Want Me." Even for a somber song, light guitar strums and carefree beats combine to create an optimistic outlook which sets the groundwork for Abstract to explore the toxic relationships in his life — with BROCKHAMPTON being the most prominent one he presents. After albums spent experimenting with various sounds and genres, "The Family" presents Abstract in his sentimental era — with each ruminative song feeling like an elaborate dream that Abstract never wants to wake up from, in fear of letting the band's profound legacy slip away. 
To conclude this comprehensive album, Abstract gifts fans with "Brockhampton," the most emotionally transparent song within the tracklist. Taking a step back from his hallmark rambunctious energy, Abstract pours his heart out one last time, amid the backdrop of gorgeous orchestral strings and the tear-jerking reminder that listeners are experiencing BROCKHAMPTON in their final moments.
"The Family" is a gorgeous ode to the past that simultaneously raises an honorary glass to the group's rocky friendship. The album is a necessary addition to BROCKHAMPTON's loaded discography as it continuously proves their ability as artists to breathe infectious energy into the art they create. Each one to two minute song feels like a deliberate colored paint stroke, which all combine to create a vibrant depiction of the band's familial ties. In the final curtain call of their career, BROCKHAMPTON lets the velvet red curtains fall together in a satisfactory conclusion to their eight year long collaboration.
3.5/5
the show is over. thank you. pic.twitter.com/MMmycDw68q

— BROCKHAMPTON (@brckhmptn) November 18, 2022