Studying abroad
October 6, 2022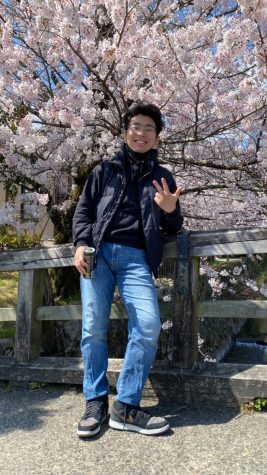 The color pink filled his vision as the springtime sakura blossoms bloomed in Kyoto, Japan. Among the conversations of Japanese pedestrians, the vastly different languages of English, Spanish, Vietnamese and Japanese dialects spoken by his friends and roommates surrounded him. Walking in the crisp air with a group of international and Japanese students, MVHS alum '21 Neo Nishino felt the moment was surreal. 
Although Nishino currently attends Ritsumeikan University in Osaka, Japan, studying abroad in an English-based international program for a Community and Regional Policy Sciences Major it was never his plan. Despite holding dual citizenship, Nishino has lived a majority of his life in the U.S., only residing in Japan for a single year in fourth grade. Given the cheaper tuition and opportunities to connect with his culture and find work in Japan, Nishino decided that this was the best path for him to take.
Other than the fact that "a good population" is Asian, Nishino noticed that compared to Cupertino, studying in Osaka is "a 180 degree difference," specifically noting that Japan is a country that could "fit inside of California" with a train system that could take him virtually anywhere in the country. In terms of his school, Nishino notes that Ritsumeikan has a larger campus, food that is both cheaper and better-tasting than MVHS's and a significantly lighter workload than at MVHS. 
"You realize how advanced MVHS's level is," Nishino said. "You guys are crazy smart and that's the thing. You [also] realize how diverse MVHS is despite it being in America [because] you learn a lot. [In Japan], I might be in a class talking about cultural encounters — they might be talking about China as if you've never heard about China or never talked to anyone Chinese, but I've kind of done that every day [in Cupertino]. I mean, heck, I've been to their house, to their parents' houses and talked with their parents. So I've definitely been better equipped than most people."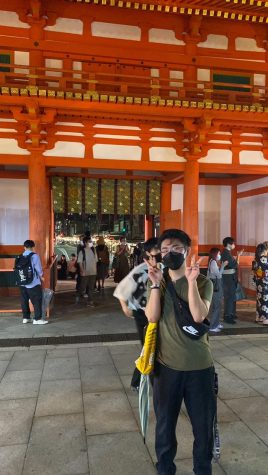 Although Nishino is the "black cat living abroad," he doesn't feel like he has left his life in Cupertino behind. Instead, he has set himself on "a different set of rails" that has led him to a new country and future that better aligns with the life he has always imagined. While living in Japan comes with its challenges, Nishino has been able to do things that others "just see in an anime" — such as attending night festivals, going to temples and participating in club activities. As for future goals, Nishino has set his eyes on working as a liaison between Japan and foreign countries. Since living abroad, Nishino has realized that he will always be responsible for his Japanese culture, but his home will always be the Bay Area. 
"Because you live in Cupertino and you go to MVHS, you don't realize how rare your gift is — of speaking two languages and knowing what America and other places [are] like," Nishino said. "You realize that you're a needle in the haystack and people will look for that and they will pay a lot of money for that … You'll come to learn that you're different [and] you'll come to value your life a lot more. "