Cindy Chang and Tony Yang
October 3, 2022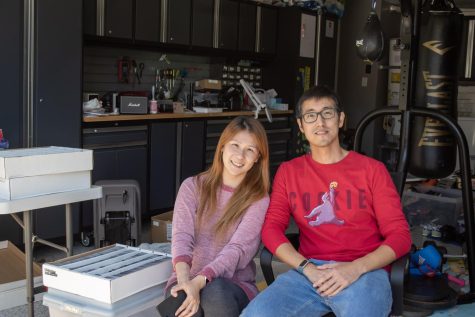 Tony Yang and Cindy Chang participated in the garage sale for the first time this year. By midmorning, plastic food containers, toys, books, stuffed animals, clothes and all sorts of household items were spread out across their driveway and lawn. According to Yang, the couple saw the garage sale as a chance to finally part with everything they'd collected during the pandemic. 
"I have a garage and I had not used it because of COVID, so we just had a lot of things accumulated over those last two years," Yang said. "And I don't know if they did garage sales the last couple years, but I knew that they were doing it this year. I found out through [my wife], and so I was like, 'Oh, this is a good opportunity.'"
Chang noted that the pandemic was also only partly behind the accumulation of  items they wanted to sell. She added that as their kids grew older, it was natural to have to slowly clean things out.
"You buy a lot of stuff over the years," Chang said. "My youngest is three right now, and my oldest is nine, almost 10, so we're slowly in the process. We still have a lot [of items] inside [too]. This is just a portion of it."
Their garage sale took place in Chang's childhood home. Chang, a Regnart Elementary School, Kennedy Middle School and MVHS alum, remembers watching her mother hold garage sales and leave free items on the curbside. She recalls that the next morning, everything would be gone. Chang and Yang had donated to Goodwill before, but this year, they decided to take advantage of their location and hold a garage sale. Chang said they kept their prices low and had already seen many sales, though the items that sold the most poorly were the furniture left behind by her mother.
"[My parents] moved to Taiwan and we moved in to save on rent, so we're trying to sell some of their stuff," Chang said. "My mom's like, 'I bought [the chairs you're selling] for 60 bucks!' And I'm like, 'Well, I don't know if anyone wants them anymore."
Both Chang and Yang were satisfied with how their garage sale was going. Chang credited the citywide garage sale with bringing constant traffic by their home, estimating that at least 100 people had already stopped by.
"This is [also] a really good location for a garage sale," Chang said. "I feel like we should have a lemonade stand next time, so we can kind of have a double business."