Bryan Lancer
October 3, 2022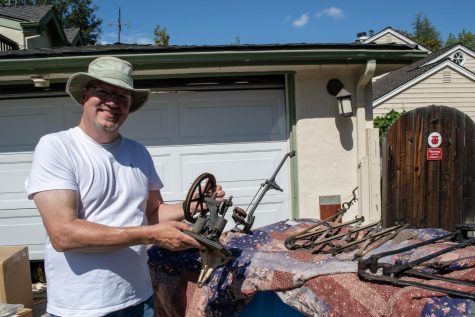 By early Saturday afternoon, Bryan Lancer's driveway had "mishmash" here and there: a framed authentic lemon crate label, old electronics and other assorted items. According to Lancer, his garage sale had been fairly successful throughout the morning, and when left with the items no one had wanted to buy, he was ready to close up for the day. 
Having lived in Cupertino for 20 years, Lancer recalls participating in garage sales casually before the pandemic, and is appreciative of the city making them a citywide event.
"It helps build community," Lancer said. "I think the city supports it well in terms of guiding people, [but] they're not probably advertising as much as they should. I have a lot of neighbors who found out about it today." 
Over the last few years, Lancer noticed several items accumulating in his house. Some were items he bought and never ended up using, and some were vintage items from his dad's estate. Ultimately, Lancer decided that the garage sale was an opportunity to "part with some of it." To him, everything he was selling was "cool stuff," even though one of what he considered the most interesting things was actually something no one had wanted to buy: nineteenth-century dental equipment. According to Lancer, the great-grandfather of some antique dealers had a dental office in the eighteen hundreds, and he ended up buying the equipment.
"Now you have powered drills, and you know, automatic vacuums and stuff," Lancer said. "To suck the juices out of your mouth [back then], they had to crank with a foot. And the dentist would sit there cranking with a foot and sucking all the goo out of your mouth."
Lancer thinks the engineering is "unbelievable." Although the equipment didn't sell, he shared he still has tentative plans for it. 
"I'm thinking I'm gonna turn this into a lamp, actually," Lancer said. "It'd be kind of neat."