Smriti Rangarajan
October 2, 2022
Junior Smriti Rangarajan says she wants to be either a finance or computer science major, but that doesn't stop her from studying subjects related to life science. This year, Rangarajan is taking AP Biology, which she says is her most difficult class.
Rangarajan said she chose to take AP Biology because she wanted to try something new, and also because she believed the material she learned in Chemistry Honors last year would be useful for AP Biology. Rangarajan says that while the class has a heavy workload, especially with note-taking, she likes that it's a very hands-on class.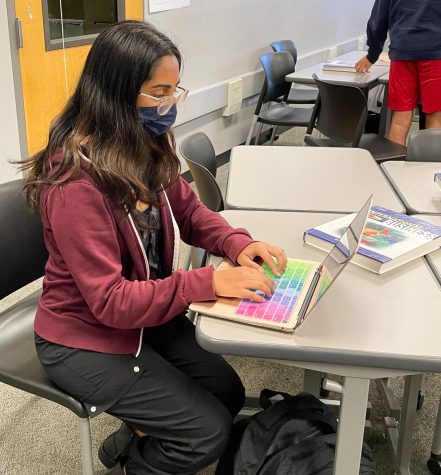 "I would say [AP Biology] is very interesting because we do more labs," Rangarajan said. "[Especially because] my freshman year [of Biology] was online, so I didn't get to do the pig dissection or any of the [labs] in person."
Besides enjoying the labs, Rangarajan also appreciates how her teacher, Renee Fallon, makes the class engaging. She notes how Fallon often tells the class personal stories that better their understanding of the complicated topics that they are learning.
"[Ms. Fallon] is very enthusiastic," Rangarajan said. "When she's teaching, she's super animated and gives a lot of examples. She's always very approachable in case you have any questions."
Rangarajan believes she has chosen the right class for herself, as she is able to learn a lot while not being completely overwhelmed. Although she says choosing what class to take can be difficult, Rangarajan says that it's crucial to keep in mind personal limits.
"We all have different versions of what's hard for us and what's easy for someone else," Rangarajan said. "So definitely don't be afraid to push yourself, but also recognize that if you really don't feel passionate about something, don't feel the need to take a harder class for it."