Hyonjin Kim
October 2, 2022
Although he is taking AP Calculus BC, AP Computer Science A and AP Physics 1, all stereotypically challenging classes, sophomore Hyonjin Kim shares that Chinese 3 is the hardest class he's taking this year. Kim finds Chinese 3 difficult not because of the material covered in the class, but rather because he's uninterested in the subject.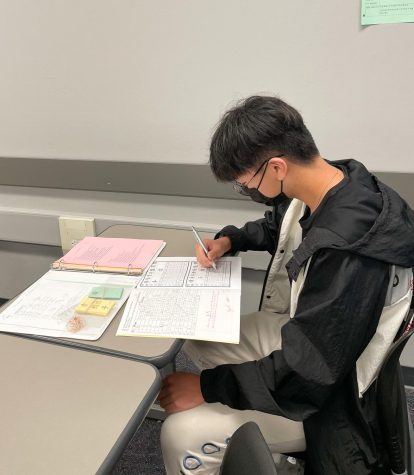 Kim explains that he has been "indirectly pressured by [the Cupertino Community] to take higher-level STEM courses," so he's been "conditioned to enjoy those classes more than others."
Kim says that in general, his liberal arts classes are what he struggles with the most, as he isn't as familiar with the material, so he has to pay more attention in those classes for fear of falling behind.
Not to mention, Kim says that he feels slightly out of place as his Chinese 3 class consists mostly of freshmen, which makes him feel as if he should be with "all of the other sophomores" in Chinese 4 Honors.
Despite feeling slightly out of place, Kim says that his teacher, I-Chu Chang, has made the class a lot more enjoyable than it otherwise would be, as she provides everyone — regardless of their Chinese background and skill level — with an engaging class.
"I would recommend [taking any Chinese course at MVHS], because both of the teachers, I-Chu Chang and Zoey Liu, are really good teachers," Kim said. "No matter if you like learning Chinese or not, [their classes] are very engaging."