Amish Tyagi
October 2, 2022
Freshman Amish Tyagi is taking Pre Calculus Honors, a class that is intended for upperclassmen or sophomores. Tyagi says that even though he is one of the few freshmen in his accelerated math class, he believes he chose the right class to take as he says he is learning a lot.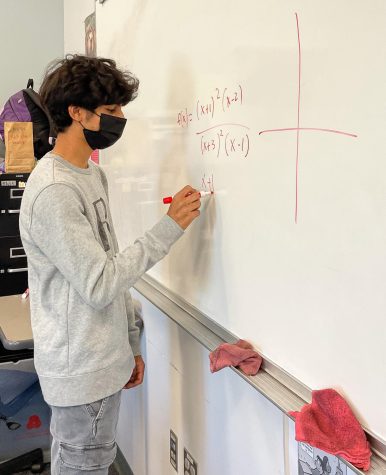 Although math isn't Tyagi's favorite subject, his reasoning for taking such an accelerated class is to help him achieve a higher understanding of his intended major, which is computer science, as the two subjects are interconnected.
"I've always known that I want to be a CS major because I've been coding since I was seven or eight," Tyagi said. "It was something I wanted to do after seeing my mom code late at night because I was always a late sleeper [growing up]."
As Tyagi's love for coding grew, so did his parents' expectations. Tyagi believes that the expectations his parents set for him are reasonable, but he can still sometimes get a little stressed when trying to meet them.
The pressure from his parents also stems from living in the Bay Area, which Tyagi believes is both a blessing and a curse. Tyagi feels pressure not just from his parents, but also from himself, to take rigorous courses such as Pre Calculus Honors. However, Tyagi says that because the academic culture is so STEM-oriented, he is able to set higher goals to work towards due to the opportunities the community provides.
"Being in the Bay Area, I see a lot of potential for my career path," Tyagi said. "That makes me look forward to the future, knowing that there's a lot of opportunities [for CS majors] out there."