The humans behind the De Anza flea market
Telling the stories of five people at the De Anza flea market
September 9, 2022
Carl Desoto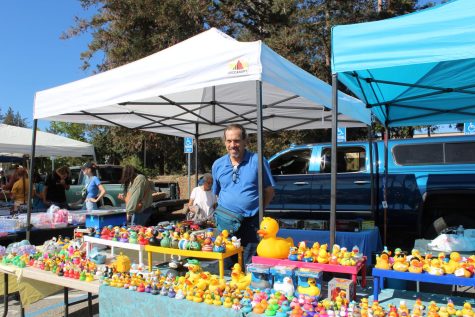 In the early days of Carl Desoto's 25 years at the De Anza flea market, his stall was a collection of goods from garage sales and closing businesses that he bought to resell. Now, Desoto is known as the "Duck Man" for his extensive collection of toy ducks — a reputation that originated five years ago when he scored 100 discounted ducks at a benefit in Santa Cruz.
"I came here once and saw someone sell ducks for really cheap, and he sold out," Desoto said. "So I decided to have one table [of] ducks and everything else was cars and Barbies, and the ducks sold out within a couple of hours."
What Desoto did not know was why these ducks were selling out so quickly. However, he soon realized that it was because "ducks [are] real flexible." 
People have [them in] their office, they put [them] in cars," Desoto said. "They very rarely actually put them in the tub. They put them in the hot tub. They give them to their dogs."
This led to Desoto bringing in more ducks, buying them online, getting them from garage sales and going to benefits in order to accumulate a large amount of them. And, at every flea market, he brings his collection of ducks and displays them in a row at the very front of his booth. 
However, although selling ducks gives him a net profit, Desoto does not believe that money is his main incentive to continue selling ducks. 
"You get to meet different people," Desoto said. "You're outdoors [so] you meet fellow sellers [and] you get return customers. And [after some time,] it kind of becomes a family."
Casey Bogdan
Singer, MVHS '21 alum and current De Anza College student Casey Bogdan performed at the market on Sept. 2, covering songs such as Taylor Swift's "Love Story" and The Goo Goo Dolls' "Iris." Bodgan began writing her own songs at 14, sometimes during classes at school, and her passion for music has since grown. 
"Songwriting for me is always [a way for me] to tell a story, even if it might not be my own story," she said. "I just love telling stories. I did theater, so that's a big thing for me. I [usually] get an idea or a line or two in my head, and then I end up writing extending off of that [and] then I add music to it. It just kind of comes."
As someone who grew up in Cupertino, attending Kennedy Middle School and then MVHS, Bogdan states how she "felt a little bit out of place … because [Cupertino] is a very STEM place, [with] not many people pursuing the arts." However, Bogdan believes that this also shaped her into the singer she is today — she has continued to pursue her music, but her expectations are grounded in reality. 
"Being in Cupertino and [MVHS], I got a lot of the whole 'you need to pick a real job,'" Bogdan said. "And that's fine, because I think that is important to hear; you need to be realistic about things. I think that I've gotten to the point where [a music career] is realistic." 
Bogdan is currently working on her debut album — and is unsure of when it will be released — but her YouTube channel features some of her recent original tracks. The singer has also begun performing beyond open mics, as frequently as four times a week. 
"It took me a really long time to view [singing] as a career," Bogdan said. "I always wanted to be a singer, but it was always just [seemingly] silly. But now it's working, and I'm just hoping that I can continue doing this because it's what I love to do."
Courtney Baker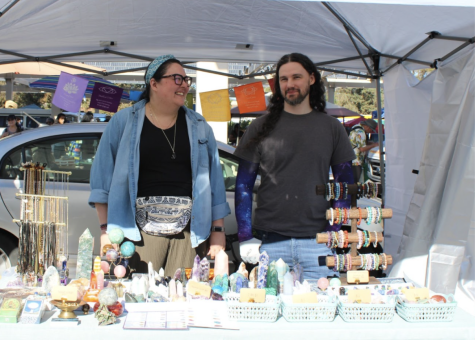 Crystal enthusiast and jeweler Courtney Baker sold crystal slices, wands, spheres, necklaces and bracelets at the market. 
"I have been really into crystals and jewelry making for a really long time," Baker said. "And I just decided that it would be nice to sell [crystals] and share [them] with people … That's how I got started at the De Anza flea market."
Most of the necklaces at Baker's booth are handmade — the crystals are wire-wrapped by her — and she also conducts research to reliably source her crystals.
According to Baker, this works by "[getting] in contact with retailers and then [bidding] on different items." Baker also emphasizes confirming the legitimacy of the crystal, which she says she does by conducting extensive research beforehand. 
Baker's interest in crystals is rooted in the hidden meanings behind them. The meaning only adds to the crystals' beauty which, according to Baker, is what makes crystals so fascinating. 
"Citrine is probably my favorite [crystal]," Baker said. "It's got a symbolism of being really bright, light, airy and self-cleansing, and [it] helps bring positivity to space. It's a nice crystal to have around, and it's also really beautiful."
Pablo Moneragon
The El Capulin Nursery, located south of Cupertino in Watsonville, was founded by "a man with humble beginnings [who] just wanted to start something to sustain his family," as described by his son Pablo Mondragon. 
Twenty years later, El Capulin is a thriving plant business that specializes in citrus trees, avocados and Mondragon's favorite, chilli plants — they've sold about 7,000 this year after growing the chillies a year in advance. Being one of the family's only children to work at the Nursery, Mondragon prides himself in having had a hand in "building [the nursery] from small to big." 
"Having that opportunity to grow and learn upon your experiences from trial and error [has been really moving]," Mondragon said. 
Five years at the De Anza flea market has also been a learning experience for El Capulin. Most of the plants the nursery sells at the market are grown by Mondragon to match the demand for different plants that come with different seasons. According to Mondragon, many students at De Anza have bought El Capulin's plants. 
"This business started by selling one or two plants on the side," Mondragon said. "I started growing, growing, growing and now we've got about three acres full of plants."
Hannah Lam
During the pandemic, Hannah Lam quit her job, investing her newfound free time into an unfamiliar hobby. Tufting, a type of weaving that inserts yarn into a fabric base, piqued her interest. She decided to try the technique, eventually opening a small business of tufted yarn products under the name TuftWonderland. 
"After I posted online [it was] super slow and no one [was interested] and then you'll feel like it's bad," Lam said. "But luckily, after I came to the De Anza flea market, some people know what this is, [which] makes me happy."
At the flea market, Lam's booth brims with tufted coasters, keychains and bags, as well as beaded bracelets, rings and necklaces, all of which are handmade. Although Lam has also been a vendor at the San Jose flea market, she enjoys visiting De Anza because she can meet "different people here," such as students from the college. 
Aside from bringing her creative ideas to fruition, Lam also uses tufting as a means to support herself and her pets, especially after she quit her job.
"Half of this becomes my income because I have six bunnies at home [and] I need to afford them," Lam said. "Everything like the hay [and the grass] must be paid [for]. I forgot to separate the boy and the girl and then they got four babies, so I need to make more now."
De Anza flea market photo gallery