College transfer
May 14, 2022
When MVHS '19 alum Ashika Jaiswal chose to attend UC Riverside (UCR) in her senior year of high school, she had no idea she would be transferring out a couple of years later. Out of her top options in high school (SJSU and UCR), she felt that UCR had the stronger Biology program, her preferred major at the time. This combined with the fact that "going to a UC is really emphasized at Monta Vista" led to Jaiswal committing to UCR with no initial intention of transferring.
But after starting college, Jaiswal felt embarrassed, believing the "prestige" of UC Riverside, was lower than that of many of the colleges her friends ended up attending. Her feelings of humiliation influenced her happiness at the school, and led to her "hating [her] time" there during the first quarter. During winter quarter, however, Jaiswal noticed certain things that made UCR an appealing option to her — the campus was nice, the administration seemed to genuinely care about its students and research and internship opportunities were abundant. These factors, which she hadn't noticed before due to her mental block of prestige and embarrassment, made her "really like" the college. But when COVID-19 hit the U.S. and colleges shut down nationwide, Jaiswal ended up spending a year and a half at home, not once returning to her college campus.
With all the free time, Jaiswal started looking into the opportunities that other colleges had to offer, and began thinking about how she fit in at UC Riverside.
"While Riverside is a great place, it wasn't the best fit for me personally," Jaiswal said. "I remember in high school, college counselors and everyone would be like, 'Think about the fit. Don't just think about prestige.' And I realized that the location of [UCR] didn't really work for me. It worked for a lot of people, a lot of my friends are really happy there. But for me personally, I just felt very disconnected from the campus itself, and so during the pandemic, I went through the process of transferring."
Jaiswal applied to all the UC schools except UC Merced and UC Santa Cruz, citing that staying in California was important to her and the UC application was pretty straightforward — the UCs just felt like the "right decision." Ultimately, her choices came down to UC San Diego and UC Santa Barbara (UCSB), and she chose UCSB due to its Economics program. 
"I've visited [UCSB] a lot because when I was a freshman in college, my friends would [go to Santa Barbara], so I would come every weekend," Jaiswal said. "I always felt like it clicked better with me. And in terms of the program, it has a really good Economics program, which is more focused on what I want to do. San Diego's program was so much more math focused, and it seemed not to be the best fit for me. Program-wise, I felt like I belonged at Santa Barbara, and also location-wise, it's at the beach."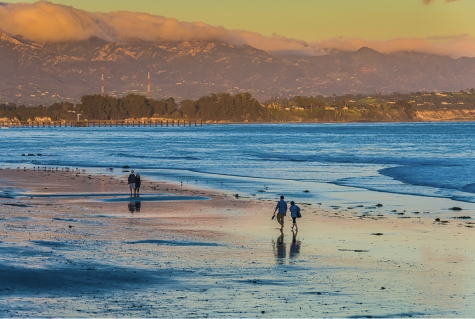 Despite her excitement for UCSB, Jaiswal concedes that there were parts of the transfer process that proved to be difficult for her. To her, the transfer process was very reminiscent of the college application process from high school, and she was scared to "put [herself] out there" due to her bad experiences with rejections during the high school application process. Additionally, she had to spend a lot of time reflecting on how she had grown during her time at college — a concept that many transfer essay prompts focused on — and she grew nostalgic thinking about the friends and opportunities that she would leave behind at UC Riverside. But after she was accepted into UC Santa Barbara, she says the decision to attend was "really easy." 
"When I was at Riverside, one of the things that I really focused on was trying to find opportunities for myself," Jaiswal said. "Riverside [is] a really great school, it's up and coming with a lot of different opportunities. So while I was leaving those opportunities behind, I looked at Santa Barbara, and I already have alumni connections, networking, things that really matter in terms of getting a career, and it logically felt like the best step. So even though I was leaving behind research, I was going to a school that I felt suited me, and I had the opportunities to get into different clubs that align more with what I want to do in the future."
Despite making a lot of friends and connections and being around impressive opportunities at UC Riverside, Jaiswal doesn't recommend going through the transfer process like she did, citing that transferring from a university is much harder than from a community college. She says that the monetary cost of a college like UCR is not worth it if "you're going to a school with the goal of trying to get out of it."
"If you really want to transfer to another school, you have way better opportunities doing it from CC and doing TAG," Jaiswal said. "I know it feels like 'Oh, everyone's gonna make fun of me if I'm going to CC.' I currently live with five girls who came from CC, and they are all equally as smart, equally as driven, equally as hardworking as me. I think that's my one regret — during the pandemic, I wish that I went to CC instead of continuing and paying that UC tuition."