Celebrating Ramadan
Highlighting the experiences of Muslim students at MVHS
The savory, fragrant smell of hot samosas is a constant fixture in senior Asiya Shaikh's house during Ramadan, which is the ninth month of the Islamic calendar. Per tradition, Ramadan is the only time of year Shaikh eats the flavorful pastry, making it special. Another memory Shaikh fondly recalls is running around after completing nightly Taraweeh prayers on the playground outside of the mosque she attends, playing a high-stakes game of "Infection" with her friends.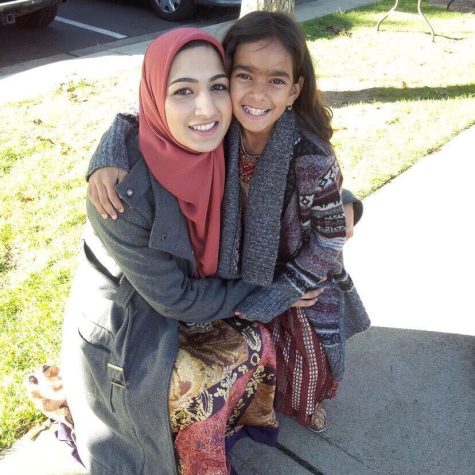 According to Shaikh, who is of Indian descent, Muslims fast from sunrise to sunset while celebrating Ramadan from April 1 to May 1. Not only does the fast prohibit water and food, but it also encourages followers to break bad habits during the month to build better habits for the upcoming year. 
Senior Jenna Shallouf was born into a Libyan family and has been practicing Islam for her whole life. She expresses that being Muslim has allowed her to see "life [in a] more spiritual way."
"[The purpose of Ramadan] is to connect with your spiritual self and get closer to God," Shallouf said. "Because you're not eating, you're not drinking [and] you're trying to avoid committing sins during [the month], people who fast … feel like they're closer [to God] and they don't go back to their old ways."
Freshman Ali Malik, who is of Bangladeshi and Indian descent, also celebrates Ramadan with his family. He concurs with Shallouf about the significance of Ramadan, but elaborates that it also helps foster an understanding of those who are less fortunate.
"A lot of times … people who are poor are unable to have food or unable to have water," Malik said. "So while I might be complaining that my P.E. teacher didn't allow me to skip running because I can't drink water, a lot of people are in a bad situation every day where [finding] clean water is extremely rare. So Ramadan helps [me] understand [their] situation [better]."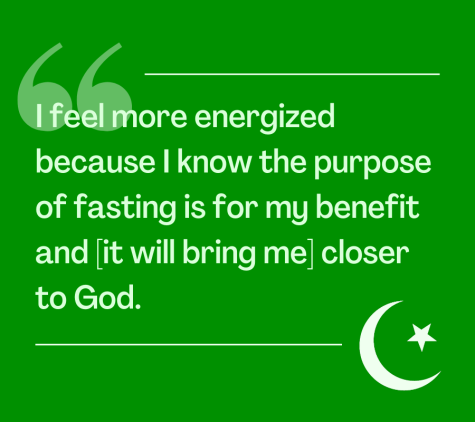 On a typical day during Ramadan, Muslims wake up before sunrise to eat and complete the Fajr prayer. At sunset, they break their fast with dates and water, which replicates the actions of their Prophet Muhammad. Then they complete the Maghrib prayers before eating a full dinner with their family. While fasting for a month, Shaikh explains the impact on both her physical and mental health.
"The only physical thing is that I feel more tired during the day because I can't drink water or eat," Shaikh said. "Mentally, I feel more energized because I know the purpose of fasting is for my benefit and [it will bring me] closer to God."
In addition to fasting during Ramadan, praying is a crucial part of the Islamic religion, whether at home or at the mosque, their holy place of worship. Although she doesn't "have the time" to go to the mosque during most of the year, sophomore Aya Abdelrahman, whose family is from Egypt, attends the mosque two to three times a week during Ramadan. In addition to her more frequent visits, she appreciates the family meals she gets to enjoy during the month.
"I remember on the very first day [of Ramadan, my family] ate [dinner] together at the same time," Abdelrahman said. "Normally, my dad gets home at 11 p.m., and my mom is sleeping by then, so we normally just eat food whenever. But during Ramadan, we eat at the same time, so that started nightly dinners for us."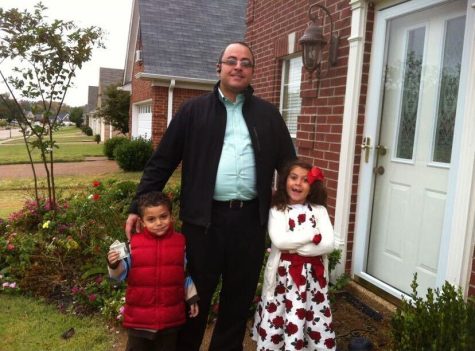 Students celebrating Ramadan anticipate Eid on May 2, where they attend parties with family and friends. Shaikh relishes Eid because "everyone is always in a good mood." On Eid, Abdelrahman and Malik look forward to receiving money from their families and relatives, a tradition known as receiving Eidi. Although they participate in different traditions and activities, they collectively enjoy celebrating Ramadan. 
Despite the many benefits of practicing Islam, Malik believes that he has faced numerous microaggressions throughout his life, saying that it's "annoying" and "makes [him] very uncomfortable." As someone who is interested in politics, he adds that the media plays a huge role in the negative portrayal of Muslims.
"You'll see a lot of people make a lot of inappropriate jokes like, 'Are you going to blow up the locker room?'" Malik said. "And you tell people to stop, but they still don't think they're doing anything wrong. Because of the media we consume, the first thing that comes to our mind [when we hear the word 'terrorist'] is somebody who looks like a Muslim. As a result, I've experienced a lot of microaggressions right at school."
Shallouf expresses that she hopes MVHS students can be more aware of the Muslim community and their struggles. She feels like "[they] don't really have representation in the daily announcements or advisories." Moreover, Shallouf hopes that underclassmen such as Abdelrahman and Malik will start a Muslim Student Association in the future to highlight the experiences of MVHS's Muslim community.
"[Even if you're in a tough situation], we believe that God will recognize the commitment [we're] putting in," Malik said. "[You] could easily sneak a sip of water and tell everyone you're fasting and no one would know. But the fact of staying committed to your fast, despite the obstacles that you're faced with, is what makes Ramadan so special."
About the Contributors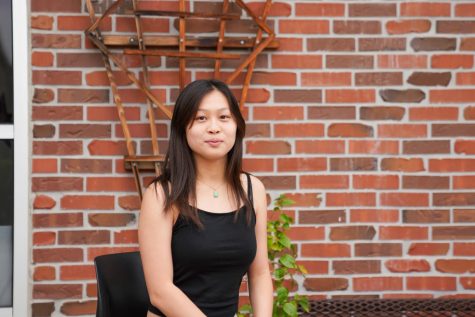 Taryn Lam, Features Editor
Taryn is a junior and a features editor for El Estoque. In her free time she enjoys exploring cozy book stores, spending time with family and hanging out with her super spicy friends.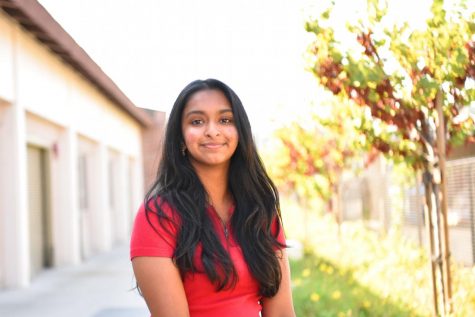 Shivani Madhan, Opinion Editor
Shivani is currently a senior and an opinion editor for El Estoque. She is a Branch Head for MV Speech and the Vice President of MV Neuroscience Club. In her free time, she likes to draw, read a variety of works and share her never-ending knowledge on her latest obsession with her friends.