Polo unites the Sharmas
Exploring sophomore Aditya Sharma's journey playing polo with his family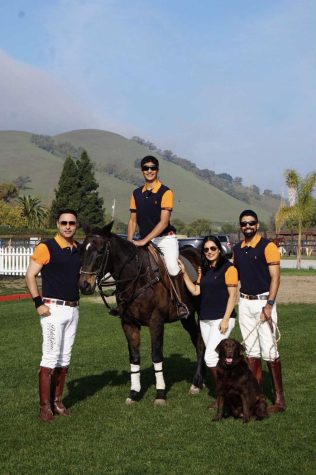 Sophomore Aditya Sharma's favorite part of playing horse polo is the unmatched feeling of excitement as the wind whistles in his ears and the loud sound of thumping hooves against the ground as he races down the field. 
Sharma's involvement with polo started with familial influence as both his father and older brother play the sport. The Sharma family's love for polo begins with Ayush Sharma, Aditya's dad. Ayush remembers being fascinated with horses since he was very young. His grandfather owned a horse, and Ayush has distinct memories of his father carrying him while riding the horse as a small child. This love for horses was later honed into a love for polo after being introduced to it when he moved to the UK. He then moved to the U.S. and joined the Menlo Polo Club, where he now plays polo recreationally.
Ayush would be the one to introduce his two sons, Aditya and his brother Sid, an MVHS alum '17, to polo. He recalls both picked up the sport with enthusiasm, becoming avid players and showing "good commitment and discipline" in the sport which requires a lot of time and energy. 
Polo is played on horseback, where opposing sides hit a ball using mallets to try and score goals, or as Aditya describes, "hockey on horses." In a game, there are two teams of four players on the field, consisting of two offensive players, one defensive player and one player whose role resembles that of a quarterback in American Football. The objective of the game is to score the most points by hitting the ball into the goal.
According to Aditya, polo requires a lot of communication between the four players on the field. Each player has a specific position and the players spend a considerable amount of time together perfecting the interactions between them. Aditya calls it a "social-based game," pointing out the many friends he's made at his polo club and the chemistry between him and his teammates.
Playing polo has not only strengthened Aditya's connections to his teammates but also his relationship with his father and brother. The Sharma family even has their own team — named Chandi Polo after the city Chandigarh in India where they are from — and customized uniforms by Ralph Lauren. Sid has since moved to Atlanta but says that whenever he visits home, he looks forward to playing a game with his father and brother.
"It definitely is a bonding experience getting to play a sport or do some sort of activity with your family," Sid said. "It's just another thing that we get to connect on — we get together [to] talk [and] share news about it because we all watch polo as well, at least the big tournament and everything."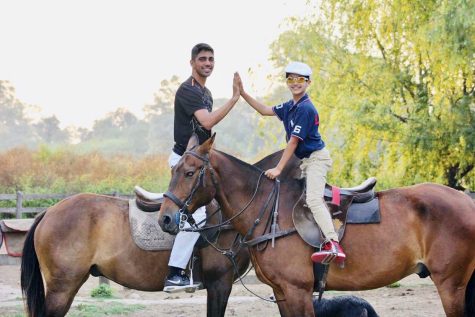 From his years playing, Aditya believes that his biggest takeaway is to be humble and not look down on players who are just starting. After all, he points out that he was once in their position and made various mistakes while learning the sport. 
Furthermore, Sid believes that the skills he learned from playing polo have proven valuable to other aspects of his life as well.
"It does teach you discipline, grit and hard work," Sid said. "So, you know, just non-sports-related or polo-related as well, but I've also tried to apply that same kind of grind mentality to work in school." 
Ayush shares the sentiment, quoting something an extended family member who also played polo had shared when he first started playing — "I fell in love with my first fall [off the horse]." 
"When you're learning, you will make mistakes [and] you will fall down," Ayush said. "But I think the most important thing is — [and] it's akin to life as well — that you will have disappointments, you will have failures, you're going to fall, but you should have the ability and the courage to get up and sit back on the horse and just get back in the game."