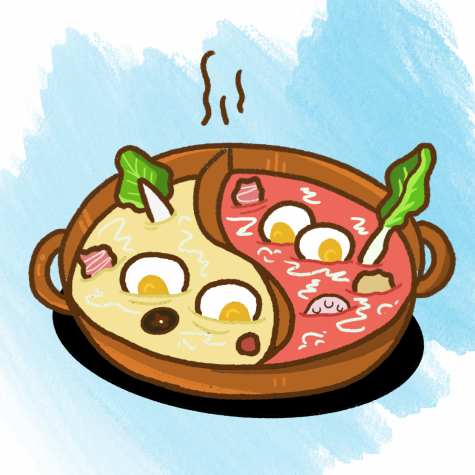 amb. Pork. Beef. Fishcakes. Tofu. Meatballs. Sausages. Vermicelli. These components are all options in senior Edgar Tsai's favorite winter food, hot pot, and he has relished the variety of taste avenues that this Asian-originating dish allows for since his first time eating the meal when he was 3 years old.
"It's [really] the warmth and [how] you can make the broth spicy so it heats you up," Tsai said. "I like the fact that you can mix broth so you can have spicy with non-spicy broth. We can have just all spice broth or [a mix], [so all in all] it's a very flexible dish."
Hot pot is traditionally served in a large metal pot, where broth is brought to a boil and left to simmer, while various other vegetables and meats are dropped and subsequently cooked in the pot. Tsai does the same, adding unique ingredients such as hot oil, peppercorn or spices in the broth to add his favorite hot and peppery tang to the dish.
Tsai attributes the warmth that the dish brings on cold days to be the reason why he associates hot pot as his favorite winter food. This defining quality has made eating hot pot a tradition for winter holidays that Tsai celebrates such as Chinese New Year, as well as a representation of the bonds that the holidays bring.
"It doesn't just warm me up," Tsai said. "Hot pot is a dish that is [often] eaten in Chinese culture. It's seen in a sense of a family gathering so when you eat it with your family and eat it with your friends you feel connected with each other."
Our take:
Hot pot lives up to its name, offering a comforting warmth through its polarizing soup base and its tasty boiled ingredients — perfect for a cold winter night. From a mild meat bone or spicy pepper broth to numerous dipping sauces made by mixing components like soy sauce and chili oil, hot pot solidifies itself as the perfect comfort food for warmth-seekers with its adaptability and inherent heat.
Rating: 4/5