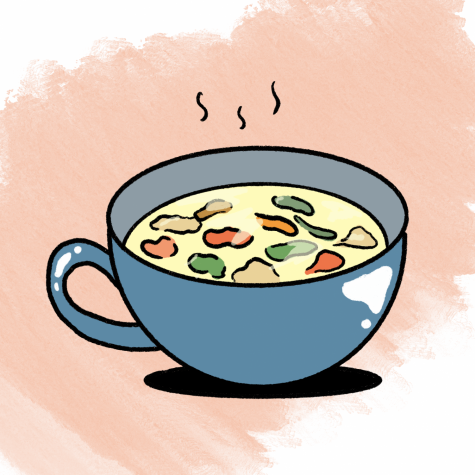 rom his time living in Colorado and Pittsburgh to now in California, senior Joseph Jeong's go-to winter food has always been his mother's Korean-style chicken noodle soup. His earliest memories with this dish stretch back to his elementary school days, when he played with his older sister in the snow and enjoyed the warm feeling of broth once back in their house.
"My mom started making this the year before I started going to kindergarten, because my mom had been [thinking of] dishes like chicken noodle soup and such [after seeing the food] my sister was getting from her school," Jeong said. "Because of that, my mom wanted to make something more Korean and more specific to her, so she made [chicken noodle soup] and I started eating it during the winter."
Jeong's iteration of chicken noodle soup is unique, namely for its compatibility with Korean side dishes. His personal recommendation is laver or Gim, a common dried and salted seaweed complement. Despite utilizing other Korean-style customizations, such as white rice instead of noodles, Jeong ultimately finds the feelings and taste that accompany eating chicken noodle soup to be his most meaningful connotations with the soup, rather than the recipe.
"It's fairly simple [to make], but it's the nostalgia and the fact that the simple taste [of the soup] is just [great]," Jeong said. "[I associate it with] nostalgia in a sense, because nostalgia is about good feelings in the past, [and the soup] brings a feeling of togetherness in the past and good times with family."
Our take:
This variation of chicken noodle soup is a welcome variation on the traditional American style. Combining the classic taste of chicken broth with the salty tang of Gim and soft texture of rice makes for a unique dish that takes the best of two cultures while maintaining a good balance between potentially overwhelming aspects like the poultry taste of the broth and the mild nature of Korean white rice.
Rating: 4/5