Season Superlatives: Boys Basketball
Athletes share the best and worst games of the season, and everything in between
With only four more games left in the Varsity Boys Basketball season, Coach Dennis Kobza is hopeful that the team will be Central Coast Section (CCS) qualifiers for the first time since 2016. Boasting a current standing of 5-0-5, the team is required to win at least two more games in order to qualify. 
According to senior Matthew Whong, the Matadors started the season off "really, really hot" but fell into a losing streak due to athlete injuries and more difficult matches. Senior Andrew Chang reiterates this but adds that the team put in the effort to "[make] the most of the cards [they] were dealt."
"I knew from the beginning of the season that the second half of the season would be a lot tougher than the first half," Chang said. "The easier matchups came in the beginning and just looking at how games were put in place next to each other, [I] kind of knew it was going to be bad near the middle of the season." 
Regardless, Kobza believes that thus far the team has shown significant improvement from last year in terms of both swifter technique and more wins. 
"[The team] did well in really learning the different offensive plays that we're trying to use," Kobza said. "I didn't want to overload them with too much because it's a short season and we didn't have as much preseason time to prepare but [in] a short [period of] time, I put a lot on them to learn quickly and they did a really great job."
These play strategies emphasized being patient and persistent when guarding a player and following the team's tactic of winning with strong defense. These goals were specifically created based on patterns from past games. Kobza noticed that the team kept their opponents score under 50 points every time they won and that the opposite was true when the team lost, concluding that when the team focused on defense, offensive opportunities were created. 
Despite improvements, Whong feels that there are always aspects that they can further develop. Even though the team has a "strong brotherhood," Whong worries that they take losses to heart too much. 
"I think the team can improve on the group culture," Whong said. "I know everyone loves to win, but there's a little bit too much negativity when [we] lose. It takes too long for us to bounce back after losses as everyone just keeps their heads down — [we] need to remember that we have another game, another chance in the next few days. [We] lose as a team, get back up [and] fight for the next one."
---
Season Superlatives
---
Best Game – Coach Dennis Kobza
 I think our best game was probably the game against Gunn High School at Gunn. I think that that was our best game — really it was our best half — and I say that because in the first half, we gave up 34 points, which is too many points for us to allow in a half. At halftime, we made some adjustments and we talked about the things we needed to do to tighten up the defense and the players really responded. They went out, they executed on both offense and defense and we ended up winning the game by 10 points, 59 to 49. The fact that we allowed so few points in the second half because of our great defense and that we executed the offense probably the best I've seen all year long. For me, that felt like the best game.
---
Worst Game – Senior Matthew Wong
Our worst game had to be our most recent game against Wilcox [High School]. We had two starters out — one with one with a foot injury, another with an ankle injury — and then we had a few guys also out who came off the bench and gave us valuable minutes off the bench. So we were down to seven guys and [Wilcox] just kept running because Wilcox is known to be super athletic and press the entire game, which means they just pressure, pressure, pressure, try to steal the ball and put as many points on the board as possible. So it's just tough when you're missing your guys and you have no one to replace the guys playing because no one's on the bench to recover and refuel.
---
Hardest Game – Senior Andrew Chang
Wilcox [High School] is definitely our hardest game because they're bigger, they're more athletic, a lot longer and they bring a lot of energy every single quarter — they don't have a single quarter that you feel like you have a chance against them. I think the first game we lost by 20 and then our second game we lost by 40 — it was like 93, 94-50 something. Yeah, it wasn't good, it was definitely because we weren't able to beat their press and they just brought a lot more energy starting the second half. Also, just rebounding was a big factor because our biggest guy, Rohan, he was out and I'm technically our second center and I was also out for that game so definitely rebounding was really hard for everyone.
---
Easiest Game – Senior Andrew Chang
Easiest game was definitely Lynbrook. They match our size very well — it's like, you didn't feel like they were a lot bigger than you or you were smaller than them in any way. It was very equal in terms of height and we just had better games than they did.
---
Most Anticipated Game – Senior Matthew Whong
For me, the most anticipated game was easily Lynbrook [High School]. As everyone knows, we have a little rivalry with Lynbrook and I have only won against Lynbrook once personally so I really wanted to get them. We played them twice this season — the first two games of the season —  we came out, we were super energetic and we beat them twice so it was the greatest feeling. And after we picked up the De Anza Boulevard trophy, it was great, just a great feeling. The last game against each other in the season is called "The Battle for De Anza Boulevard," so there's a little plaque that started three years ago, four years ago and the winner takes that and they get a little marking put on it that said, that says the date of which team won and everything, so it started a new tradition and I'm glad that my team got the trophy this year.
---
Most Surprising Results – Coach Dennis Kobza
I think the game with the most surprising result for us was our win against Homestead [High School]. They're an upper league team, they should be heavily favored [and] they beat us the first time around by eight points. And so I'm sure they expected to come in — they're also much bigger than we are and a very athletic and tough team. The fact that we were able to beat them — and we beat them by one point on a last shot with about 13 seconds left. That gave us the lead — and then managed to play defense and hold them from scoring in the last seconds. So that was a surprising result that we beat an upper league team and that we were that competitive against them was really pretty surprising I think for [Homestead] especially. I think we kind of knew that we could compete at that level but I think [Homestead was] surprised to see that Monta Vista was that competitive.
About the Writer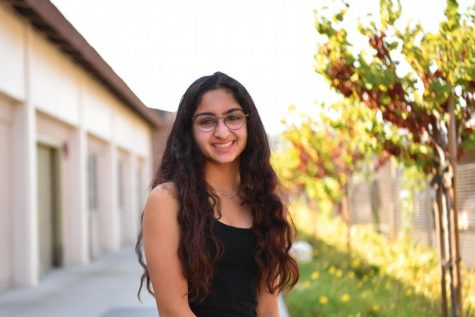 Nika Zamani, Sports Editor
Nika is a senior and sports editor for El Estoque. Along with being a staff writer for La Pluma and Res Novae, she is the founder and president of the Monta Vista Persian Club. In her free time, she likes to go on walks and spend time with her friends.