Bella Poarch's debut single exceeds expectations
"Build a B*tch" serves as a fitting transition into the music industry
On May 13, Filipino-American social media influencer, TikToker and singer Bella Poarch released her debut single "Build a B*tch" with its accompanying music video. Poarch also recently signed with Warner Records, a record label that has worked with numerous successful artists like Madonna, Saweetie, Dua Lipa, Prince and more. The music video garnered over 10 million views within the first 24 hours, giving Poarch the first big step to become a trending new musician.
When Poarch first announced at the end of April that she was releasing a single, she received both positive and negative reactions. Many claimed that Poarch was following the trend of TikTokers starting music careers, despite lacking the skills needed to become a singer such as professionalism, vocal talent and lyricism. Other users came to Poarch's defense, saying that she deserves a chance, especially since ashend has demonstrated previous passion and has singing talent, separating her from many of the other TikTokers who have put out music this past year. Based on Poarch's execution of the song, it's clear that she is successfully navigating her place in the industry early on in her career.
Not only is "Build a B*tch" a catchy song that listeners will find themselves humming throughout the day, but the dark pop elements of the song mixed with Poarch's delicate, honey-like voice create a perfect balance. Sub Urban, an American songwriter, producer and singer, was the producer of "Build a B*tch" and definitely did not disappoint. The melody may sound simple at first, but the repeated and catchy "La-la-la-la's" in the post-chorus as well as the gentle but piercing instrumentals make it irresistible to not listen to the song one, two, three or countless more times. 
One of the most notable aspects of "Build a B*tch" are its empowering lyrics. The title of the song references Build-a-Bear Workshops, where people can create their own stuffed animals to their liking. In the very first line of the song and chorus, Poarch sings, "This ain't Build a B*tch," and later on, "I'm filled with flaws and attitude / So if you need perfect, I'm not built for you." Since Build-a-Bear stuffed animals are customized to fulfill the customers' personal preferences, Poarch debunks the concept that qualities of women are catered towards men. Poarch also embraces the fact that each person comes with their flaws, and as cheesy as it may sound, that's more than OK.
Perhaps the most commendable aspect of Poarch's debut single is the personal aspect she adds to the song as well as the music video. As Poarch explained in a podcast promoting her single, she wanted her debut song to be meaningful and "to help a lot of people just to be more confident about themselves," and was inspired by her own experiences of being bullied as a child and now as a social media personality. 
this song isnt just any song. it means the world to me. my whole life no one has ever believed in me. i just had to believe in myself. but now i have you guys. and i'm so grateful. more than you'll ever know. and thats why i wanted to share it with you. thanks for believing in me

— Bella Poarch (@bellapoarch) May 14, 2021
Additionally, Poarch included a number of her friends to feature in the music video and explained in an interview with Vogue that "you can never judge a book by its cover and I really believe the people in the video embody the message of the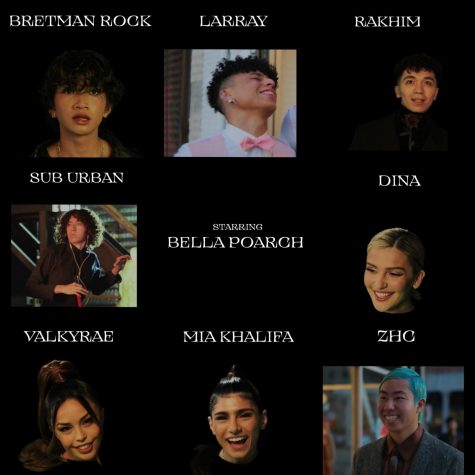 song and being imperfect, being different, being themselves." The production of the music video goes beyond expectations, is captivating and immaculately reflects the meaning of the song.
The cinematic and amusing video starts off with one of Poarch's friends, self-taught artist and Youtuber Zach Hsieh, better known as ZHC, walking into a factory that allows users to "design the girl of your dreams." Poarch and other women in the music video act doll-like and robot-like while they are being assembled, but eventually rebel, break free and burn down the factory. 
Like other social media personalities, Poarch has faced hate comments and criticism since her rise to fame on Tiktok. Seeing Poarch, or any woman for that fact, fight back against misogynistic and stereotypical comments is always refreshing and empowering, and Poarch's debut establishes what she wants her work to represent.
Poarch's entrance into music-making is undoubtedly something to keep an eye out for —  she is one of the few Asian American Tiktokers to reach a following of over 60 million and is someone who is willing to add genuinity and vulnerability to her music in order to make a positive impact through her huge platform. 
In the aforementioned interview with Vogue, Poarch mentioned that in the future, she hopes to explore a topic that is also extremely personal and important to her — mental health. And we will most definitely be looking forward to her future work.