Chris Kenney
Facilities manager Chris Kenney retires after 20 years at MVHS
On his first day working at MVHS, facilities manager Chris Kenney met his wife.
Millie Kenney, who had been starting her job as a student conduct liaison at MVHS, recalls how they "both started at the district of the same school site on exactly the same day."
Although they didn't know it then, Chris and Millie Kenney would grow much closer during the next couple of years before Millie began working at Santa Clara University. According to Millie, their first memorable interaction with each other was on the day of the Sept. 11 attacks.
"Mr. Kenney and I knew who each other were, but we didn't really talk to each other much," Millie said. "And I came in that morning, after having seen everything on the news, and I was walking through the little tiny courtyard — that was where Mr. Kenney's office was — and I could hear that he had a television on in there and he was listening to what was happening. And I walked in, and he was in there by himself, just standing there watching it, and he said, 'Good morning,' and I think we stood there for quite some time, just watching things unfold."
Although they had started working together in January of 2001, Millie emphasizes how "the whole event just sort of really bound people together" and describes the day as a "start" of their relationship.
Prior to becoming facilities manager, Kenney had worked as a carpenter. However, due to the changing economy, he began working various side jobs, one of which included a part-time job at a K-8 school, where he became interested in maintenance. Kenney describes how the job also familiarized him with working with teachers and parents, albeit on a much smaller scale.
After hearing about an opening for a facilities manager at FUHSD from a friend, Kenney decided to apply and got the job a couple of weeks later. MVHS had been starting construction at the time, and despite his initial hesitance, Kenney soon realized that his new responsibilities coincided well with his previous job experience.
On his first day of work, Kenney recalls that the MVHS campus looked dramatically different from its current appearance. When he first arrived 20 years ago, Kenney observed that the campus had been undergoing construction, much like it is now, bringing his time at MVHS "full circle."
"I got to be [at MVHS] when we had no fields and we had no football games," Kenney said. "All our football games were at Cupertino — we had to bring all our equipment over to Cupertino and then bring all the stuff back. And then in 2012, we opened up the fields and that was just like, '[MVHS] finally gets to have football games,' it was phenomenal. It was awesome."
Other parts of Kenney's life at MVHS have stayed constant throughout the years, like the Eagle Scouts projects that he has helped with ever since a student first contacted him 14 years ago. Kenney recounts how he initially feared the responsibility would prove to be a "nuisance" and add to his workload, but he soon realized that "the kids were really learning" from the projects, which ranged from planting trees to building fences.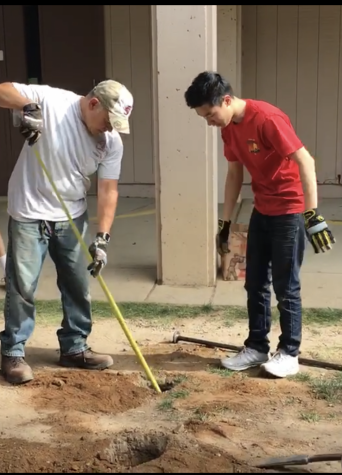 "When you work with a student, they have to bring in their scouts and they have to be the leader in directing them how to do the project," Kenney said. "So I can't do the project, they have to do the project. I want to do it, but I gotta step back and let them do it, so that was kind of cool. I really enjoyed doing that and it was really something that surprised me, and I started doing it more and more."
The projects soon became an annual tradition as students began reaching out to him every year, and Kenney notes how, through the projects, he was able to meet different families and students.
MVHS alumnus Brandon Ma '19 describes how, as a senior, he wanted his Eagle Scout project to leave an impact on the campus that students, including his brother, who was a freshman at the time, could continue to use throughout their time at the school. As a result, Ma decided to work with Kenney on a project building benches.
"He was super easy to work with [and] really helpful," Ma said. "When I first approached him with the project, I had never really talked to him before — I feel like as a student, you don't really get the chance. But when I approached him with the idea of doing an Eagle Scout project, he was really helpful in telling me what he wanted to see happen, what were the opportunities, so the whole planning process for everything went by really well and it was a really smooth process."
Ma describes Kenney as a "guiding presence" throughout the project, noting how Kenney helped him by pointing out and finding solutions to potential problems, such as when they encountered pipework when digging foundations for the benches. In particular, Ma expresses his gratitude for how "it was really great to see everything come together, and his guidance helped me fulfill the vision we originally had for the project."
Kenney, too, has been impacted by the students he has met through the Eagle Scouts projects and describes the organizational and management skills of some of the students he worked with as particularly impressive.
According to Kenney, he has also learned lessons from working with people in the different aspects of his job. He emphasizes how stressful it can be communicating with certain people, and how it's important to "look into yourself" and learn to compromise when working with others.
"You get certain people that you don't click with personality-wise, and that's something you have to work with as a manager," Kenney said. "You have to work with people that can be difficult and you have to learn to make compromises to suit different people. It's a skill that not everybody has."
Eventually, after 20 years of working at MVHS, Kenney made the decision to retire. He had initially planned to retire in roughly four years, after reaching the age of 64 or 65. However, after his brother passed away due to liver cancer in August, Kenney began reflecting on other things he wanted to do and contemplating an earlier retirement.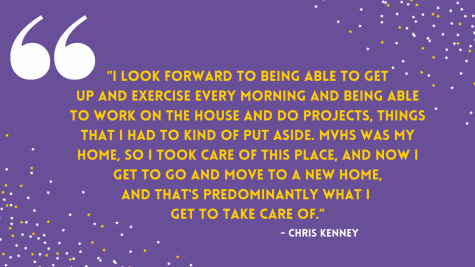 Kenney notes how he wanted to make sure he would have time to do certain things he wanted to do, such as remodeling his home and pursuing his hobby in furniture building. After retirement, Kenney and his wife plan to move out of state to the 33-acre plot they bought in Tennessee, where Kenney looks forward to expanding the kitchen and building an outdoor seating area with a fireplace.
"I look forward to being able to get up and exercise every morning and being able to work on the house and do projects, things that I had to kind of put aside," Kenney said. "MVHS was my home, so I took care of this place, and now I get to go and move to a new home, and that's predominantly what I get to take care of."
Millie also expresses her anticipation for life after Kenney's retirement. She emphasizes how Kenney was always "150% dedicated and focused from the beginning" of his job at MVHS, giving up time on weekends and staying late. She looks forward to the extra time he will have after retirement to "explore and discover what he wants to do."
"He's such a creative person, he has a lot of creative energy, and he's not had a lot of time to really dig into that and find out what he really loves to do," Millie said. "I'm so excited to see him be able to have the time to figure out what he wants to do with that and see what he creates with that."
Chris Kenney and his wife Millie Kenney pose together in 2002, near the beginning of their relationship, and in 2013, at a family gathering. Photos courtesy of Millie Kenney | Used with permission