Appreciating Mom
Students reminisce about memories with their mothers
May 9, 2021
Mint chocolate chip
Arti Gnanasekar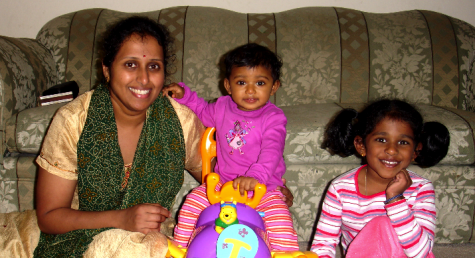 "We're here for you," sophomore Arti Gnanasekar's mother said. "Let's spend the rest of our time doing something fun."
Gnanasekar sits outside a Baskin Robbins in San Diego with her mother and older sister, her favorite mint chocolate chip ice cream in hand. She's wearing her fencing pants and a stuffy t-shirt as she devours her sweet treat, but the bitter taste of losing is still fresh on her tongue.
Due to nerves, Gnanasekar rarely lets her parents watch her compete. However, for this important tournament, her mother had driven them down to San Diego, so she would be spectating from the bleachers. Gnanasekar was motivated to perform well because she wanted to impress her mother, who had taken time out of her day and was watching her fence for the first time.
Gnanasekar had done great in her preliminary bouts, or rounds, but fell behind and lost in an elimination round 13-15. Being so close to winning made the loss sting more, but Gnanasekar's mother reassured her that she "would always support her whether she [won or lost]." Despite the frustration Gnanasekar had felt, her mom's kind words and actions comforted her, like a "warm bubble of love."
Truly me
Aashrita Natesan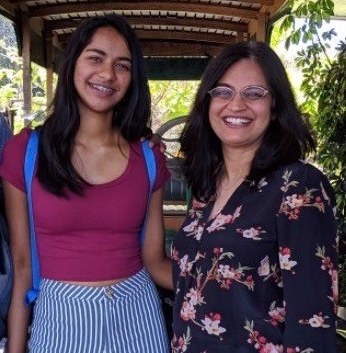 Sitting in a cafe in the Grove, Los Angeles, senior Aashrita Natesan sips her hot chocolate. Across from Natesan is her mother, holding a coffee of her own. "Ready?" Natesan's mother asks, and the two of them enter the adjoining American Girl Doll store.
Natesan had been a long-time fan of American Girl Dolls, and for her eighth birthday, her mother booked a flight to LA so they could venture down and pick out a special doll for her. Natesan recounts that her mom had recently quit her high-intensity job, but instead of taking the chance to relax, she wanted to spend time with her daughter. 
"My mom is caring ― not [just] with me, but to everyone," Natesan said. "She'll do unique things for me, [like] taking me to cool places … and making me Nutella sandwiches whenever I [feel down]. I think it's really sweet."
A new language
Jennifer Long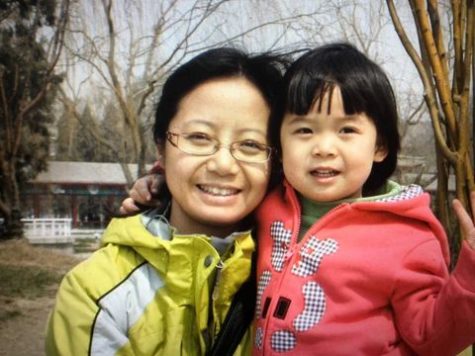 When current freshman Jennifer Long moved to America at the age of seven, she didn't know English. It was her mom who always helped her study and supported her.
Long's mother, fluent in English, guided Long through the sound, consonants and letters of each word. After school, Long and her mother would often go to the library to find baskets full of books to read, and on weekends, Long and her mother would wake up at 7 a.m. to memorize stories in English.
Because she struggled with English, Long was often made fun of at school, and she would come home crying. However, her mom would comfort and encourage her. With her help, Long was able to learn English within a year.
"My mom has always helped me gain my confidence back and then she guided me throughout my life, [and] throughout my challenges," Long said. "She isn't just a mother to me, she's also one of my best friends."
Coping mechanisms
Ojas Karnavat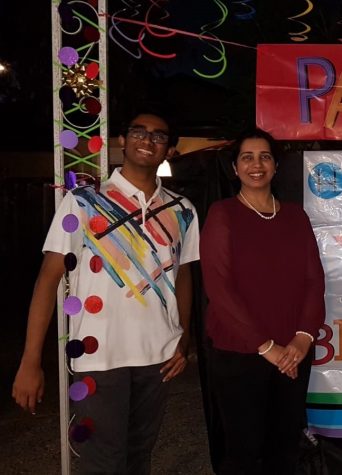 It's a hot summer day in the city of Jalgaon, and it doesn't help that there's no air conditioning in the building. Hundreds of kids, including junior Ojas Karnavat, sit at tables and strategize as they try to conquer the game before them. Outside the hall, the parents earnestly await their children's results.
Karnavat started playing competitive chess at age seven and ever since, his mother has taken him to tournaments across India. Karnavat claims that she had to sacrifice a lot of her own time for his interests, and was always ready to congratulate or comfort him after his games. 
At this particular tournament, Karnavat had the opportunity to qualify for Nationals, but he lost by a narrow margin. Karnavat describes having a habit of ranting after the games he lost, and his mother would take a step back and listen to her son talk, which he greatly appreciated. Afterwards, she would take him on walks around town or listen to Bollywood songs with him.
"[My mother has been] a role model that I can always look up to and [made] sure that I never feel alone," Karnavat said. "She has always done the little and big things for me, and I'm forever grateful for her."
Train fairy
Sarah Liu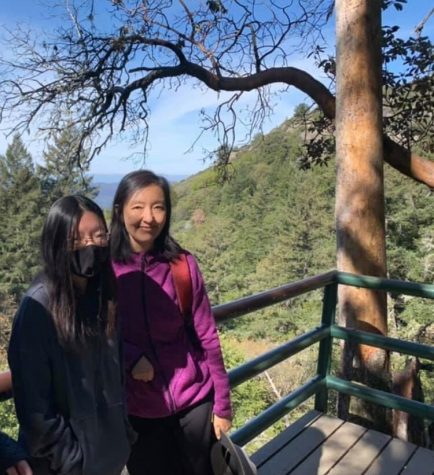 Freshman Sarah Liu woke up to find new toy trains.
She was five or six at the time and very excited about the Thomas the Train characters. That day, she discovered toy trains all over the house; if her bed was purple, there was a little purple train by it, or if the table was green, she saw a green train. When she went to the park, she found a green train hiding in the grass.
"It was really cool — it was like an all-day scavenger hunt, and I was just going around the house, and on the floor, I'd be like, 'Oh my gosh, I found another train!'" Liu said. "And I don't know, I thought it was like a train fairy — there was a tooth fairy, a leprechaun, [and] I was like, 'Oh, train fairy, I'm just gonna add it to my list.'"
Liu mostly forgot about the trains until a few years ago when she was cleaning out her closet and found a bag full of 20 or 30 little trains.
"I was like 'Oh my God, oh wait, I remember these,'" Liu said. "My mom was like, 'Oh yeah, I remember when you were little, I took them and I hid them around the house.' And I was like 'Oh wow,' and I just thought it was really sweet [and] really wholesome."
Dinner
Andy Xu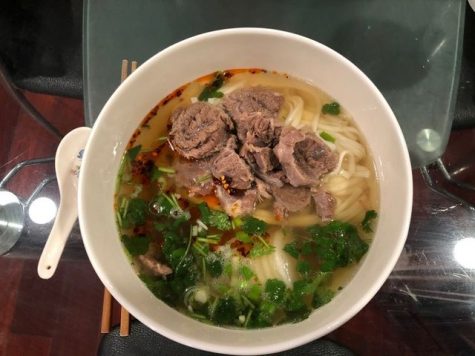 As always, junior Andy Xu's mother has on the same apron, brown with pink polka dots, holding the steel pot and the stir-fry spatula as she prepares dinner. Oftentimes it's Chinese food, but she also makes a variety of other cuisines, like Mexican food. Xu's favorite is the ribs.
Xu's mother works in San Francisco, and for the past 12 years before the pandemic, she had to wake up very early and drive from Cupertino to San Francisco and back every day. Yet despite how busy she is, she always makes dinner for Xu and his brother.
"She's very caring, very loving, and she always makes time to take care of me and my brother and my dad and my family, even though she's so busy and she has so much work to do," Xu said. "Her care for us really inspires me and I owe her a lot for what she's done."
From the writers to their mothers
Cards, Cooking, Camellias: Claire Wen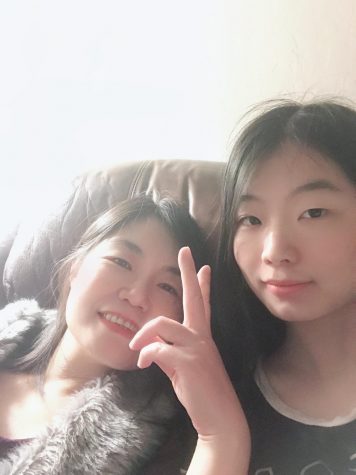 You smile as you put down your final card. "Da wang." Joker.
It's Saturday evening and I brought up the idea of playing cards earlier, so all of us are sitting in the living room, groaning and whooping with respective losses and victories. By chance of seating arrangements, we make up one team, my sister and Dad the other. 
We make a good team. In general, you're more willing to take risks, pulling apart pre-made combinations to attack an opponent, while I play conservatively, saving my bombs and straight flushes for the end. It balances out. After a few brief hiccups, we win round after round.
It's Tuesday evening and you call me to wrap dumplings. You've made the filling already; even though meat would make it easier to wrap, you've indulged my request of only vegetables and egg. You normally just fold the edges together, but I pleat mine because I reckon there's more structural integrity this way. You comment that the way I'm pleating it probably isn't traditional. I respond that as long as it holds together, it works. You laugh and agree.
I pout as the wrapper on one of mine splits — I must have tried to put in too much filling — but you say it's OK, and we can just pinch it back together. We don't expect the dumplings to have too much structural integrity anyway; we'll steam them, instead of boiling and subjecting them to the tumbling water.
It's Saturday afternoon and you've brought home a camellia plant. With my limited interest in gardening, I grumble as you pull me into the backyard to help plant the camellia. What use are flowers, I tease. They aren't vegetables; you can't eat them.
You chuckle and shake your head at my practicality. They make the surrounding environment better; it can bring up your spirits when you see them, you say. After all, why do you like desserts when bland food would do the job?
Every day of the week, I learn from you, I see your care for me, I love you.
The best gift imaginable: Shivani Madhan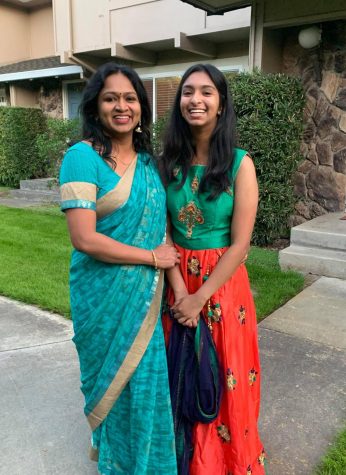 "Happy birthday to you!" Everyone sings as I blow out the candles. 
It's my 12th birthday and we've just had a lavish lunch at Benihana, the hibachi table still hot and our stomachs full. We spent the morning prancing around Vallco Mall and devouring popcorn as we watched "Middle School: The Worst Years of My Life."
You take me to the Italian restaurant across from Target simply because I'm craving ravioli that day and buy me a new sketchbook, even though I have plenty of unused ones. You invite our neighbors over and put out a whole assortment of chaat just for me. You make my favorite pancakes for breakfast and spell out "HAPPY BDAY" with fruits, and then drive our family down to San Francisco because I wanted to go somewhere. Each birthday is special, unforgettable.
Yet the gifts I've received and the places I've been aren't what really matter ― it's you. Every year without fail, you take the day off from work and spend time with me, just to show how much you care.
And it's not just on birthdays. Every day you do so much, balancing your work life with being an amazing mother. The way you wake up early every morning to make me lunch doesn't go unnoticed, and your unexpected hugs always make me feel so cared for.
So even though this won't make up for the endless things you've done for me these last 16 years ― thank you. I love you, and I really should say it more.