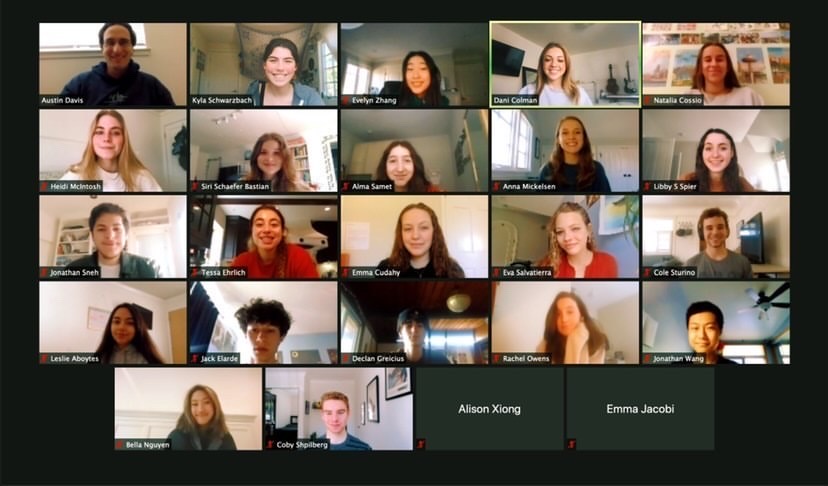 Photo courtesy of the Paly RISE officer team // Used with permission
Recent events surrounding sexual assault allegations and solidarity for victims at Palo Alto HS
A Palo Alto High School (Paly) alumni's ex-girlfriend posted a statement on her Snapchat story on Jan. 23 revealing an incident previously unknown to her — two years ago, there had been a rape allegation filed against him. This allegation was officially filed with the school and the police department, and according to current Paly senior and Paly Bring Change 2 Mind (BC2M) President Audrey Joachim, the victim "suffered a lot mentally and was unhappy with Paly's handling of it." 
The alleged rapist's ex posted about his prior allegations because he had seemingly not faced any consequences for them — he is currently enrolled at college, has continued to be a prominent figure in the community, attends parties and has had new girlfriends since the allegations. 
Her initial Snapchat story served as a catalyst for outrage on social media, where many posted in solidarity for sexual assault victims after seeing her post. In addition, 14 girls in total came forward with accusations against the alleged rapist, and Joachim cites that she has also seen allegations from both girls and boys against other alleged perpetrators in the community on social media, most of which reference incidents that happened during the 2019-20 school year. 
In the days that followed, the allegations and overarching issue of sexual assault continued to garner attention. Joachim says that she posted the sexual assault hotline on the BC2M's Instagram account, which received over 1.5K shares and likes, as opposed to their typical 20-30 likes on most posts.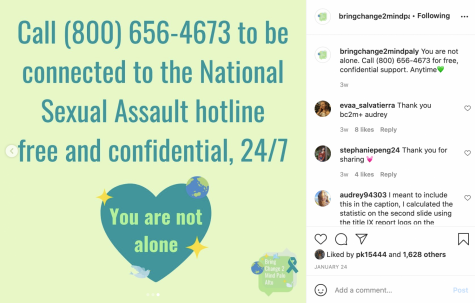 "It's not necessarily people posting 'this kid's a rapist,'" Joachim said. "It's also just support for people coming out, and there's also been a lot of other people coming out with other accusations made and publicized — I think it's just that people are getting the courage to speak up now because they feel supported."
Joachim adds that sexual assault and harassment are prominent issues within the high schools in Palo Alto — for instance, Joachim cites a sexual assault case in 2017 that many students feel was not dealt with appropriately by the Palo Alto Unified School District (PAUSD) administration. And the problem has persisted — last school year, there were over 50 reports of sexual harassment violations in the district. 
On Jan. 27, Don Austin, the PAUSD superintendent, posted a Schoology message addressing and acknowledging the situation at hand. In the message, Austin also cited that during the "2019-2020 school year, the district received 50 reports of sexual harassment in which 5 were reports of sexual assault or misconduct."
During the 2019-20 school year, '20 alumnae Katherine Buecheler and Alesa Aalami, current freshman at UCLA and Barnard College respectively, co-founded Paly Responsive Inclusive Safe Environment (RISE, @palyrise), a student-run task force and club that aims to combat sexual violence in a meaningful, tangible way. When the current RISE leadership team updated them about the developing situation, they wrote a statement outlining their advice for steps moving forward, which was posted on the RISE Instagram account.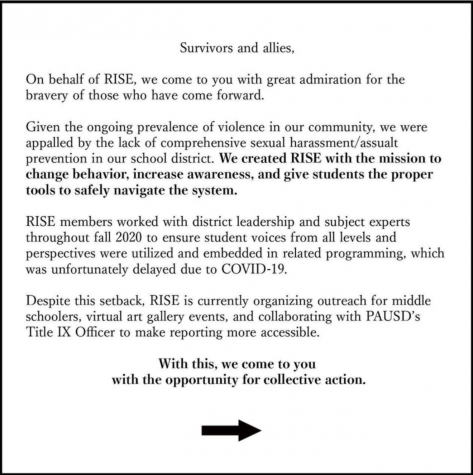 After the rape allegations and outburst on social media, both BC2M and Paly RISE scheduled meetings in the following days to address the ongoing situation. Paly RISE held a meeting on Wednesday, Jan. 27, to directly address the issue, and Joachim says BC2M had a meeting the next day, Jan. 28, to discuss "the mental health issues that can be triggered by sexual misconduct, whether it be rape, sexual assault or sexual harassment" and "how to support victims, or people that come forward, and also action to take — since not everyone's comfortable posting on social media — within our community or on a broader scale." 
Aalami says that she and Buecheler attended the Jan. 27 RISE meeting. They offered guidance, advising the current RISE leadership team to consolidate and present data to PAUSD representatives to help them fully understand the extent of the issue. 
RISE co-president Dani Colman says that during their Jan. 27 RISE meeting, there was immense support and turnout — the club originally had approximately 15 active members, but their meeting had over 100 participants, and after the meeting took place, over 90 people signed up to be members on their Remind notification service. 
"While we were expecting club meeting attendance to be greater than usual, we had no idea over 100 students and faculty members were going to be there," Colman said. "But with such a large crowd, we split attendees up into several smaller groups. And within these groups, we discussed our own experiences and considered steps we can take in order to reach our goals of justice and prevention. I think people really wanted the opportunity to speak and be heard at this meeting. So that's exactly what we aimed to do, is give everyone the chance to talk and share their feelings after this week." 
During the Jan. 28 BC2M meeting, however, Joachim says she didn't think focusing specifically on the recent allegations and its social media response was relevant — both out of respect for the victims and to eliminate unnecessary repetition.
"This is really pressing and I'm a victim myself of sexual [harassment]," Joachim said. "I chose not to report officially, but I just know that this can take a huge mental toll, and people need to understand how to support others and how to deal with things like this, because it is a huge — it's a really big deal. BC2M is focused on the stigma against mental illness, so we'll be focusing on these events under that lens, not about this boy or about the victims." 
Joachim was a victim of sexual harassment during her freshman year, but chose not to report it. The consequences of her experience continue to impact her life — she says she has PTSD and now needs a 504 plan, which provides her with double time for testing because of its impacts on her test taking. Additionally, since she has tried to block out negative memories, her memory in general has suffered.
She says she has chosen not to report the incident because "it's just not worth it to me, which sucks because I wish that I would feel comfortable coming forward and this person shouldn't be able to not suffer any consequences, but I feel like if I come forward, I'm going to suffer more consequences than he would."
Joachim believes that the Paly administration has repeatedly dealt with the issue of sexual violence insufficiently, and as a bystander to girls who want the administration to take action, "it's really heartbreaking to watch this happen."
"I always say that if I could go back and reverse it, I wouldn't because I just have grown so much from it," Joachim said. "Obviously the repercussions are terrible, but I've done so much therapy, so much DBT [dialectical behavior therapy], which is group therapy, and I feel like I've really matured. It's helped me mature a lot, and I would not wish it on anyone else, but I do feel like I made the best out of the consequences of it. It's given me a good perspective."