Quarantine projects
Students share various projects they have been working on during the pandemic
During the pandemic, students have had a lot of extra time to work on their own projects out of school, which not only highlights their talents and creativity but also allows them to furthermore pursue what they are passionate about. Some have even expanded their projects into their own businesses, from which they receive much success
Embroidery with freshman Miriam Law
It started when freshman Miriam Law wanted to patch embroidery onto her Nike hoodie. Taking out her mom's home sewing machine, she sewed on small flowers around the Nike logo with the help of YouTube tutorials. Soon, embroidery became one of her biggest quarantine pastimes. In addition to materials around her house, Law also bought supplies from Joanne's and Michaels for each of her projects.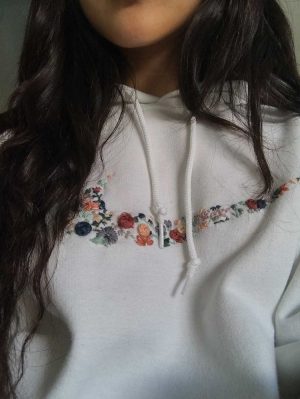 "I think I just used a bunch of embroidery supplies I used to have for making friendship bracelets," Law said. "Compared to buying embroidered clothing from small businesses, it definitely saves a lot [of money], but it also kind of takes into how much time [embroidery] takes, as it's time-consuming."
According to Law, each piece takes her about a day or two with many breaks in between, but she is motivated to continue because she says working with a blank canvas allows her to unleash her creativity. Sometimes when she feels particularly proud of one of her creations, Law posts results on her Instagram story for her followers to see. 
Law's favorite types of clothing to embroider include bucket hats and scrunchies —  one of her favorite creations were scrunchies she gifted to a friend.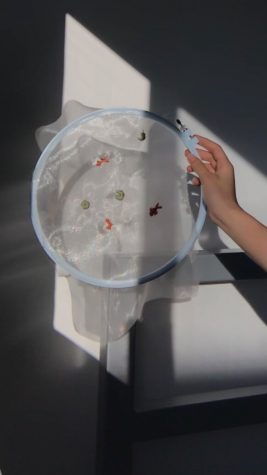 "I made some scrunchies for my friend's birthday," Law said. "I took some [clear] organza fabric, and I sewed on it. I thought it would be super cool to have a clear background. It's kind of different from a typical scrunchie. I embroidered some goldfish on it so it's kind of like a pond, and another design I did was just a bunch of daisies."
In the future, she also plans to maybe expand her newfound hobby into a business. However, Law currently finds herself too busy with schoolwork to do so. Her normal routine has been to focus on embroidery over the weekend, using it as a way to have fun and focus on her projects without feeling stressed. Finding joy in the projects that she creates, Law encourages others to also pursue creative outlets like embroidery.
"I think it's really just not being afraid to try new techniques or new things in general," Law said. "There really isn't anything holding you back. I think as long as you have the privilege to get the materials and be able to try new things without being afraid of maybe wasting materials, I think there's really nothing holding you back."
"iconsighs" with senior Patricia Chan
Being passionate about the arts, fashion and business, it was a lifelong dream come true for senior Patricia Chan when she was able to launch her clothing brand "iconsighs" in October of 2020. Early in high school, Chan began translating the realm of ideas in her head to sketches and taught herself how to create digital renderings of designs, taking into account proportion, harmony, silhouette, fabrics tensile strength and other important aspects of garment design. 
"In the future I may expand it to accessories," Chan said. "But as of right now, I make clothing. The pieces from my first and latest drop are made of 290 GSM cotton fleece, which is a soft lightweight fabric perfect for any season. I'm currently looking into expanding into knitwear and different types of fabrics for my next drop, which I'm expecting to happen within the next couple of months."
View this post on Instagram

Chan says running a business while being a senior in high school is difficult. When she first had the idea to start her clothing brand, Chan struggled with self-doubt, and felt like she had no idea where to start. She had no one to give her guidance, and therefore used the internet to research the process from scratch. 
Chan also notes that her business is time-consuming — she manages everything from designing and fabric sourcing to shipping and marketing. Despite taking a lot of her free time, she says her passion and love for creating makes it worth it. 
From her first clothing drop, Chan notes that her business has received much recognition. She says her pieces have been worn by influencers across many social media platforms with over 100K followers. Chan's brand has also been recognized by numerous blogs and organizations including Generation She, and she's thankful for the support her brand has received so far. Chan is eager to continue expanding her business and expressing herself through her pieces.
View this post on Instagram

The "Icon Sighs" site is classy and chic; the home page consists of sparkly butterflies flying in loops around the minimalistic words "shop now," reflecting the current fashion and streetwear trends among young adults. All of Chan's products sport her brand's intricately drawn butterfly logo. 
And out of all her pieces, Chan's personal favorite is her black and white split hoodie.
"It is the first design of mine that was ever produced," Chan said. "And I've made countless designs and ideas for future drops, but this hoodie was the first and will always be one of my favorite pieces, and I deeply appreciate the recognition that this hoodie is brought to my brand and my work."
"Loon City" with senior Nicholas Hsieh
Bright pastel blue, yellow and pink draw attention to the design located on the center of a casual tee: a tiny brown bear, carefully drawn by senior Nicholas Hsieh. Starting as a passion project with friends, Hsieh has successfully expanded his creations into his own clothing brand over quarantine: Loon City. With the goal of putting out "happy vibes," Loon City currently features t-shirts, hoodies and stickers, all with the theme of cheerfulness and uplifting energy. 
View this post on Instagram
"The first thing I start with is a design," Hsieh said. "Typically I set aside an hour or two every time I come up with the design and I think through it. For example, my first design was a bear holding balloons [and] I [had to decide] what colors I wanted, so I looked through color palettes, and then I chose little things that I wanted. In terms of the actual shirt, there are a few options that I typically look towards. I either outsource it completely, or get it from a nearby printing shop."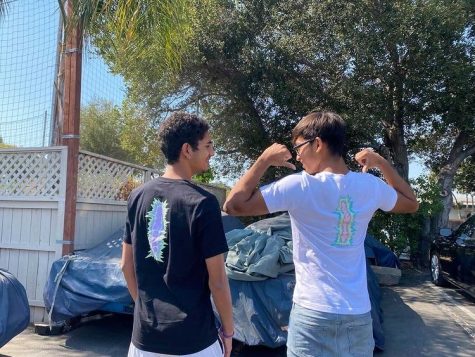 With the help of his sister, sophomore Kristen Hsieh, Hsieh has been working on the process since July. He emphasizes that through his experiences, he's improved his negotiation skills. For Hsieh, the moment that stuck out to him the most was when he received his first shipment of clothing. After long months hard at work, he found himself in awe when he finally witnessed his creations arrive, the 2-D designs transforming into 3-D products. Being able to finally see a physical representation of what he's been working on, he describes the emotions he felt as "awesome."
Hsieh is appreciative of the people around him, especially his sister, who have been there to support his efforts, including contacting people they knew for resources and providing feedback to help him make the best possible final product. Following his own experience, Hsieh offers advice for others who may also be motivated to create their own brand.
"I would also make sure that you're really willing to commit," Hsieh said. "I was super willing to commit and then I realized I was committing to too many things, and this [ended up] going on the back end, so first I would say make sure you're willing to commit for a second. Don't be afraid to take the initiative to start it. A lot of times it's that first step to say 'Hey, I am starting a clothing brand.' It takes a lot of courage to just do that first step, but everything after that, it's much easier."