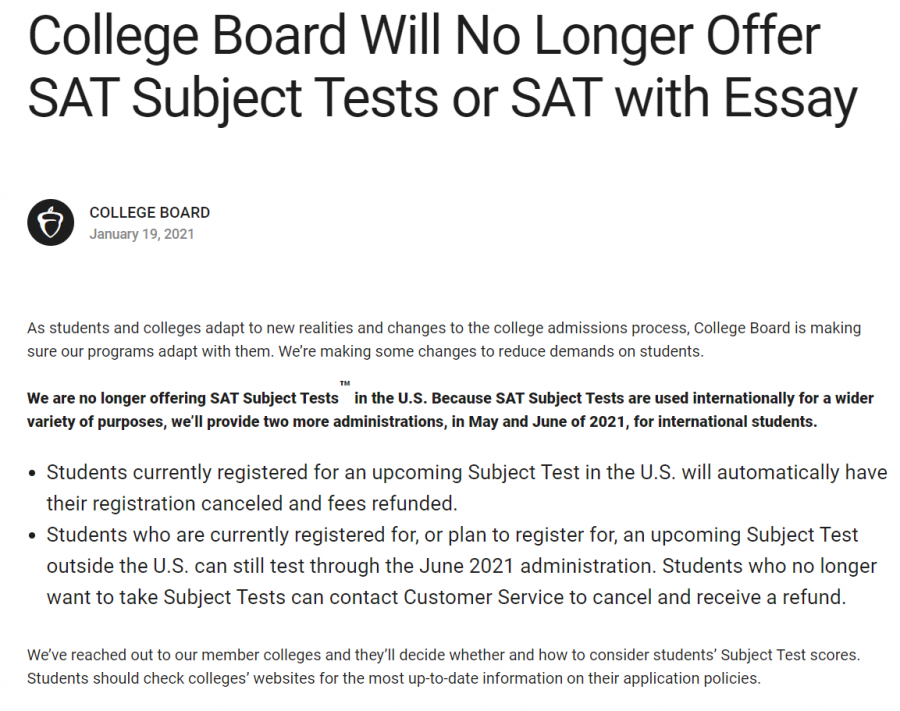 Jefferson Le
On Jan. 19, 2021, the College Board announced in a blog post that it would no longer be offering SAT Subject Tests in the U.S. Additionally, the SAT optional essay would no longer be included for test registrations past June 2021. The cancellations brought forth many unanswered questions as well as mixed reactions from students about the future of standardized testing.
As the influence of standardized testing for college admissions diminishes, student opinions are split. On one hand, people like sophomore Arya Srivastava claim that standardized tests offer opportunities for students to prove themselves to the universities they plan to apply to.
"I feel like the SAT Subject Tests are just another opportunity to prove yourself," Srivastava said. "It shows you are good at a specific subject and I think it just bolsters your college application."
Srivastava also adds that standardized testing provides a chance for students who feel as though their school grades don't accurately represent their academic capabilities. Because Subject Tests focus on specific academic content, Srivastava believes they can compensate for bad grades in classes about said subjects, which comprehensive tests like the SAT or ACT cannot accomplish. 
Similar to Srivastava, senior Adithya Patil initially viewed Subject Tests as an opportunity to prove academic excellence before going through the college application process. However, after attending college webinars, he realized that colleges have holistic methods for determining admission.
Now, he believes that Subject Tests don't measure understanding, but rather test-taking ability. Patil had already taken the Math II Subject Test, but had initially also scheduled the Physics Subject Test for May of 2020. When the College Board initially announced that Subjects Tests were canceled for the duration of the pandemic, he remembers feeling relieved.
Similarly, junior Ajit Chamraj, who had registered for the SAT Math II, Physics 1 and U.S. History Subject Tests prior to their cancellation, believes that the 2021 cancellation of the subject tests will alleviate stress. However, Chamraj says that he initially signed up for the subject tests for a sense of personal fulfillment, something he will no longer be able to achieve. He also speculates that the cancellation of SAT Subject Tests may increase the weight of the College Board's AP Exams, which he generally finds more difficult, and therefore thinks that this potential increased weightage is a disadvantage for students.
While many questions around the changing weight of standardized testing remain unanswered, students like Patil are ultimately grateful that Subject Tests are canceled. 
"There are definitely other ways to show that you understand a subject in a comprehensible manner other than paying the College Board an overpriced amount of money," Patil said.