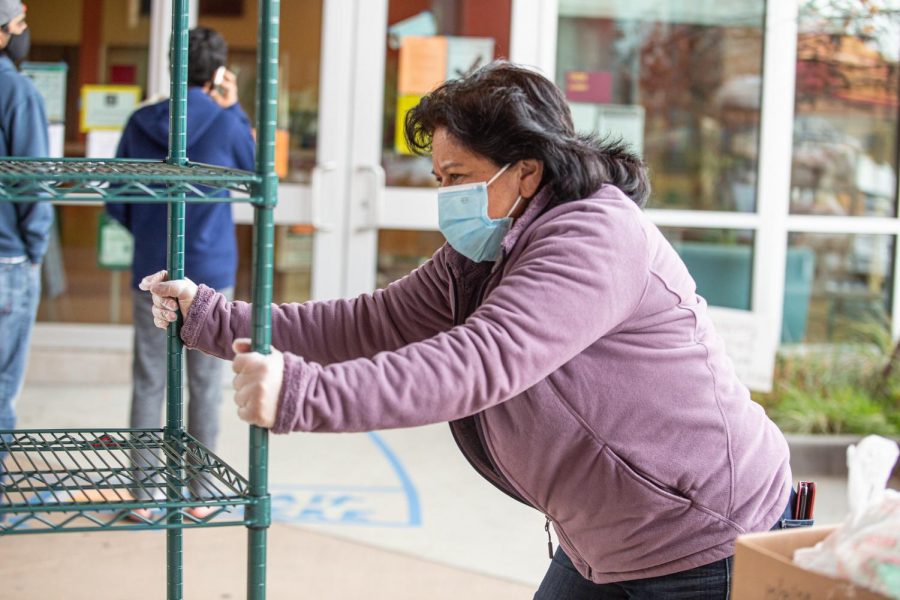 Behind the scenes on the MVHS campus
Investigating how the roles of the cafeteria manager, site technician and day custodian have shifted during a distance learning school year
January 24, 2021
When MVHS students left campus in March of 2020, the long duration of distance learning was unanticipated. Nearly a year has passed since then, and the campus they left behind looks drastically different — construction in the A, B and C buildings has ended, and the academic quad has been redesigned. In the upcoming summer and beyond, the D building and the courtyard between the C and D buildings will be remodelled and the pool will also be replastered. Construction was initially meant to occur over the span of two years, but as an unexpected silver lining of distance learning, this process has been accelerated.
Not only has the campus changed, however, but so have the lives of MVHS staff whose jobs are campus-oriented, such as site technician Chris Kenney, head cafeteria manager Debbie Herrera and day custodian Isidro Goncalves.
HEAD CAFETERIA MANAGER: DEBBIE HERRERA
Herrera misses her comfort zone the most. She misses working with all of her staff — the companionship that she says is only fostered when you share everything with a coworker, from planning menu items to discussing their lives at home.
Each FUHSD high school has six food service workers, and Herrera explains that, because of how their jobs have changed this year, the six members of her staff were split between three sites: Fremont, Homestead and Cupertino High Schools. As opposed to serving students in the MVHS cafeteria, Herrera and all the other food service workers are currently working to execute the FUHSD Free Meal policy taking place at the three aforementioned high schools, where anyone under the age of 18 can pick up a free meal. Currently, Herrera works with a team of 8 at Cupertino HS; they prepare the food each Monday and Tuesday and distribute on Wednesdays from 11 a.m. to 1 p.m.
Herrera says that the meals are packaged using boxes and bags; the boxes contain fruits and vegetables for seven days, while the bags contain a variety of meals, including pasta, grilled cheese sandwiches, burritos and vegetarian options as well.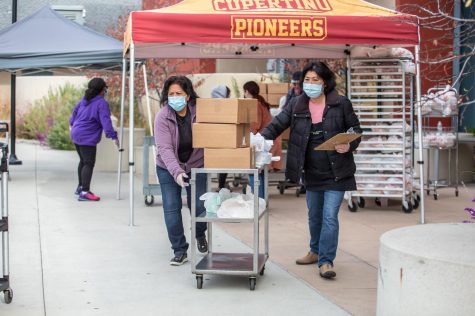 "We're serving anywhere between 300 and 330 meals every Wednesday [that is sufficient for a week]," Herrera said. "So that process is not as time-consuming, but it's more physical work because now we're working in bulk, so we're carrying more products in boxes [that are] 50 lbs, 80 lbs, 100 lbs. It's a lot more physical work than it is mental work. With that being said, there's eight [staff members], so we pretty much finish all of it."
Although the Free Meal program was implemented on Sept. 2, Herrera notes that, since then, the number of people picking up meals has expanded, with not only families in the vicinity picking up meals, but also people from as far as Campbell.
"You can tell that these people do need food, they really do," Herrera said. "It's anywhere from milk to potatoes, celery, oranges, apples — basically anything that they can have that lasts and is not something that can go bad. So if they don't eat it within two or three days, it's still going to be there. It's food that we're trying to give that you would buy at the grocery store, but this makes it easier for them." 
Herrera adds that because she has had to get accustomed to the new staff, leadership is challenging at times, because "when you're a leader, you're dealing with different types of personalities, different people — you don't know them until you talk with them." 
Since her staff is from multiple high schools, everyone came in with different experiences. Herrera says that, although conflicts arise frequently, she focuses on boosting morale, explaining that "it's all about speaking to them and letting them know that you're there for them. They want to come to work because that's the only time for socialization that they have, so we want to make it the best, but if there's conflict it just ruins it."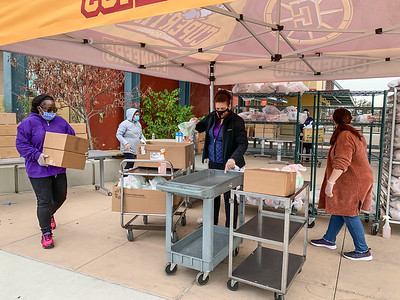 She emphasizes communication; for instance, she has a meeting every morning where she asks staff how their day is going and asks each person to share a positive in their lives, before asking them what roles they would prefer to work during that particular day. 
"I give them an option, so if they're not feeling it, then they're like, 'OK, I think I'm going to work over here so that way I can just be by myself but I'm doing the job,'" Herrera said. "So every day I have a meeting, that way I can get a feel for their demeanour, their facial expressions, whether they're in a good mood or whether they're upset, and if they [are] I'm like, 'Why don't we work over here? Let me give you something simple to do and then tomorrow we can work on this.' The group that I have is very sensitive, and I've learned that the hard way. Because my voice is overbearing and they felt like I was yelling, so I had to learn that they're sensitive people."
At the same time, Herrera adds that her job is fun as well as gratifying; the team always has music playing and is constantly being thanked. 
"We've got everybody out there with four different carts, we've got a line coming around CHS," Herrera said. "And they thank you. And not only that, but during the holidays they brought masks and some of the admin gave gift cards, some parents said we're going to donate and I think they bought us lunch one day. We get a lot of recognition; that's what makes us feel good on Wednesdays. We go through this whole process, no matter what type of mood we're in, how we're feeling, [and] at the end of the week it's like, OK Wednesday is the last day, we don't go back until [the] following Monday, and everybody feels good."
SITE TECHNICIAN: CHRIS KENNEY
Prior to distance learning, a typical day for Kenney varied. In the morning, he would make sure the temperatures in classrooms were stable, and then move on to monitoring his crew, which includes groundskeepers and custodians. Throughout the rest of the day, teachers would request repairs for doors, HVACs (Heating, Ventilation, and Air Conditioning) and lights, as well as help with locks.
Since March 2020, however, Kenney says that he and his crew have been on an extended version of summer. Normally, the crew starts a process called deep cleaning midway through June, in which they shampoo carpets, strip the floors and use the VCT (Vinyl Composition Tile) to put clear coats on the floors. Since students did not return to campus this school year, they've continued this process of deep cleaning for longer — the gym floor and the field house floor have both been redone.
Kenney estimates that approximately 10-15 teachers are on campus each day, so his normal job continues to a lesser extent, but he still has to ensure that the school's WiFi system functions without interruptions.
Due to construction in the upper floors this year, Kenney has also helped with maintenance of certain classrooms, making sure the rooms were disinfected and that the construction crew arranged the furniture correctly.
And although Kenney notes that his workload has decreased, he misses MVHS' bustling campus.
"I miss not having a mascot," Kenney said. "Just talking to people, seeing the students' smiling faces running around campus, and yeah I just, I miss this place [when it's] supposed to be full of 2,600 people. It's not supposed to have 30 people here. So it's getting a little old, the way things are going. We're going to have to deal with it for a little while longer, I know that, but I would love for things to get back to normal — start seeing students come back. It would be nice to see a new remodeled building being utilized rather than sitting empty."
DAY CUSTODIAN: ISIDRO GONCALVES
Goncalves' commute was cut in half. 
Previously travelling for nearly two hours, it now takes Goncalves approximately 50 minutes to drive from Livermore to MVHS, largely due to more people working from home and, subsequently, less traffic.
"The other thing positive for me is that I'm still healthy," Goncalves said. "And I have my job the whole time, I have my check every month to pay my bills and to do my life. A lot of people have lost their jobs, so I'm considered a lucky one when it comes to that. So I look at it that way. Some people probably don't, but I do. I'm old so I guess that's why I look at it that way."
Goncalves is the custodian on day crew, and the other members of his crew include the groundskeeper, who takes care of the gardening and grounds; the pool and grounds manager, who does a similar job as the groundskeeper but also manages the pool; the site technician; and the supervisor. They switch off later in the day when the night crew, which has five members, takes over. Both the day crew and the night crew continue to work at MVHS every day, despite it running on a distance learning model.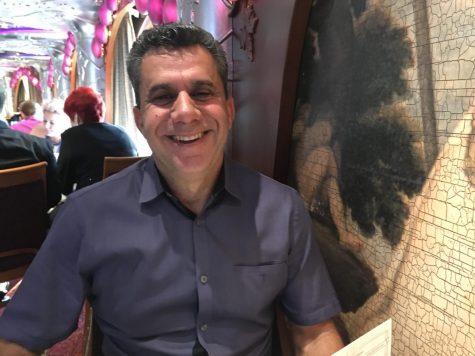 A typical day for Goncalves used to consist of cleaning the school bathrooms, emptying garbage from the kitchens, picking up soaps and other supplies from warehouses, cleaning the Student Union after brunches and lunches and cleaning places around campus like the rally court, all while being on call if teachers or students needed assistance throughout the day. 
"Now it's different because [students] are not here, but I do have to check the bathrooms, and we are also cleaning doors now," Goncalves said. "I even have some of the other guys, the groundskeepers, helping me to clean a bunch of doors. [Because of] the teachers who are coming in here, we have to clean the doors twice a day. Lately, I have some guys who work here with me, they have days off because of this pandemic, but I don't have that. I've been here every day, and I kind of help them out, the groundskeepers, clearing the leaves, trying to keep the school clean. And today, they needed paper in the office, so I do whatever they need, but of course it's a little different than before."
Goncalves has been working at MVHS for nine and a half years now — December will mark a decade, which is when he plans to retire.
"I hope you guys come back and you guys graduate here on the school," Goncalves said. "It'll be nice for everybody, especially since you guys get to do something you only do one time in your lifetime, it's not something you can put back, do later. I'm almost sure I'll see you all before I retire, because that'll be too long, that'll be crazy. This thing is gonna get better and you guys will come back before I retire for sure. I have my hopes up on that one. It's been too long and it's been almost a year. Too long."