The Impact of Cheering
Student athletes share the effect of crowds on their performance
When junior Sahil Goel runs during his cross country meets, all he hears is the thumping and panting of his teammates and competitors running alongside him. Goel runs his fastest when he reaches the final stretch of the race — where parents and teammates wait to cheer the runners on.
"[Whenever you run], you try to match the crowd's energy," Goel said. "I think that just happens unconsciously [and] it leads to better races in track and field [and cross country]. My best race I ran was Azusa where there [were]a bunch of schools and [lots] of people cheering."
In his spare time on Fridays during the cross country season, Goel also enjoys watching the football team play. Goel notes that there are major differences between the two sports in their environment and the density of their crowds. 
"For cross country, [during the race], you don't always see the fans," Goel said. "There are points where you are by yourself and that's a big difference from any other sport … In a game like baseball or football, the game is dragged out and the crowd can lose interest until a big play happens. What's nice about cross country and track is that if the crowd is near you, then they're always cheering for you."
As a soccer player, junior varsity soccer player Anika Mishra notes that boys soccer generally draws larger crowds than girls soccer. Mishra attributes this to a bias against female sports.
"I think there's a type of stereotype that boys are better at sports and girls don't really play soccer," Mishra said. "So people are not interested in seeing girls playing soccer just because it's not something that [they're used to]."
However, when there is a crowd, Mishra says that the team cherishes it and feels that it gives them a confidence boost.
"When there is a crowd, it definitely makes [the team] feel like people care about our sport," Mishra said. "Especially [for] girls soccer, [when] people actually want to watch us, [it] makes us have a lot more confidence because generally people would only [watch] if the team is really really good."
During his freshman and sophomore year, junior Jonah Tien attended almost every football game to cheer on the Matadors as a member of  MVHS Leadership. Tien's role during games was to stand at the front of the bleachers to cheer on the crowd to get them excited.  
"
"In rare cases, the cheerleaders or crowds will start chanting like, 'Number three you suck' or something like that when they are shooting a freethrow, that crosses a line, you can't really make a personal insult without knowing them first.""
— Jonah Tien
With crowds getting excited during games partly because of Leadership's help, sophomore and football player Greyson Mobley acknowledges that the energy is a good motivator for the team. 
"It's nice to have a big group rally behind you, because that gets you pumped up and makes you want to impress them and win for them because you don't want to let your fans down," Mobley said. 
Mobley mentions that while the crowd and the atmosphere are important, the familiarity of playing on home turf and not having to travel can be very beneficial for the team and have added benefits for performance. 
As a member and captain of the boys varsity basketball team, Tien notes that because spectators can come and go, teammates on the bench also play a large role in motivating the players on the court
"I feel like [cheering really] impacts the game when you're just behind the bench or near the sidelines where [the teams] can hear you," Tien said. "A very big impact [of cheering] is if you're close enough to talk to the players, then you can give specific encouragement like, 'Nice pass.' … As a captain, we really encourage positive reinforcement." 
However, Tien acknowledges that the positive effects of cheering at MVHS works against them at the opposing school. Tien notes that at many schools, there is trash talking. However, he says that it does not bother him; rather, it motivates him.
"[When you play at an opposing school], it feels like they have someone backing them up and that their team is more than just the players," Tien said. "But what's kind of funny to us sometimes is when fans [of the opposing team] start heckling, they sometimes start shouting bad things. Some people may see that as discouraging, but I see it as encouragement because I don't know them… The best way to tell them to shut up is to prove them wrong."
However, he also feels that banter crosses a line whenever it becomes directed at an individual player or becomes personal.
"In rare cases, the cheerleaders or crowds will start chanting like, 'Number three you suck' or something like that when they are shooting a freethrow," Tien said. "That crosses a line, you can't really make a personal insult without knowing them first."
Because of COVID-19, Tien realizes that all sports may not be able to have crowds at all in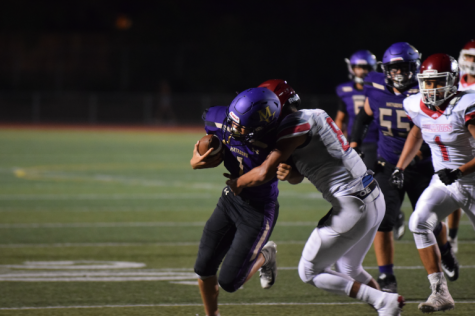 the coming months.
He notes that this might be detrimental as  players may not be motivated to make big plays. 
"It may feel kind of lonely and isolated," Tien said. "The crowd really brings momentum and a time sense, like [gauging] how big a play was. You know the magnitude of it when you hear the crowd — that's an evaluator. But let's say you make a really big play in basketball, … but there's no one cheering for you other than the team. Players will have less motivation to do big plays like that, or the tempo might not be as fast because there's not people there to keep a time sense."
On the other hand, Tien has noticed some more reserved players may play better with no crowds.
"There's definitely some players at MVHS who get nervous under pressure," Tien said. "Speaking from experience, there's a lot of people [who aren't]used to it and they are afraid of making mistakes, so[these new restrictions] will benefit those who don't have as much confidence."