A quarantined summer
Exploring how three members of the MVHS community spent the summer of 2020
Siddhant Patel:
When senior Siddhant Patel and his family drove from the Bay Area to Washington on their road trip in May, they had one main goal in mind — to stop at every Walmart they could, in every city they passed. Due to the shortage of cleaning supplies like hand sanitizer and bacterial wipes during the pandemic, Patel's family wanted to stock up at every Walmart.  
This is one of the many memories Patel made during his traveling endeavors over the summer despite the COVID-19 pandemic. One of his biggest traveling pursuits over the summer was a road trip up North — Patel and his family had stopped at Portland, Oregon; Seattle, Washington and Mt. Shasta.
"Everything that we've done so far has been via road trip — we haven't really felt safe with going on flights yet," Patel said. "I guess, since we're all at home together, taking a road trip is just the best idea to stay close together."
Since Patel's mother and brother had business to take care of in Washington, his family collectively decided to expand their travels by visiting other cities for pleasure on the way. While stopping at cities along the West Coast, his family began constructing a special photo re-creation tradition. 
"I think [another] memorable memory was [for] every mountain that was there in Washington, Oregon and California, we would go to the base of [it] and we took a lot of family photos there," Patel said. "We tried to imitate a photo across all three mountains — Shasta, Rainier and Hood. [In the photo], the mountain was up on our left and we'd all be looking at it… in the same pose."
While traveling to various cities, Patel described the traveling environment as very "mask and COVID-19 oriented" — every shop and restaurant would require customers to wear masks while shopping and dinner tables were separated 10 feet apart. With COVID-19 restrictions changing the ways in which individuals travel, Patel's family had to arrange plans accordingly due to the closure of main attractions. 
"A lot of the national parks and state parks, especially in Oregon and Washington, were closed temporarily — we couldn't hit up many of the natural attractions that we wanted to hit, " Patel said. "We decided to go to the urban Parks and Recreations that were available to us — in Seattle, there was this one beach that was very popular, [but] I guess because of COVID[-19] it wasn't as popular, so we decided to [go] … [It] might have been a little unfavorable to go to [the less popular attractions, but] we decided to hit those spots where there were less people or we could do more."
Patel's family has plans to continue traveling — they plan on visiting Utah and Colorado within the next couple of months to visit family. As he continues to travel with his family by car, and after experiencing this almost two-week road trip in May, Patel emphasizes the importance of family trips. 
"Through all the road trips, my family has gotten a lot closer — we've been stuck in cars for 18 hours at a time in Seattle and we were holed up in my brother's studio apartment [in Seattle] overlooking the CN Tower," Patel said. "I think these trips really just brought me and my family together even more so than before in March and April when we weren't taking road trips. I don't think I will ever really forget these moments because they're such a key defining moment in our family's history."
Aryaa Pathak:
Junior Aryaa Pathak's summer was off to a stressful start — she had endured endless SAT preparation and was entering the fourth month of shelter-in-place. At the beginning of July, however, Pathak's family remembered a trip they had previously planned to Yosemite. Conflicted about whether or not to go, they contacted the national park and were assured that precautions were being taken to prevent the spread of COVID-19. Soon after, Pathak's family packed up and drove to their destination, where they convened with her cousins.
As soon as they arrived, Pathak began to notice the many COVID-19 restrictions put in place to ensure the safety of the tourists. 
"[M]ostly everybody wore masks, and if you weren't in the same party as someone else, they wouldn't come close to you — they would stay six feet apart," Pathak said. "Although there were a lot of people there, it's good that we still kept the distance. [Though the] fact the bathroom was shared by everyone was a little scary, it [was] cleaned down completely every hour, so that made it more sanitary."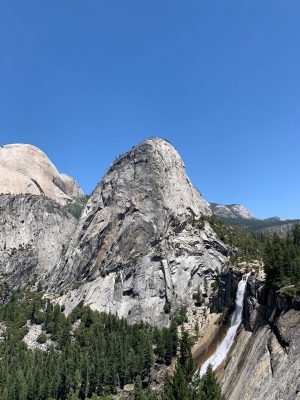 The highlight of Pathak's trip was a 13-mile hike to Vernal and Nevada Falls, though it came with some frustrations. For one, Pathak, who is not a big fan of hiking, was disgruntled when her family began their trek at 8 a.m. There were also other complications along the way, such as her lack of proper hiking gear.
"The only hiking shoes I've ever had were from Yosemite in eighth grade … so I was wearing my sports shoes, which [are] not good for hikes," Pathak said. "On the way down, it was a pain because my toes were just rammed up against my shoes."
The trip down wasn't easy, since Pathak was already tired from hiking very far. To make it worse, she and her cousins were easily aggravated and got into several arguments which she describes as petty. When they reached their tents again, Pathak and her family members took what she felt was a well-deserved break to rest after the long hike.
Other memorable moments from Pathak's trip included finding a bobcat and a bear outside their tent and dealing with loud, inconsiderate neighbors.
"[T]he one thing I didn't like was nobody really cared for other groups in terms of noise levels," Pathak said. "There was a group of 20 people right next to us, and that was really surprising to me because that's [more than] 10 people … It was 1 a.m. and they were just screaming, and we were trying to sleep because we had to go home in the morning."
Even though there were ups and downs to Pathak's trip, she still enjoyed being able to spend time with her family and appreciate nature, which had been difficult due to the last few months in quarantine.
Though Pathak doesn't have any other destinations in mind for the near future, she says her next trip will probably be to Italy. As a member of Bella Voce last year, she had planned to travel there with the choir; however, the trip was postponed due to the pandemic. Pathak hopes that their trip, which is now planned for the 2020-21 school year, will still happen and she'll be able to go as a part of Monta Vista Variations.
I-Chu Chang
When Chinese teacher I-Chu Chang first walked into the San Francisco International Airport (SFO) to catch her flight to Taipei, Taiwan in July, she immediately took note of the "bizarre atmosphere." She notes that due to the travel risks associated with COVID-19, the airport was silent and empty — something she has never experienced before due to the bustling nature of SFO pre-quarantine. 
Despite having quite the busy summer due to Advanced Placement test grading and recreating teacher lessons for remote learning, Chang emphasizes the importance of being able to travel to Taiwan in order to visit and spend time with her family. 
"My father isn't very healthy — he has a heart disease," Chang said. "Pretty much, if he got COVID[-19], it would be over for him. [Due to that,] I feel like it's important to connect with my parents [in person]. Even though I'm so far away and we are able to connect over the internet, like FaceTime, it isn't [the same]."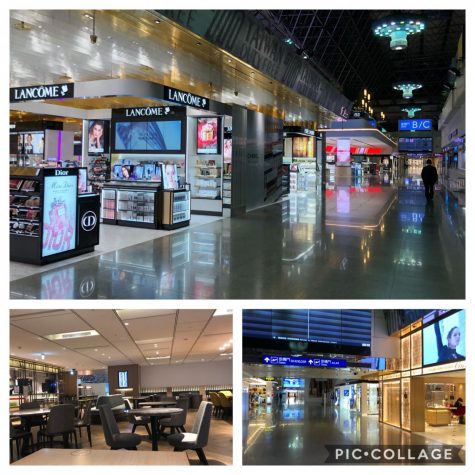 Right before traveling to Taiwan, Chang got tested for COVID-19 to ensure she was traveling safely for herself and others. After testing negative, she went on the flight and had to endure a two-week mandatory quarantine in Taiwan. After the two weeks, she then had to quarantine for another week due to Taiwan's "Self Care Management" mandatory ruling in place.
Despite quarantining by herself for almost a month in Taiwan, Chang was able to make good use of her time by creating new lesson plans for the 2020-21 school year. After knowing she was safe enough to visit her parents, the fourth and final week of her trip was spent entirely with them. While walking in the streets of Taipei, Chang notes a special moment of realization she had remembered feeling while reflecting on her parents' impact in her life. 
"Taiwan has always been fun for me — I have lots of friends and I grew up in Taiwan," Chang said. "But there was a moment [of realization] where I felt like if I wasn't able to see my parents when I visit Taiwan, then being there would feel pointless to me. Even though [Taiwan] is such a fun place, that's when I realized that Taiwan without parents will no longer be the same."
Though Chang had solely spent time seeing friends and family, she emphasizes the importance of family bonding time whenever one has the chance to do so. 
"I didn't go traveling or went sightseeing at all. The main point of the trip was to visit people — I got to see my family and my close friends," Chang said. "It was really fun to be able to have lunch or dinner together with them … To be able to connect with them in-person [is something] I cherish when I'm able to."
Correction: [9/27/2020 1:54 p.m.], Information regarding Patel's trip within the article and photo captions have been corrected to state his accurate trip details.