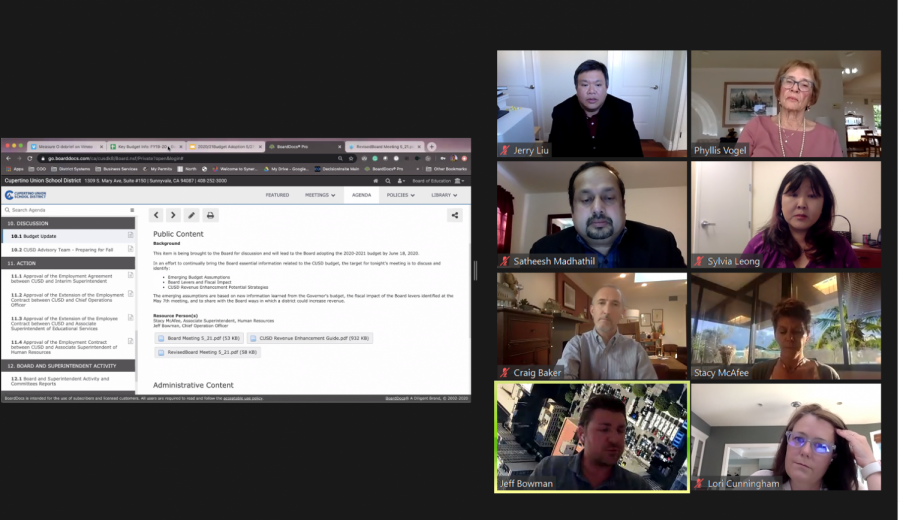 Lance Tong
USD board members, teachers and community members met during a board meeting on Thursday, May 21, to discuss finances for the 2020-2021 school year. During the meeting, they considered a plethora of solutions for enhancing revenue and applying necessary cuts to their spending.
President of the Cupertino Education Association (CEA) Kai Brown explains that CUSD's property taxes aren't enough because of older homeowners and an increase in the number of single-family homes. Single-family homes pay less property taxes, and property taxes for many older homes are based on when that owner first purchased the house — often when prices were lower. Therefore, CUSD is compensated by the state of California on a per-child basis, but because of the decreased government funding due to COVID-19, Brown estimates the cuts will be around 10% per child. Brown emphasizes that along with other issues, declining enrollment causes the school district to receive less money than before causing cuts. Brown predicts a $10-15 million deficit.  
The amount the district can allocate in their upcoming spending plan will be based on the property taxes as well as a per-child basis. CUSD Chief Operations Officer Jeff Bowman sees the CUSD's model of funding effective for some other districts, but not for CUSD.
As a result of the lack of funding and the failed Measure O, a parcel tax that would've brought in $4.5 million annually, teachers did not receive raises for the 2019-2020 school year. Brown explains that because their raises depended on the passing of Measure O, and that potential raises for next year are "bleak."
"The district knew about declining enrollment problems," Brown said. "[It's] hard to get money when they're obviously going to be in deficit."
Bowman explains how CUSD has failed to provide stability for their employees due to underfunding. 
"Education has historically been underfunded [and] it is still underfunded," Bowman said during the board meeting. "What we hope for in [education] is that we can at least give our employees stability. With the cuts that are happening at a state level, we lose stability and as a district, we have lost that stability for our employees for far too many years. You want to be positive and don't want to be in the doom and gloom place, but it's almost hard to avoid right now because of what we are experiencing."
To save more money, CUSD froze district spending accounts aside from "essential purchases," captured utility savings and freezed positional hires. Additional savings measures the board is considering in the future include tapping into a 3% reserve fund which was created as a rainy day fund, increasing class sizes, replacing staff learning days with furlough days and cutting school librarians. 
Additionally, CUSD is looking to implement a new parcel tax in 2023 that would raise per-student funding and work with the City of Cupertino to increase sales tax and allocate a small amount for schools. CUSD also placed Measure O on the ballot in March, only to be defeated with 59% of votes in favor, while requiring a two thirds majority. 
Brown thinks that the impact of deficit funding could've been minimized if it were addressed  sooner by previous administrations. Additionally, Brown believes that the lack of district funding is caused by not having a donation-dependent culture.
"I know [district funding is] something that the CUSD 25 [fundraiser is addressing] to a certain extent," Brown said during the board meeting. "But, [CUSD 25 is] also sort of trying to get people to understand [the problem at a district level]. People seem to be willing to donate to their own school. They don't see the need as far as the district."
Murdock Portal Elementary School (MPES) teacher Amelia Drake believes that the issue stems from a collective lack of willingness in the community to donate to the school district instead of individual schools, as they do currently.
"A lot of the community just [doesn't] know how bad [the financial situation] is," Drake said. "If they're community members in Cupertino that [are] not part of the school system, then the homeowners or property owners might not know about it."
Drake says one reason for the lack of awareness for the district's financial struggles is that its academic success masks the underlying issues of understaffed, underfunded and underpaid teachers. Drake believes that increasing awareness among parents about these financial struggles could lead to a better outcome.
At the same time, Brown sent out a survey to all CEA staff members in order to figure out what changes teachers and staff members consider "least unpalatable." Two groups of staff members have become the most likely to be removed: librarians and technology specialists.
"[The decisions that we have to make] are all terrible decisions and I sympathize with the board," Brown said. "Making people work more for the same amount of money … we're talking about cutting out people's jobs and they all [have] mouths to feed and bills to pay … They're all horrible decisions to have to make."
In response to the potential decisions that Brown discussed, Drake considers spending the CUSD's 3% reserve, about 5.3 million dollars, which was created after the previous recession as a rainy day fund. However, CUSD cannot spend from their 3% state mandated reserve without receiving permission from the state. 
"[Spending the reserve will] hopefully buy us enough time to get another parcel tax or some other type of initiative on the ballot to get more money," Drake said.
Multiple board members opposed this recommending to instead spend a small amount of the reserve or not touch it at all. Cupertino City Council Member Rod Sinks believes the better solution is to increase property taxes. One suitable avenue for this is to alter Prop 13, a proposition which limits the state from reassessing building values — currently buildings are taxed at a rate determined by when the owner purchased.
"A split-roll tax … would change the law to get commercial property reassessed for property tax purposes," Sinks said in an email. "The Schools & Communities First Initiative is on the November 2020 ballot and I support this. A lot of commercial properties have changed control over the years without being reassessed."
Another solution Sinks sees is to address declining enrollment by building more homes. Sinks references the Vallco project that he claims would've brought in additional income through more students as well as more property tax. 
According to Bowman, the origin of CUSD's funding struggle is not easy to pinpoint. However, Bowman indicated that CUSD has "easily been experiencing a structural deficit since 2015."
CUSD Board Member Lori Cunningham predicts that these difficult cuts will impact students and their learning environment.
"Class size increases and furlough days will directly affect [the] learning environment [and] matter a whole lot," Cunningham said during the board meeting. "I think that some of those [resources] that [support the] learning moment like our librarians, that learning moment can't happen or doesn't happen as well when those things aren't in place. I think that that is what's going to make some of these cuts so challenging."
Cunningham also thinks it's important to factor in what teachers think are most essential to their classrooms before making balanced cuts. Cunningham believes that the balance of what gets cut is essential to understanding board decisions.
"I know that our district has and will continue to have robust conversations with our staff," Cunningham said. "But I think part of our work around [cutting funding] is going to be hearing from them in terms of, 'If we have to make cuts, what combination of those cuts [works best]"
 Drake notes that currently, schools do not have a full time nurse, which leaves office staff in charge of sick students. Drake sees the main impact of the budget cuts for teachers as their job duties increasing, taking time with kids away.
"Planning lessons, reflecting on what kids are doing, finding the next steps for kids, communicating with kids' parents [are some of teachers' responsibilities]," Drake said. "Every time you give the teacher another duty, [you] do away from their primary responsibilities: educate the students."
Drake feels that pushing more responsibilities onto the teachers makes it harder for teachers to focus on what they think is most important. The increased responsibility means that teachers spend less time on creating suitable and effective curriculum as well as teaching students things that they feel are important.
For her special education students, Drake sees a bigger impact not only from the school district's lack of funding, but also the federal government's. The federal government requires all school districts to have special education programs, but give districts very little funding for special education students.
"We follow [government rules]; they [should] also put the money behind it," Drake said. It just seems reckless to me that the federal government doesn't do that."
Drake believes the best way for CUSD to continue operating in face of the current struggles is via a "community effort" from homeowners and business owners.
"I'd like to have regular homeowners getting involved," Drake said. "Your business owners are getting involved and the owners of these big multi-unit complexes are also getting involved and really putting their foot forward. I think that we as a school district can operate in a normal fashion instead of being in crisis all the time."