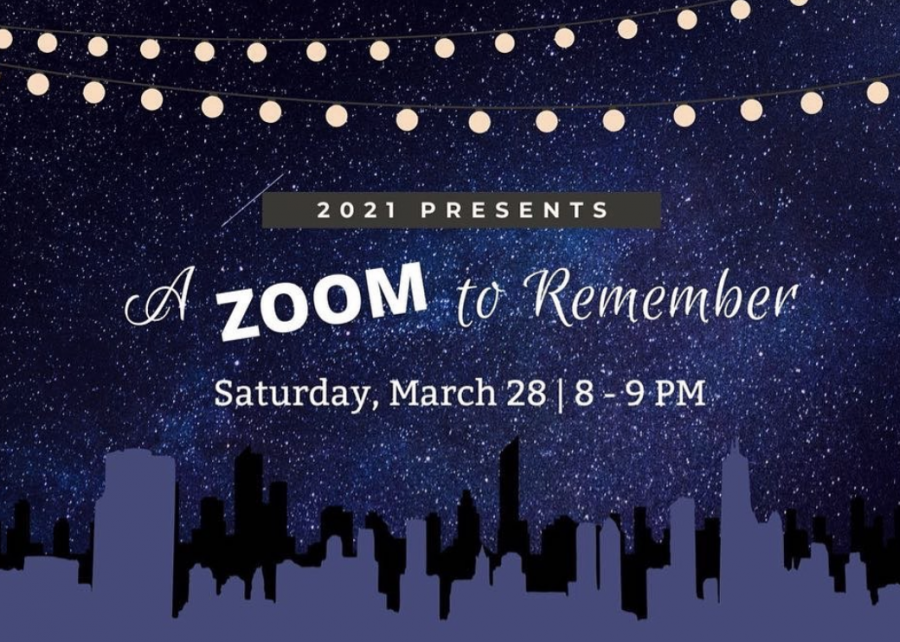 Class of 2021 Instagram
The class of 2021 hosted 'A Zoom to Remember' online prom from 8 to 9:30 p.m. on Saturday, March 28, in lieu of the original Junior Prom (JP) that was cancelled due to COVID-19 concerns. Lynbrook HS (LHS) had previously hosted a Zoom prom the week before, inspiring the 2021 class office, according to Krish Kumar, IDC Rep for the class of 2021. 
"Our intentions behind planning [the Zoom] was that we know a lot of people were disappointed about Junior Prom getting canceled," junior and class of 2021 treasurer Annabelle Choi said. "Since [March 28] was our prom day, we decided to host a Zoom prom because it was highly requested by our class to host something just to get together and have fun."
According to Choi, the initial admin of the call, the plan was to have members play a 2021 class trivia Kahoot and then turn on music and dance, in an effort to mimic the itinerary of JP. The link to the Zoom call was sent to all juniors through Schoolloop and posted on the 2021 Instagram page. As soon as the meeting went live at 8 p.m., 100 people, the maximum number of members allowed in the meeting, joined the call. Choi, who was only expecting 30 or 40 people to join the call, was taken aback by the large attendance.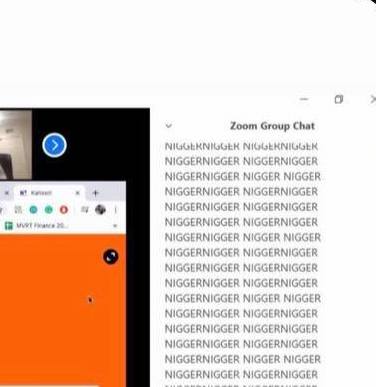 For the first 10 minutes of the call, multiple unidentified attendees spammed the chat feature on Zoom with inappropriate comments, including the N-word and the message "MV IS FOR GAYS." These attendees had set their usernames as the names of members of MVHS administration, teachers, other students or racial slurs. Additionally, when Choi began screen sharing the Kahoot, one caller started writing derogatory comments and drawing provocative images on the screen using the screen drawing feature.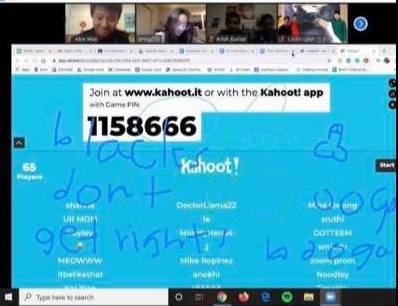 Choi immediately made her fellow class officers co-hosts of the call and muted everybody because of the racial slurs spammed in the chat. All callers were told to turn on their web cameras and use usernames that matched their real names. The six class officers then started removing callers who did not comply with the instructions.
"We didn't really have time to think it through and be like, 'Oh, we should do this, this and this,'" Choi said. "It was super chaotic because we didn't want to kick people that were actually part of our class and willing to participate in the Zoom call, because if you kick someone out, they can't come back into the meeting. We had to wait for people to get their faces on camera, and that [took] another three minutes while this person is continuously spamming in chat."
Choi acknowledges that with any online event where people have the opportunity to remain anonymous, there is the risk of people posting hateful language. As soon as inappropriate language started being spammed, callers asked the class officers to remove the perpetrators. Despite the initial chaos, Choi felt empowered by her class's response.
"I was touched by how people actually wanted to keep the chat clean, rather than meme the whole thing," Choi said. "When we were planning [the call], we didn't expect those types of backlashes to occur because we always want to expect the best out of our grade."
Students on the call quickly started to suspect that at least one of the people that was spamming offensive language was not from MVHS, specifically because of the use of the phrase "MV IS FOR GAYS". Choi and Kumar believe that the link was probably shared or accessed from the 2021 Instagram bio. 
After the class officers successfully removed all the offenders, the rest of the call went according to plan. However, screenshots of the inappropriate behavior began to circulate on Instagram. Choi and president of Class of 2021, Sarah Tan, decided to notify the ASB team, leadership adviser Mike White and principal Ben Clausnintzer.
"One of the students stepped up and recognized that what was occurring is not okay, that that kind of language under no circumstance is okay here in our MVHS community," Clausnitzer said. "And they acted on that. It's something I'm proud of our students for doing."
After administration was alerted, they began working on an investigation in order to identify those spamming the offensive content. However, because all the callers used false nicknames and were immediately removed from the call, Clausnitzer explains that identifying the offenders has proved to be a challenge. If found, however, they could face suspension or expulsion. Clausnitzer also immediately sent out an email to the MVHS body regarding the inappropriate language to maintain transparency.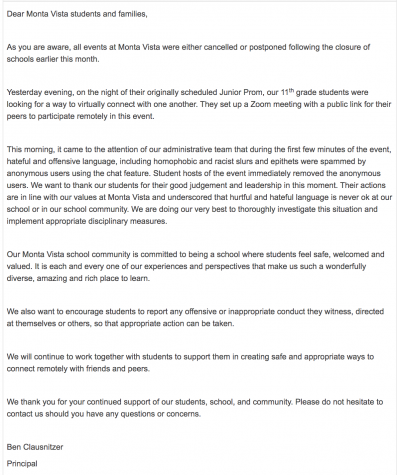 "My personal opinion and experience and leadership style is to be open," Clausnitzer said. "So when an incident occurs, while we're not always able to talk about every part of the incident and all those details, we can certainly let people know that something happened and that we are reacting the best we can to it."
Prom attendee and junior Ellie Kim feels that the call was overall a fun way to reconnect with her class and celebrate what would have been their prom despite the initial offensive content. However, she believes that the people that made those comments should face some sort of punishment.
"[The comments] didn't affect my experience in a super bad way," Kim said. "It definitely killed the trust that most of the adults who allowed the Zoom call to happen, and even Leadership's [trust in] all the students. It kind of broke the trust of us having a respectful time, but [the juniors] were able to overlook it eventually."
The 2021 class office, ASB team, White and Clausnitzer held two meetings via Zoom to establish new guidelines for online school events. According to Sarah Tan, these guidelines include implementing a password and the waiting room feature in all Zoom meetings to ensure that people are using their real names and have good intentions before letting them join the call.
Overall, Clausnitzer is very proud of the maturity with which leadership students chose to handle the event. He understands that having to conduct events online as a result of school closures comes with its own set of challenges, such as not being able to physically interact with students or staff, but he hopes to learn and improve with each experience.
"We are trying to find ways to connect students [and] that's the right thing to do," Clausnitzer said. "But we also have to do it in a way that is safe for us, so that [students] can have fun together and build community in a safe way."