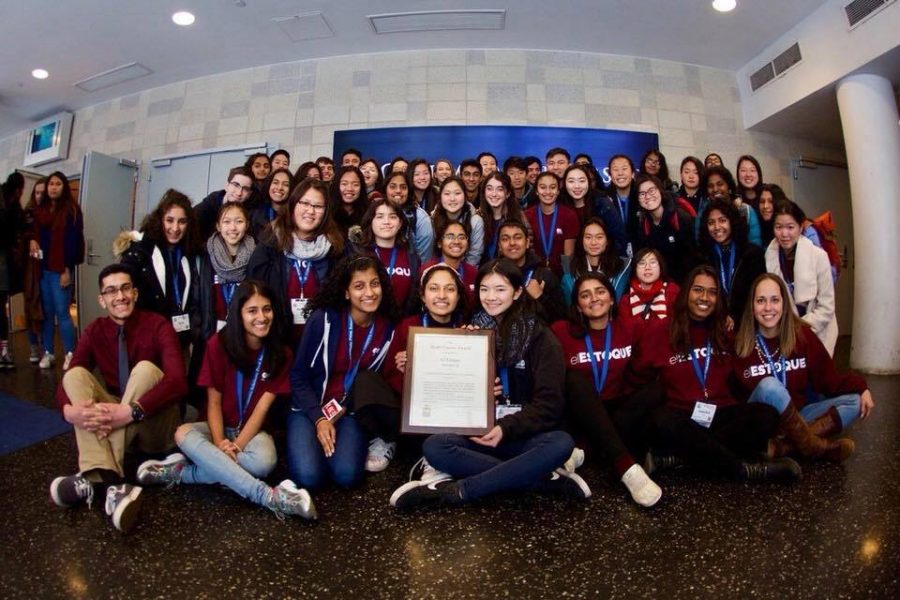 One of the most stressful parts of JEA director-at-large and journalism and yearbook adviser Julia Satterthwaite's job is planning for the annual El Estoque and El Valedor field trip. The two publications' staff alternate every other year between attending two conferences: one hosted by the Journalism Education Association (JEA) and the National Scholastic Press Association (NSPA), and the other hosted by the Columbia Scholastic Press Association (CSPA) in New York City. 
El Estoque and El Valedor staff members planned on attending the CSPA conference and visiting New York City from March 17 to March 21. However, FUHSD announced on March 6 that "non-essential" field trips and activities would be cancelled, and CSPA announced on March 7 that it would be cancelling this year's conference due to COVID-19 concerns. Satterthwaite and many students had put great effort into planning for the trip, and many were disappointed that they would no longer have the opportunity to take the anticipated trip.
This school year, Satterthwaite logged the total amount of hours she spent planning for the event, amounting to 96 hours of time. Satterthwaite explains that in large cities like New York City, there are many variables to account for in a field trip. Therefore, the logistical challenge of transporting and keeping track of 74 students can become "overwhelming." 
Satterthwaite was in charge of booking 74 plane tickets, hotel rooms for 74 people, partnering with hotels, planning the trip agenda, arranging subway tickets, purchasing Broadway show tickets and reserving spots at restaurants such as Katz's Deli. Registering for each student and adult took Satterthwaite over an hour for each different reservation. 
The effort Satterthwaite put into planning the weeklong trip to New York City is appreciated by many people attending the trip. Seniors and editors-in-chiefs Hannah Lee and Anish Vasudevan both attended a journalism field trip to New York City in their sophomore year, and reflected that it was a valuable team bonding experience which strengthened ties between staff members  who had minimal interaction with each other outside of class.
"Communicating with other staff members at school is completely different from walking around in New York, talking in the hotel rooms [and] having our own adventures," Lee said. "That helps me to really strengthen my relationships with other people … We took a lot of photos and those photos are still photos that I can look back on with a smile. The New York trip is probably one of my favorite trips from high school."
Similarly, Vasudevan found that the trip allowed him to bond with upperclassmen in his class. Though Vasudevan acknowledged that there were already established friend groups within El Estoque, going on a trip allowed everyone. He also values the opportunity of visiting a city outside of Silicon Valley with friends. With this, Vasudevan felt that the trip was an experience he didn't expect to have until he was an adult and was grateful to go as a high schooler. 
For Satterthwaite, the prospective highlight of the trip was going to be watching "Come From Away," a Broadway musical focusing on the story of a town in Newfoundland which provided refuge for airplanes barred from entering the U.S. after the 9/11 incident. The play captures the story of how the town fed and provided supplies for double its initial population, helping passengers for up to a week's stay at a time. 
The day after the Broadway musical was scheduled, El Estoque and El Valedor were scheduled to visit the 9/11 Memorial. Satterthwaite was looking forward to allowing students to gain exposure to 9/11 through the lens of a feature story before seeing the news aspect of the event. She hoped to educate students about 9/11, an event which impacted her personally and motivated her decision to study journalism.
Many seniors were also looking forward to the trip as a final bonding event to close out their time in El Estoque. According to Lee, many seniors who joined El Estoque their sophomore year chose not to attend the trip then because they were hoping to attend the trip in their senior year. Vasudevan adds that he was looking forward to interacting with other student leaders at the CSPA convention — in particular, he hoped to meet editor-in-chiefs of other outstanding publications across the nation.
As director-at-large of JEA, Satterthwaite explains that while CSPA had the choice to cancel its conference, JEA and NSPA did not have the same luxury. According to Satterthwaite, the CSPA conference is designed so that registration fees are the primary costs attendants must pay directly to CSPA. In the case of an emergency, CSPA could cancel its conference and would only need to refund registration fees of $150 per person, rather than refunding hotel rooms and transportation as well.
On the other hand, Satterthwaite notes that JEA would need to pay for a bill including hotel partnerships even if their convention is cancelled. The organization has a reserve fund of approximately one million dollars for use in emergencies, but Satterthwaite notes that if the Nashville conference was cancelled, JEA would lose $750,000. If the spread of COVID-19 continues to persist until November and impacts the Orlando conference, Satterthwaite notes that there is a high chance that JEA will be financially unable to remain an organization. Currently, JEA is monitoring information on schools which are not allowed to travel anymore, but the conference is still moving forward.
"We're getting constant updates every day from JEA headquarters." Satterthwaite said. "And it's really tricky because you understand financially why we can't cancel it. But on a human level, you're also like, 'What if someone got sick at our event?' You're kind of struggling like, 'Should we take down the whole organization in an abundance of caution? Or should we keep it going for whoever is still able to go and just take a bunch of precautions in terms of making sure that we're doing everything we can so that people don't get sick?'"
Many members of El Estoque and El Valedor agree that the measures taken by CSPA and FUHSD are responsible for the wellbeing of students, but they are still disappointed by the reality of their situation.
"I understand — it makes sense," Vasudevan said. "But just in a point of view for us as high schoolers, as kids, we're really sad about it. But I understand that they have to take precautions knowing that there are health concerns and health risks … It was just [that] the timing was terrible. If the convention was a few months earlier, it would have been fine, but sadly, it was not."