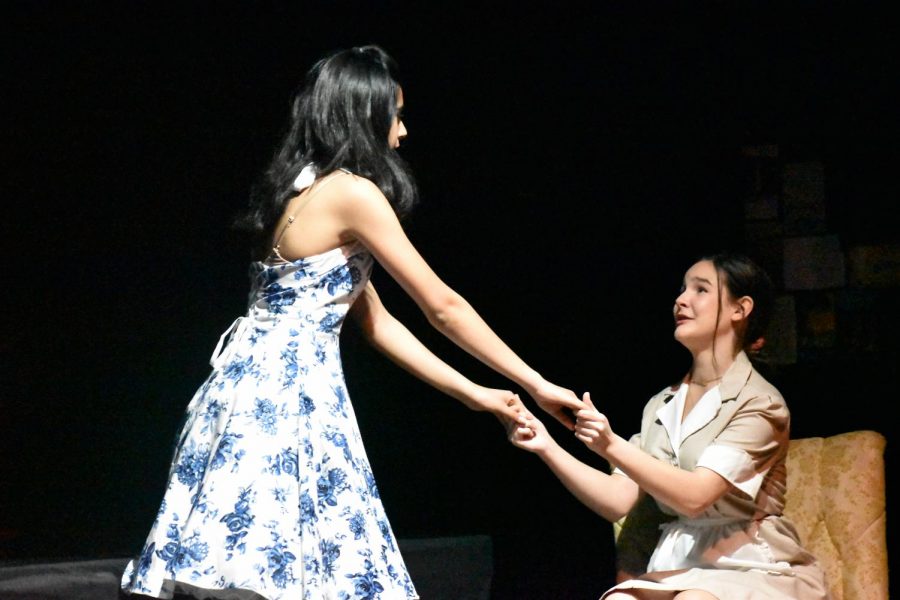 Sarah Young
n March 5 and 6, the Drama department held their annual "Romeo and Juliet" play in the black box for freshmen literature classes. The production was worked on over the course of several weeks alongside the upcoming spring play, "Mamma Mia." Sophomore Kira Hahn directed the set's lighting and previously led the lighting of "The Marriage" previously shown in November. and is currently directing lighting for "Mamma Mia." In order to perfect the set's lighting, Hahn collaborated with the set team and Drama and English teacher Hannah Gould.
"Based off of the information that I'd collected, I was able to design a light plot, saying, 'Okay, I need a spotlight to hit here' [or] 'I need general wash lights of a blue color only hitting the set and then warm lights in the front,'" Hahn said.  "I had to make all these decisions based off of what they told me and then I designed the light plot off of that."
After creating a light plot, Hahn tested the light dimmers and started programming the lighting cues, which are specific lights to signal parts in the play. After all the lights were hung, Hahn then does a cue to cue, a rehearsal where Hahn tests the lighting with Gould, the actors and actresses. During this run through, Gould made verbal edits about the stage and pointed out areas for a light cue or change of arrangement. 
On stage, sophomore Issa Baca played Tybalt, Juliet's abrasive cousin. In past plays, Baca has typically played young children or nicer characters. While playing Tybalt proved to be a bit challenging for Baca, the role offered a chance for Baca to try to portray anger. Backstage, Baca led the costuming of the play, choosing to go with a 50s era style of clothing to be the play's style. 
Baca spent most of his time working backstage on costuming.For Baca, this was one of the first times he had full responsibility over one side of the production. While Baca initially had difficulty balancing the workload of costume director and helping out with "Mamma Mia" and MV SNL, Baca believed that it was a good learning experience. In order to adapt and portray Tybalt's anger, Baca prepped himself backstage with his friend, who was playing Romeo, and focused on not breaking out of character. 
"Right before our performances backstage, we would push each other until we got angry at each other," Baca said. "And it kind of sounds mean, but we would say insults to each other, but it was only to rile us up because we both aren't super angry people, but we know we can get there with each other."
One scene that was difficult for Baca to remain in character was Tybalt's death scene, where Tybalt was carried off stage by other cast members. Tybalt's death was also the longest duration compared to the other characters and required Baca to not blink or move.
"That [death scene] was probably the most difficult part because you'd have to keep the show going, no matter what happens," Baca said. "For example, [in] the second [Romeo and Juliet] show I did, I fell into the audience [and] I hit my head really hard on the ground. I had to get an ice pack for it later, but I had to look someone directly in the eyes with my eyes open."
Sophomore Shruti Sharma played Mercutio, the jokester of Romeo's family as well as the character slain by Tybalt. In addition to playing as Mercutio, Sharma was an assistant director for the play. 
"I had a lot of fun, especially because Mercutio … was like a party guy kind of character," Sharma said. "So it was super fun for me to play. Also, [the] assistant directing was kind of cool too because I haven't really done a lot of that. So it's really cool to experience how that goes to your character."
In order to get into character, Sharma explains that she would hype herself and other actresses backstage by cheering each other on and trying to foster a brotherhood feeling. Sharma's only main difficulties with her character came with memorizing her lines in the Shakespearean language. As assistant director, Sharma helped out with blocking, the positioning and movements of the actors and actresses. Sharma for the most part collaborated with Gould to effectively create believable and natural flowing motions, while other times actors and actresses were allowed to decide the blocking. 
While Sharma enjoyed helping direct the production, she prefers acting over directing. However, Sharma is looking forward to the upcoming director unit in Drama.
"I think [the director unit is] gonna be fun but I still think that acting is the thing that I want to do the most," Sharma said. "I have no clue [why, but] I just like the idea of getting to become somebody else … it's hard to explain but it's just fun."