MVDT: On the road to Nationals
The team reflects back on a successful competition season
The doors open and a steady stream of people quickly file into the gym. The bleachers are occupied by dancers from other schools in frilly costumes, along with the occasional parent sporting their school's team jacket. A silent hush spreads across the audience as the next group of dancers take on the stage and strike their opening poses. The music starts and everything falls into a rhythm — cameras click, parents cheer and the performers dance.
The Northern California State Classic is an event organized by the United Spirit Association (USA) and hosted by MVHS. After four weeks of back-to-back competitions on the weekends, the dancers competed on Feb. 8 in a pool of 19 local high schools. MVDT performed six group pieces, as well as three solos, over the course of nearly 10 hours. Sophomore Cindy Zou summarizes the competition season as hectic yet fulfilling.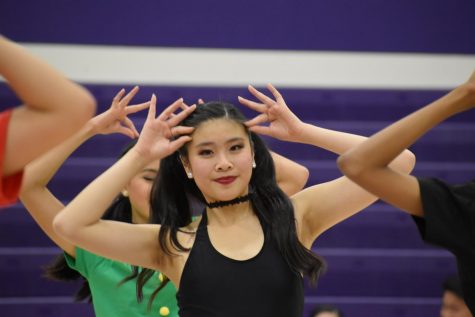 "We have been working much harder because all the competitions are stacked one week after another," Zou said. "[In] our practices we would usually have to do a lot more; instead of being dedicated towards one thing members would often have to multitask. [But] it has been a pretty good experience." 
Senior and captain Jennifer Huang explains that the heavy involvement of the team's parents helped in the success of the competition. From choosing break rooms for the different teams to organizing food for everyone involved, she considered the parents to be the backbone of the event, as they ensured that the competition's operations ran smoothly.
"I think that the competition went really well in terms of organization and hosting the competition," Huang said. "The parents did a really good job [of] being welcoming to all the other teams. [They] are involved in this one because the dancers are obviously focused on the dancing and the parents have to help set up everything."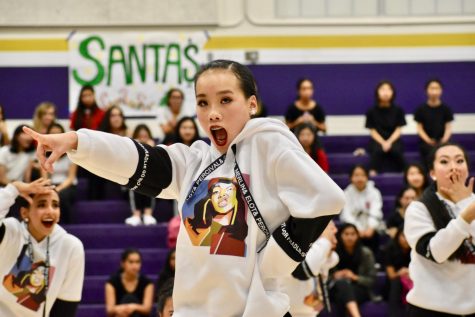 Nationals is a large scale competition that brings together dancers from all across the country. The event consists of two categories — open and championship. MVDT aims to qualify its routines under the championship category, as according to Huang, the dances are considered to be more "elite."
Huang, who couldn't participate due to a back injury, helped with the organizing aspect of the program and also keeping the dancers in check. Huang says that the main reason behind the dancers' motivation was to qualify for the USA Dance Nationals held at Anaheim in late March.
"Everyone is excited for [competition season] to be over but also very motivated to make sure that we can qualify as many routines as we could because it's nice to have our dances in the category of championship rather than open," Huang said. "So everyone was very determined to work hard and make it happen.
The team managed to qualify four routines for the championship category and two for the open. They also qualified for their "character" routine, a dance of any style that portrays a recognizable character, inspired by choreographer Bob Fosse. Sophomore Ariyal Jain describes the piece as "musical and theatrical," with fishnets and hats adding a fancy element.
As a team comprised of nearly 30 individuals, members had to work together to overcome challenges together. Zou describes practice sessions to be very tense and stressful while prepping for competitions.
"There were a lot of injuries that people face and then that kind of broke the flow," Zou said. "Coaches had to be more strict. So sometimes, we got called out individually. At the moment it seemed kind of stressful [and] anxious, but then in the long run, you can tell that they really just want you to be like your best and bring out your full potential." 
Zou, along with Jain, are first year members of the team. Zou has a Chinese dance and ballet background while Jain recently moved from Arizona. Despite being new additions, both agreed that they found a new family within the team and were exposed to more opportunities.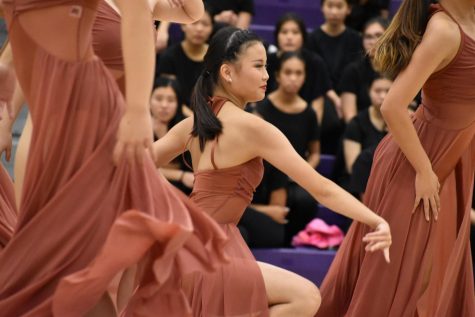 "[In] Arizona, it was really hard to find a place because there was a lot of racism, like, 'Oh, you're an Indian? You dance?'" Jain said. "I think that made it extremely hard for me to find a good studio in Arizona. Then we moved [and] it was really hard to transition. But I feel like knowing the team before I came to MVHS really helped me."
Zou also commented that participating in competitions with other high school teams helped her to improve her dancing capabilities and adapt to different styles just by observing other routines, whether it was her technique or facial expressions.
"After joining the dance team, it really has helped me see what's real, what else is out there. There [are] so many other styles and so many other things that you can learn from the other dancers. [During] competitions, we have to sit on the bleachers and watch the other dancers and other routines. It really helps."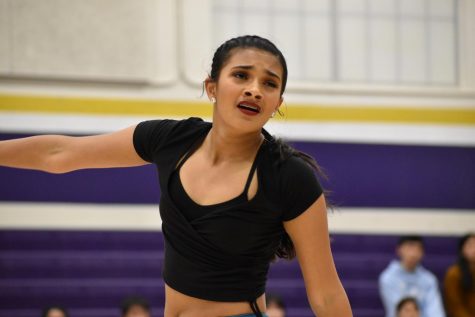 As Nationals draws near, the team has consistently been making efforts to improve teamwork, communication and stamina. Everyday the team runs a mile, performs 100 pushups, 50 squats and 50 sit ups. While excitement and anticipation continues to grow amongst the dancers, they remain hopeful and positive.
"I'm really excited for a trip to Disneyland but I'm also slightly nervous, because it's definitely going to be a lot more competition with other teams." Jain said. "I think with all the practices that we're going to have, everybody's really gonna cut down to work. So I think it's gonna be good." 
About the Contributor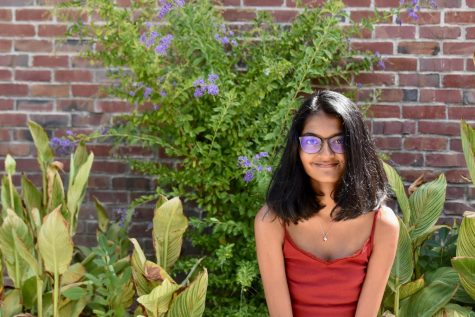 Sreya Kumar, Opinion Editor
Sreya Kumar is currently a third year staff writer and opinion editor. She was previously sports editor and enjoys traveling the world, watching choreography videos and taking photos.