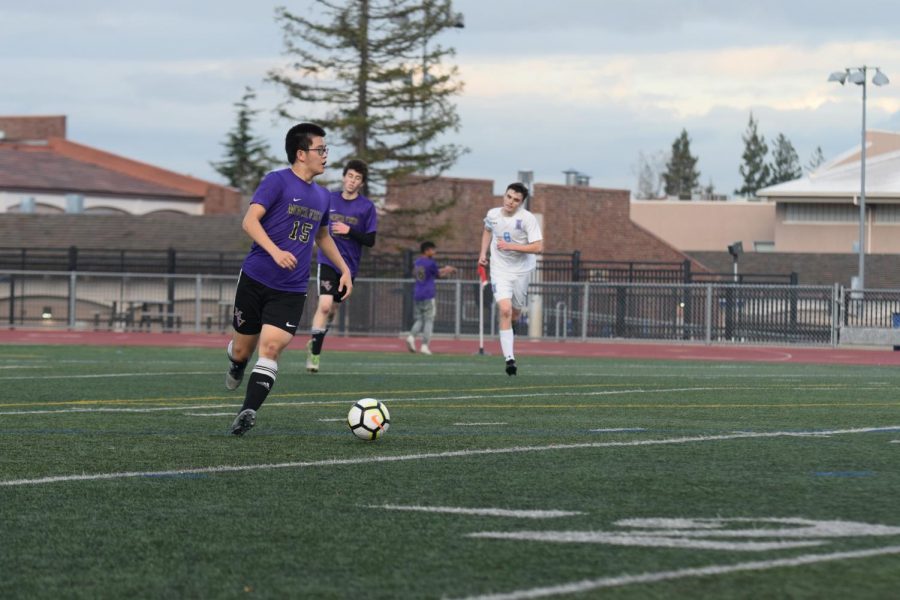 Lance Tong
ith a 0-2-1 record, the MVHS boys soccer team looked to get their first win of the season against Hillsdale HS, another team which had not been able to enter the win column thus far. 
From the kick off, MVHS defended against Hillsdale HS, blocking any shots for the first few minutes, jumping into passing lanes and clearing the ball for counter attack opportunities. One of those opportunities led to a one on one against goalkeeper Miles Pereira, leading to MVHS first goal. Following the goal, MVHS players celebrated by doing burpees, which, according to senior and captain Guy Lavi was a celebration that started during practice."In practice, if we miss a shot, we have to do three burpees," said Lavi. "So after we scored we went to the corner to do three burpees."
MVHS defended the 1-0 lead by defending and not allowing quality opportunities for HHS to score. One opportunity came off of a free kick that was saved by Pereira. Junior Zeko Khater discussed the strategy going into the game, which was to maintain possession and challenge every ball.
MVHS continued strong defense into the second half keeping a 1-0 lead. Despite the lead, MVHS fouled HHS in the penalty box, resulting in a penalty kick.  Following the goal, HHSmimicked the MVHS burpee celebration. 
MVHS quickly scored following the goal by HHS off of another counterattack. However, HHS responded with the equalizer. MVHS would not be able to score again ending the game with a final score of 2-2. Despite the loss, Khater saw the game as a success in some ways.
"Some of the goals that I have is just being able to get goals early," Khater said. "Today was one of the first games where we scored the first goal. We have a lot of players who are injured at the moment so that it kind of holding us back a little bit, so I feel like once we get them back we'll be off to a better start for when the season begins."