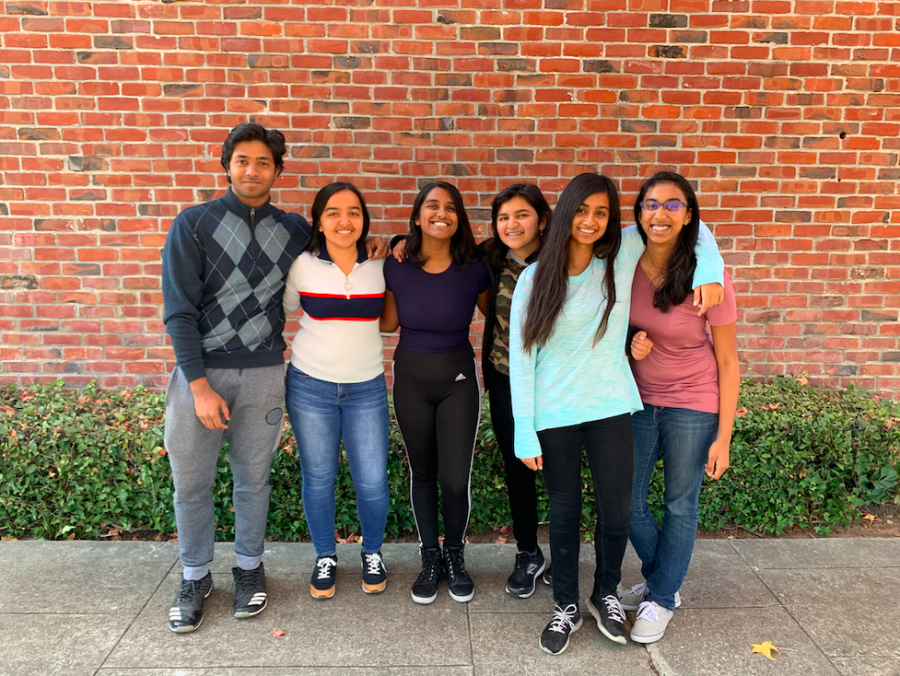 Iman Malik
In September 2017, Hurricane Maria left devastation in its wake. With a death toll of over 3,000 people and damage costs as high as $91 billion, it is currently the worst natural disaster for the countries it affected. Specifically, in Puerto Rico, schools closed down due to the lack of resources available to students. 
After learning about the hardships children in Puerto Rico endured after the hurricane, juniors Charuthi Arul, Siya Digra, Shreya Maanavi, Aaron Mundanilkunathil, Alisha Saboowala and Aditi Sadwelkar decided to work together to send supplies to affected schools.
"After the hurricanes that were in Puerto Rico, the school system was in pretty bad condition," Sadwelker said. "And a lot of schools were just closing down because the lack of attendance, they were just running out of funds. So by giving them supplies, we enabled them to stay open and still have students come and learn there."
Last summer, the team members raised money by hosting charity stands every weekend outside certain stores such as India Cash and Carry, giving customers the option to donate to their cause. Additionally, the team had its own GoFundMe page and also set up a church drive. In total, the money they raised enabled them to buy $1,731 worth of school supplies. 
To execute their project, the team built on its research of Hurricane Maria from the previous year and contacted the principal of Consumo Elementary, a school which was particularly hard hit by the hurricane. Additionally, because of the relatively close proximity of the school, Sadwelkar was confident that the team could finish the project by the end of summer, rather than have it be a yearlong process. 
"Sometimes I can't even believe that we were able to do something so amazing [in] just two months," Sadwelkar said. "Even if you give some amount of your time towards doing something like this, you can make a huge difference and that feels pretty amazing."
The team established regular contact with one of the school administrators in order to send supplies that would be most useful for the students. Based on the administrator's request, the team members sent various art supplies, such as paint, colored pencils and drawing books, as well as physical education equipment.
Sadwelkar is especially proud of how she and her team decided to send the supplies to the school. Because Puerto Rico is a U.S. territory, the team was able to use an Amazon Prime membership to ship the supplies for free by setting the shipping address to the address of the school. 
"We were really happy that it worked out because there are a lot of things that could have gone wrong with the whole process," Sadwelkar said. "The [supplies] could have gone to the wrong address, and since we don't have anyone in Puerto Rico to make sure it happens properly, there were a lot of loose ends that we were really worried about. But we were happy that it all turned out correctly. So we were relieved that no other complications came up."
After the students received school supplies, Maanavi realized the impact her volunteer work had on the school — by providing supplies, she and her team also provided students with a better future. 
"These school supplies are able to help them pursue something," Maanavi said. "It doesn't have to be a specific area, it can be whatever they feel passionate about, and the school supplies give them the opportunity to learn and get those opportunities in their future. So we have to start when they're younger and help them."
Arul, Maanavi and Sadwelkar all believe that their passion for volunteering is ultimately what enabled them to help students in need in a third-world country. They encourage other students at MVHS to do volunteer work in order to experience the gratification of helping others. 
"I feel [volunteering is] important because for me was a humbling experience," Arul said. "In our area we have a lot of people who are able to afford all these things and not have to think too much about it. But to see all the different necessities [students in Puerto Rico] need and don't have access to and communicating with them is very humbling, and it's a very good experience to give back to people who do not have the conditions we do. I felt like that was a really good experience."