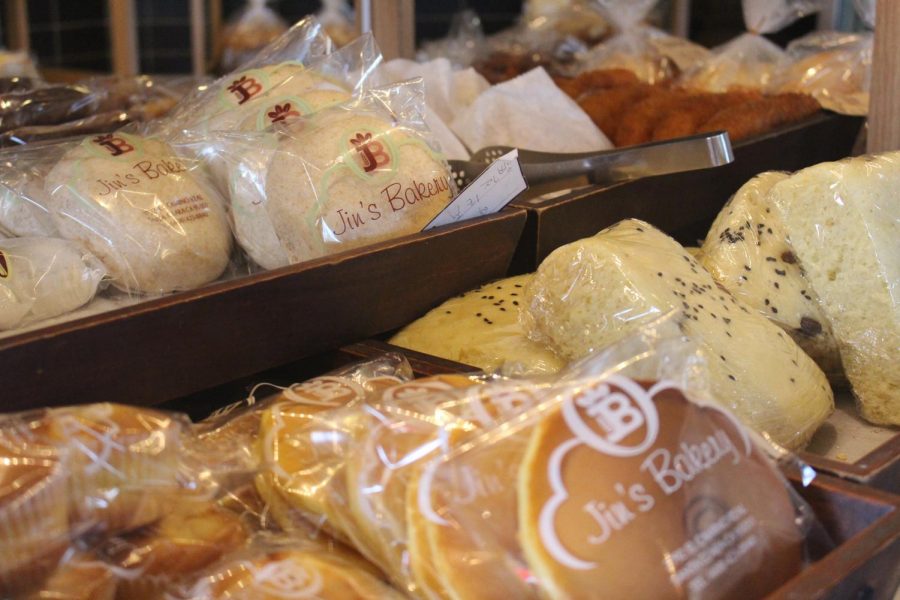 wice a month, El Estoque takes on a new case at a bakery or café, trying to decipher the quality and cost of its most popular items. Continuing the alphabetical trend, we went to Jin's Bakery & Cafe, a dessert shop in Santa Clara that serves a variety of breads, small cakes and several baked goods.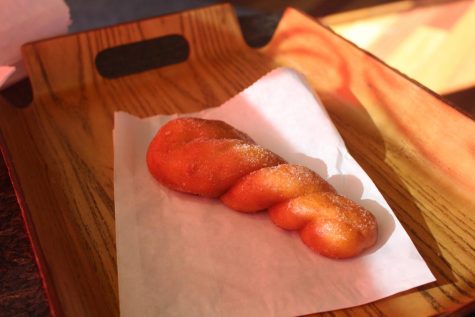 Twisted Korean Doughnut: $1.85
Rating: 8/10 
Captivated by its twisted shape and sweet scent, the Korean doughnut was one of the baked goods we were most excited to try. It was more of a "fresh" good because it didn't come in a plastic wrap. The doughnut was extremely soft, stretchy and chewy and felt similar to the popular mochi doughnut (Modo donuts). The sugar and cinnamon seasoning was a nice addition but didn't make a huge difference in taste. While it wasn't as sweet as we would've liked, the muted taste might appeal to those who don't enjoy overly sweet items. Overall, it was interesting to try a tasty "twist" on the American doughnut!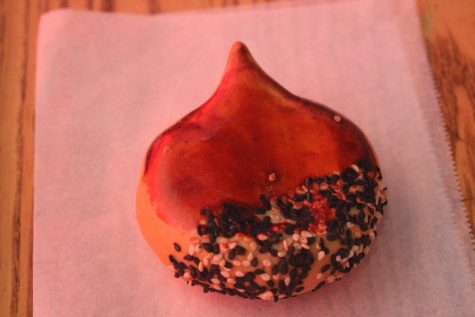 Manju: $1.75
Rating: 6/10 
This traditional Japanese confection came wrapped in a plastic cover. We were drawn to the manju due to its interesting shape, bright red color, and delicate sesame seeds that coated the bottom. With one bite, the cookie crumbled and we were surprised to discover a creamy white bean filling inside. The manju is not very sweet and does not have an overpowering taste. On the other hand, the sesame had a strong taste which didn't mix well with the taste of the bread. The bread's outer shell was soft and contained red bean, which left a nice aftertaste. Overall, this confection was average, but both of us would eat another one if offered!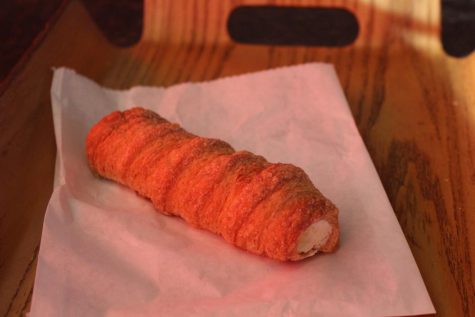 Crispy Buttercream: $1.85
Rating: 8.5/10 
When we walked into the bakery, the buttercream was one of the first items that caught our eye. It was one of the few goods that didn't come pre-packaged like the manju. The baked bread was flaky yet crispy and while it was slightly hard to bite into, it was not difficult to chew. It was by far the messiest dessert we reviewed, due to its flaky bread and soft buttercream, so napkins are a necessity with this dessert. The cream was light and fluffy and went perfectly with the bread. Overall, the dessert was fresh and well-made but could have been a little less buttery. The crispy buttercream lived up to its high rating, and we really recommend this one!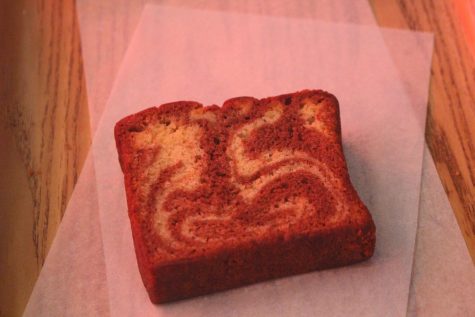 Marble Bread: $2.95
Rating: 7/10
The Marble Bread had a pretty, marble design and a faint coffee-chocolate scent which drew us to reviewing it. However, upon tasting it, the bread was crumbly and the flavors didn't really stand out. The sweetness was only subtle; its taste was slightly plain and average. We expected a little more flavor and boldness because of the bread's appearance and scent, but it didn't live up to our expectations.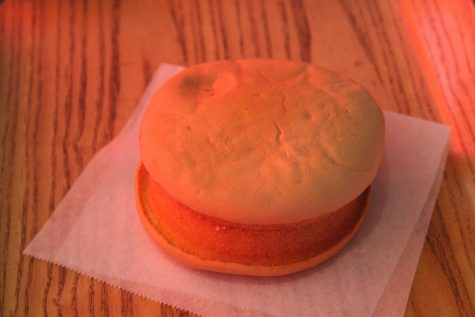 Custard Mooncake: $2.85
Rating: 4/10
The bread felt extremely soft and squishy to the touch and had a plain, dough-like scent to it. Upon biting into it, the bread felt airy and light but was hard to swallow because of the dryness. The bread didn't have a distinct taste and only contained a thin layer of custard that didn't add much to the flavor. Like the other items, the sweetness was muted and the overall taste was average. While it was unique to the touch, the dessert wasn't good enough for us to want to finish it. 
Overall
Price: $/$$$
Rating: 7/10 
Overall, Jin's Bakery has a comfy, neighborhood vibe as it is a local, small bakery. The interior is well-lit, clean and quiet, perfect for studying or grabbing a cup of coffee and baked desserts with a friend. It was fairly spacious and never got too crowded or loud while we were there (early afternoon on a Saturday). Taste-wise, the baked goods seemed comparable compared to other bakeries and had a traditional taste, but nothing in particular stood out. However, we would recommend it if you aren't a fan of heavily sweetened desserts and are looking for goods with mild flavors and soft textures.