Googly for Gogol: A review of 'The Marriage'
MV Drama's production provides humorous and telling insight into social pressures and gender roles in 19th Century Russia
The Marriage," a colorful, comedic play by playwright and Russian Realist author Nikolai Gogol, is about a civil worker in 19th Century St. Petersburg who struggles to find a bride. While it was originally published in Russian, drama teacher and director Hannah Gould translated Gogol's work for MV Drama's fall production.
In this narrative focusing on the traditional Russian marriage rituals, civil servant and bachelor Ivan Kuzmich Podkolyosin (played by senior Shaurya Arora), who is ridden with indecisiveness, considers marriage but cannot bring himself to make a decision. Competing to help him find a bride are matchmaker Fyokla Ivanovna (played by sophomore Shriya Dwivedi) and his friend Ilya Fomich Kochkaryov (played by junior Alex Sanchez). Ivanovna, who is scared of making no money if the marriage proceeds without her help, arranges a group of eccentric suitors for Agafya Tikhonovna (played by senior Naomi Hahn). All the arranged suitors, however, are casted off by Tikhonovna and Kochkaryov, who eagerly backs Podkolyosin. Even with the prospect of marriage laying right before him, Podkolyosin remains indecisive, wanting to delay his marriage. He ultimately gives in, but only to change his mind at the last minute and jump out the window.
MV Drama's production of Gogol's work is decorated with humor, whether it is in Kochkaryov's furious lambasting of Podkolyosin's indecisiveness or the quirky behavior displayed in each bride, especially retired navy lieutenant Baltazar Baltazarich Zhevakin (played by senior Evan Connor). Despite being translated from the original Russian production, the scenes preserved nearly all of the original comedic details.
Humor and details were enhanced by many clever artistic choices in the production. The intricate costumes and decorations, which were deliberately worn and faded, helped bring a realistic scene in St. Petersburg during the play's era to life. In addition, the directors frequently layered together scenes from different locations at once while still making it obvious they were separate to create a multidimensional effect. For example, when the chorus (sung by freshmen Darya Loenko and Liz Shaykin) gravely sang traditional Russian music while Kochkaryov explosively shamed Podkolyosin, the directors deliberately let the brusque and endless shouts between Podkolyosin and Kochkaryov fade into the background to complete silence, while the singing continued — the two fought noiselessly as if they are in a separate setting. In another scene, when Podkolyosin and Tikhonovna were thinking about each other, the directors used verbal clues to convey that the two characters were in different locations despite the fact that they physically stood on stage together.
The symbolic value of props also helped emphasize traditional cultural themes of marriage in 18th Century Russia. When Kochkaryov tries to illustrate the qualities of married life to Podkolyosin, the values of family in his descriptions are elegantly reified — in one scene, children (played by freshmen Aaditya Anand, Darya Loenko and Liz Shaykin) run onto stage and act out with exaggerated youthful innocence, setting Podkolyosin at ease and letting down his guard. In another, the decorations serve as metaphors for the miscellany of married life; Kochkaryov absentmindedly touches various household items like the tablecloth and teacups to imply how Podkolyosin's home would look if he was married.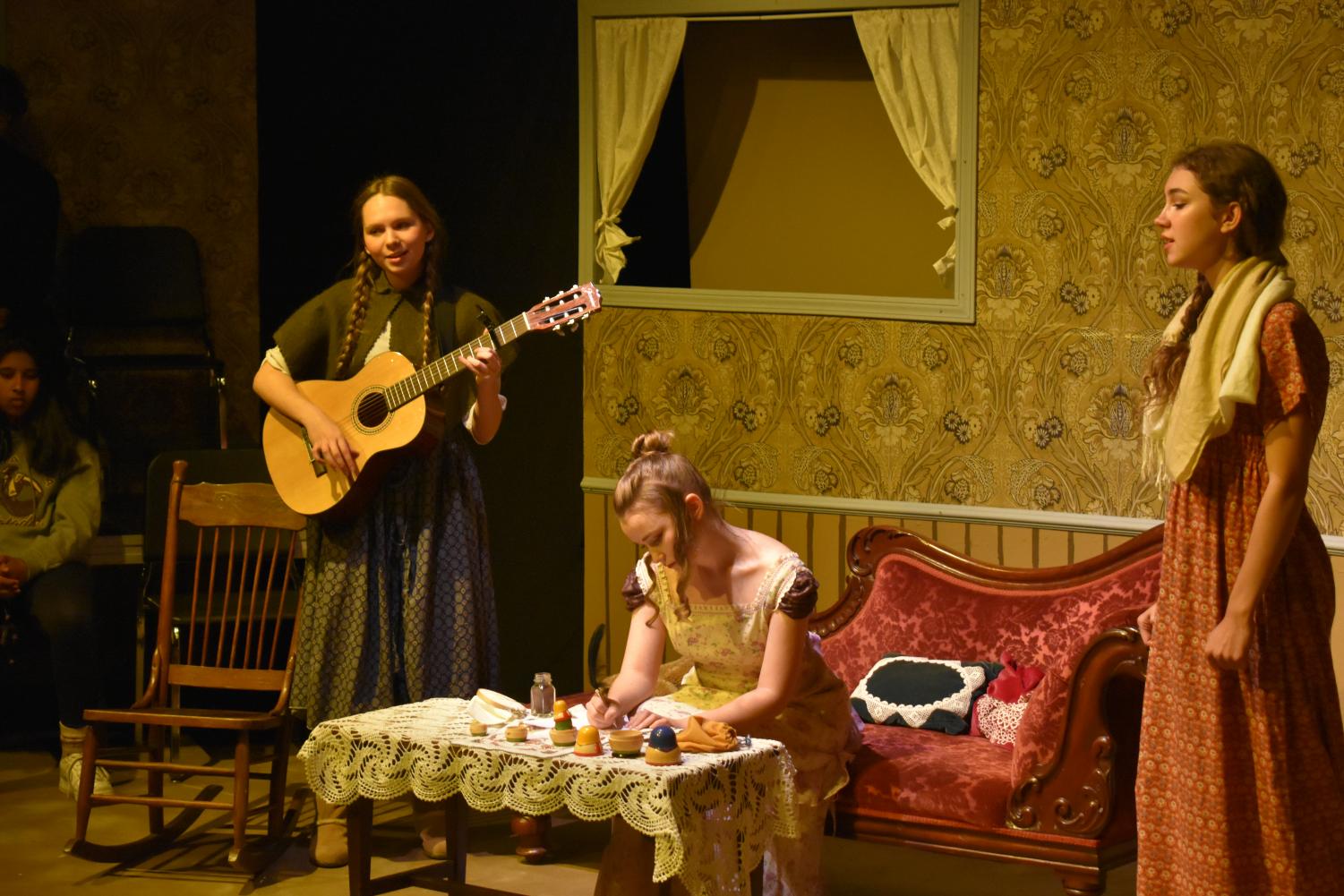 The minimalist transitions between scenes were also well-planned. A tablecloth, couch and teacups, for example, were present in both Tikhonovna's home — the site of the meetings with the suitors — and Podkolyosin's. But while the couch in Podkolyosin's house, where he would often crash during bouts of indecisiveness and cowardice, represents feelings of defeat and failure, the same couch in Tikhonovna's home stands for values of successful marriage, family and happiness. The fact that these two opposing ideas are represented by the same object reveals the whimsical and almost double-sided nature of decisions in the play — especially those of Podkolyosin. Podkolyosin's ultimate choice is an example of how characters in the play could, in an instant, change sides completely.
A perpetual theme intended by the directors in their production is social pressure — in the plot, constant pressure from Russian marital conventions weigh on Podkolyosin and influence him to the point where he makes impulsive decisions he immediately regrets. The constant badgering Podkolyosin experienced from matchmaker Ivanovna or his friend Kochkaryov eventually led him to make rash decisions under pressure — a scenario reminiscent of the social pressure many of us at MVHS have experienced, especially in terms of academics.
Despite the long and physically and vocally demanding set, MV Drama's acting was superb — each actor handled their often absurd characterizations with precision. MV Drama's production explores both the nuances of commitment and the inherent pitfalls of the societal conventions so prevalent in the era during which the play was written. 
Check out the photo gallery from MV Drama's fall play below.
About the Contributors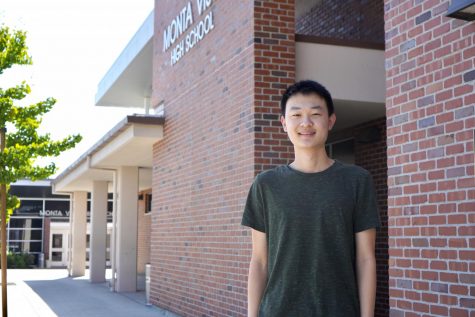 Robert Liu, Managing Editor
Robert is a senior and a managing editor for El Estoque. He spends his free time practicing the piano, programming and reading books.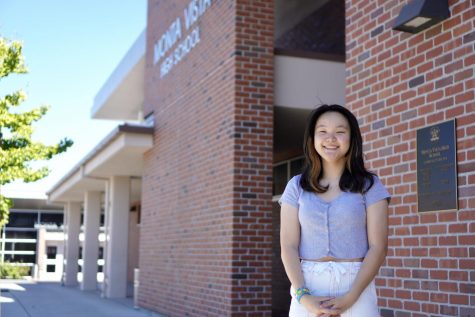 Justine Ha, Managing Editor
Justine Ha is currently a senior and a managing editor for El Estoque. She enjoys taking photos, producing videos, driving to nearby beaches and viewpoints in the Bay Area, and exploring new cafes with friends.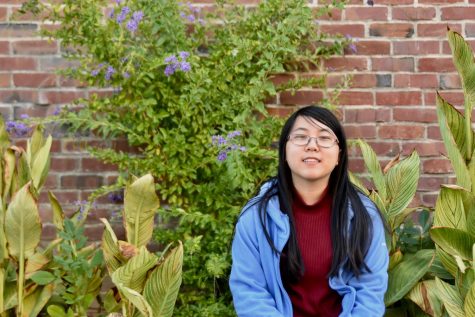 Sarah Young, Graphics Editor
Senior Sarah Young is currently a Graphics editor for El Estoque. In her free time, Sarah likes to draw, read and take walks in the park. She is currently really into pointillism and marshlands.